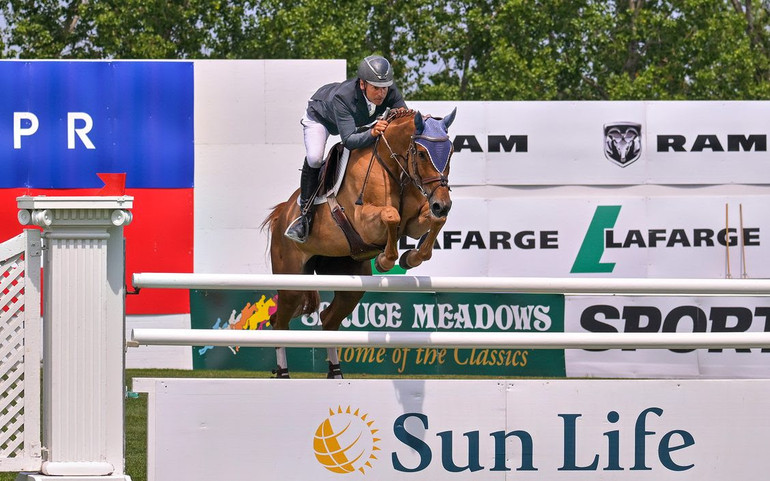 Robert Blanchette and Chardonnay, winners of the Sun Life Derby at Spruce Meadows. Photo © Spruce Meadows Media/Mike Sturk
Edited press release from Spruce Meadows
---
The final day of the Spruce Meadows 'North American', presented by Rolex, brough tens of thousands of fans to the grounds to wrap up a great summer season of showjumping. The Sun Life Derby was the feature event of the day, and the crowds were ready to cheer the 16 entries on.
The signature derby course was modified in 2022 by FEI course designer Leopoldo Palacios (VEN) but modelled after the original designed by the great Pamela Carruthers (GBR). There is over 1 kilometre of track, 18 obstacles and 24 jumping efforts, with a time allowed of 158 seconds.
Sixteen athletes representing eight countries stepped through the iconic Clock Tower once more hoping to take a piece of the $145,000 purse of the Sun Life Derby. Robert Blanchette (IRL) was the second rider into the ring and put some major pressure on his competitors by navigating the derby track with no faults aboard Chardonnay (Comme Il Faut 5 x Jus de Pomme). Now Blanchette had to sit on the sidelines and wait to see if anyone else could also manage such a feat.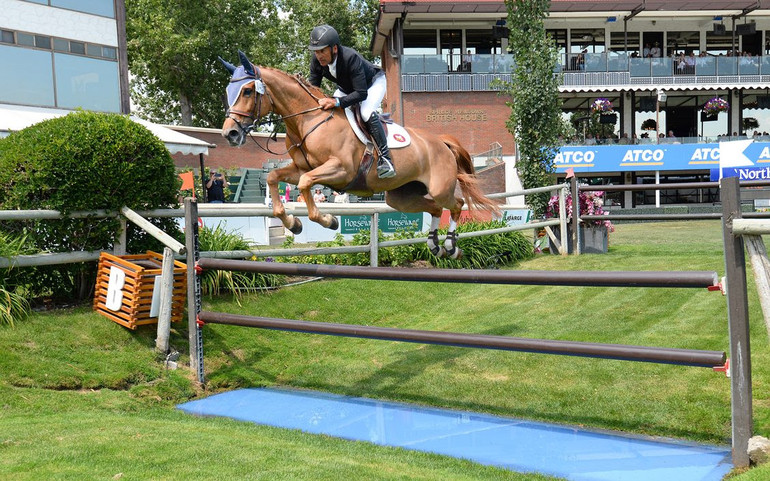 Clear through the Devil's Dyke for Robert Blanchette and Chardonnay. Photo © Spruce Meadows Media/Mike Sturk.
Tenth into the ring was Jim Ifko (CAN) and his stallion Un Diamant des Forets (Diamant de Semilly x Papillon Rouge). After watching a number of competitors have rails throughout the course, Ifko was ready to make no mistakes. He had a hard bounce on the final fence of the Devil's Dyke, but it stayed up and Ifko posted the second clear round of the day – there would be a jump-off.
Two was the final number of riders in the jump-off with no one else posting clear rounds. First into the ring was Blanchette, he laid down a clear round with a time of 39.01s. Ifko and Un Diamant des Forets now had to be clear and fast. Unfortunately, they were not fast enough to catch Blanchette, crossing the finish line in a time of 39.69s and going into second place. With four faults in round one and a time of 148.40s, Kyle King (USA) and Chess (Bufero van het Panishof x Latano I) finished third.
"You can go to a show, and you think you're almost invincible, and then you come here to Spruce Meadows, and you think, shoot, I can't jump that. And then by the end of the tournament, you can jump it," Robert Blanchette said about competing at Spruce Meadows for the full summer series.