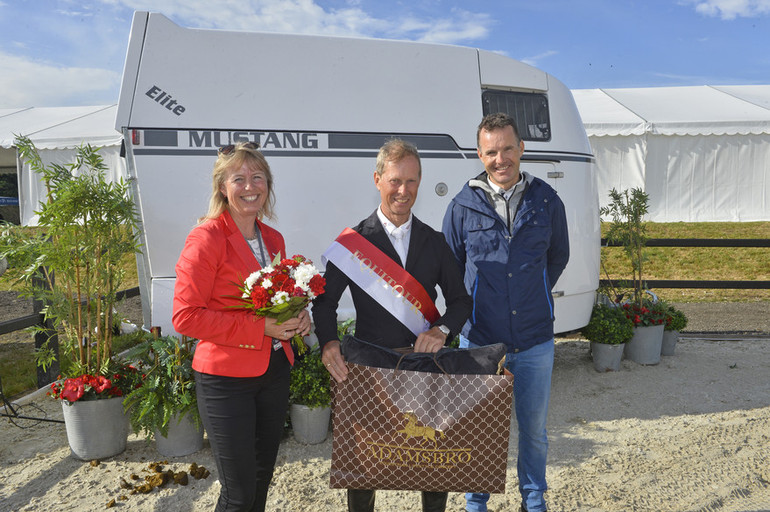 Rolf-Göran Bengtsson won Sunday's CSIO3* Stutteri Ask Grand Prix presented by Mustang-Trailers A/S. Photo (c) Ridehesten.com.
27-year old Danish rider Kasper H. Hansen was 0.2 seconds from being victorious in Sunday's CSIO3* Stutteri Ask Grand Prix at Equitour Aalborg but then an Olympic silver medallist came in his way, as Sweden's Rolf-Göran Bengtsson snatched the win from the hosts.
The home crowd cheered on the eleven Danish riders in the crucial and biggest class Stutteri Ask Grand Prix at Equitour Aalborg with 50 competitors. Three Danish riders qualified for the jump-off, and when Kasper H. Hansen produced a very fast and solid round aboard Jemousin van den Dael (Vivaldi du Seigneur x Lipton), placing them ahead of the competitors, he also made it possible for the home crowd to experience an exciting end to five fantastic days of competition in Uggerhalne.
For a long while, it seemed that Kasper could keep his first place, but then one of the fastest riders in the world made his entry on the course: Olympic silver medal winner Rolf-Göran Bengtsson aboard the breeding stallion Crunch (Clarimo x Canturo). Rolf did what he is so brilliant at; he rode at a high speed in perfect balance and passed the finishing line 0.2 seconds faster than the young Dane.
Third place went to Poland's Krzysztof Ludwiczak on Nordwind (Cassini II x Acord II), also he double clear as were Finland's Juulia Jyläs and Norway's Johan-Sebastian Gulliksen in fourth and fifth.
---
Source: Press release from Press Equitour Aalborg // Picture © Ridehesten.com