Press release from World Equestrian Center
---
Featured competition for the first week of the 2023 Ocala Summer Series reached a pinnacle as twenty-three athletes representing eight nations met under the lights in the WEC Grand Arena. Exhibitors and equine enthusiasts alike flocked to the stands at World Equestrian Center – Ocala (WEC) to watch as the elite group of athletes contested FEI Level III course designer Andy Christiansen's (ECU) technically set tracks. At the end of a seven-horse jump-off, the crowd applauded Canada's Sean Jobin and Coquelicot VH Heuvelland Z (Catoki x Cassini II) as they stood atop the podium for the $150,000 IDA Development Grand Prix CSI3*.

A historically quick group of riders returned for the short course, with Kaitlin Campbell (USA) of SWS Training & Sales in Temecula, California, coming back with the first of her two qualified mounts.
Campbell spoke on her first experience showing at WEC – Ocala, "Andy Christiansen has done a super job this week. The horses have all been jumping better every time they go in. This is my first time ever showing at WEC. The crowd is super and when you walk into the ring the horses really feel the energy. For my horses that like to be pumped up a bit, they definitely see the crowd and they jump a bit higher. I think it is going to be a really fun few weeks here."

Aboard her newest mount, Diacco-Blue (Diarado x Chacco-Blue), Campbell posted an instant double clear, setting the tone for the rest of the challengers.

In 41.78 seconds, the 13-year-old Oldenburg gelding ultimately landed Campbell the third-place position and established a bright future at their third horse show together.
Jobin was the second athlete to make way down the ramp. The professional rider out of Foxridge Farms Stables earned several top placings with the 11-year-old Zangersheide gelding during the international competition at the 2023 Winter Spectacular Show Series.

"We came back to Ocala after jumping on the reserve team for Canada in San Juan Capistrano for a little break. I thought this would be an awesome show to bring the top horses back. The last time I jumped a three-star was here in the winter and we had a few podium finishes. I felt like I left a little bit on the table in my last jump-off here and tonight I really tried to clean it up. We have been working a lot on fitness, balance and the turns at home, and it is nice to have it all pay off here," said Jobin.

Picking up an immediate gallop and leaving no time to spare through the turns, the duo rose to the top for the first time at WEC – Ocala in 38.56 seconds.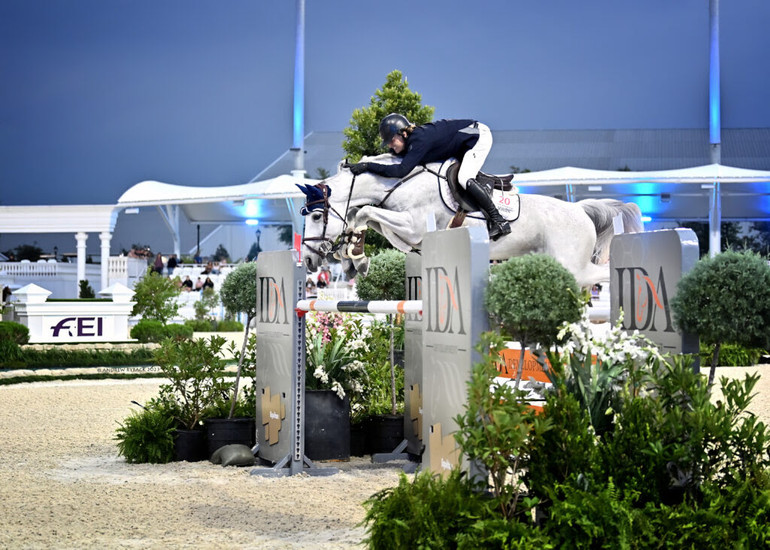 Sean Jobin & Coquelicot VH Heuvelland Z winning the $150,000 IDA Development Grand Prix CSI3*. Photo © Andrew Ryback Photography.
Jobin spoke highly of his scopey mount, "I couldn't be happier with 'Licot' tonight. He was just a little superstar. He jumps amazing every single time here and he really loves this ring. He loves the crowd and the atmosphere of the night class. He is a horse that tries so hard and he's very smart too. I want to be strategic with when I use him and manage his work. Just because he can do it, I want to make sure he is happy, healthy and has that spark in him. That is my number one priority right now."

"I would like to thank IDA Development for sponsoring the class. It was fantastic and all of the riders really appreciate it. I would also like to thank Kathy Dixon for believing in Licot and me," commented Jobin

Frequent class winners Aaron Vale (USA), Tracy Fenney (USA) and Chloe Reid (USA) were close to the leading time, however each received unfortunate four fault scores, which kept them out of contention for a top three finish.

Campbell returned on her second mount of the class, Armentos (Armitage 2 x Levantos) to challenge Jobin's leading time. The longtime partnership, competing all the way up to CSI5* competition, mirrored the winning track.

Though the pair was slightly slower across the ground for a time of 40.31 seconds, Campbell secured second place, and two places on the podium. "I showed two horses tonight. The first horse that I did, this is only our third show together, so I was a bit slower in the turns. My second horse I know a lot better, but he is generally not so fast. This was probably his top speed tonight," laughed Campbell. "Since I was only a second slower than Sean [Jobin] on his super-fast horse, I was really impressed with him tonight."

Jim Wolf thanked presenting sponsor IDA Development on behalf of World Equestrian Center – Ocala, "I would like to thank IDA Development, our title sponsor for tonight's $150,000 Grand Prix CSI3*. They are an incredible sponsor, having supplied their remarkable Equitan flooring that lines the barns and walkways to ensure the best safety for the horses and athletes at World Equestrian Center. This was a great way to kick-off the Summer Series and the riders should be commended on a fantastic night of equestrian sport."