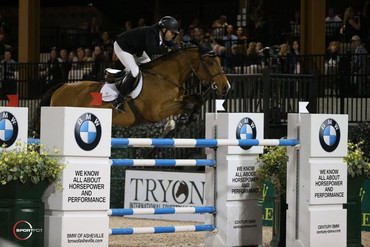 Sharn Wordley and Casper. Photo (c) Sportfot.
Sharn Wordley (NZL) and Casper made a quick dash to the finish in the $130,000 Asheville/Greenville BMW Centers' Grand Prix CSI3* at Tryon International Equestrian Center (TIEC) to top the final FEI Grand Prix of the season at the venue. Wordley and Casper bested the class after crossing through the timers in 40.614 seconds, while Conor Swail (IRL) and Hetman of Colors took second place with a time of 42.372 seconds. Wordley then added to his first place finish, taking third place honors aboard Barnetta after completing the jump-off track in 43.37 seconds.
Wordley was one of two riders to bring back two mounts for the jump-off alongside Hardin Towell (USA) who finished in fourth and fifth respectively. Aboard Casper, Wordley fought to outpace Swail and finished the course nearly two seconds ahead of the leading time. The class saw 36 original entries take to the first round in George H. Morris Arena, while nine combinations progressed to the jump-off round. Guilherme Jorge (BRA), who led course-designing responsibilities at the 2016 Olympic Games in Rio de Janeiro, built both tracks.
"The first round was another very good course done by Guilherme. He's just a fantastic course designer. I felt like it suited the class very well and it was technical enough but also was flowing and smooth," commented Wordley. "I thought he was spot on with the number of clears."
Attesting to the difficulty of the jump-off track, Wordley noted that both of his horses handled the pressure of the second round with ease, but also jumped exceedingly well in the first round, which set both horses up for a strong finish.
"The time allowed was certainly tight but it just happened to suit both of my horses. They both went pretty quick in the first round," he explained. "It was a good because I think a few got caught out because of the time."
Touching on the differences between Casper, a 2006 Oldenburg gelding (Contender x Baloubet du Rouet) and Barnetta, a 2004 Westphalian gelding (Baloubet du Rouet x Polydor), both owned by Sky Group, Wordley discussed his unique approach to each horse as they both take a different style of ride in the jump-off.
"Barnetta isn't the quickest horse in the jump-off, but I went about as fast as I could with him to ensure that we went clean," he said. "I was just lucky enough that a few of the guys had a rail down. I think I was a bit slower in the combinations, both of them are a bit green there, but they're getting better."
"You really have to read the jump-off and ride it the way that suits your horse depending on who's in the jump-off and how fast they're going," he detailed. "I'm 42 and the ego has gone out of it a bit. I just try to scoop up as much prize money as possible and I don't try to outdo the horses and what they're capable of."
The conclusion of today's class marked the end of international show jumping at the facility for the 2016 season. Wordley leaves TIEC as one of the most decorated riders at the venue this year, guiding his string to more than fourteen top five finishes in FEI competition. Wordley took a moment to reflect on his achievements and explain what makes this venue so special to him as a competitor.
"Some people just have shows that they do well at and this one happens to be mine. The top riders in the world have been here and we've still won classes. It's one of the shows where the horses enjoy it and I enjoy it," he smiled. "I love atmosphere and there is always so much great atmosphere here. I love it and it's just absolutely fantastic."
Casper and Barnetta have proven to be influential mounts for Wordley, who has represented his home nation of New Zealand well in major FEI competition this season, currently sitting in 57th on the FEI World Ranking List.
"Both of these horses have had a phenomenal year. Casper has one more show, which will be Holiday & Horses CSI 4* in Florida and then Barnetta will go to The Royal Winter Fair in Toronto," elaborated Wordley, discussing his plan for both mounts looking forward. "They both have a lot of time off after that. They've both had a very busy and successful year."
"I pretty much have every class planned out for them looking into 2017. We're going to be very strategic with what we do, but I already have a schedule for where I'd like them both to be at certain points in the season," he added.
"I have to thank the Sky Group for their continued support and dedication to these two horses. We have a few other horses together, but they're just the most fantastic supporters," he detailed. "They're brilliant. They let me make a plan for the horses that I think is best. They're both horse people so they understand the good times and the bad and I can't thank them enough."
Margo Thomas, Wordley's groom, was recognized for her passion and hard work as the recipient of the Grooms' Initiative Award presented by Tryon Equestrian Partners (TEP). Thomas oversees the care of Barnetta and Casper, playing an integral role as a valued member of Wordley's team.
Meg Atkinson of Town & Country Realty presented Tracy Fenney (USA) with the Leading Lady Rider Award for her success in FEI classes throughout the week aboard MTM Reve Du Paradis.
---
Source: Press release from Tryon International Equestrian Center / Picture © Sportfot