Press release from Traverse City Horse Shows
---
In 2022, Ireland's Simon McCarthy and Gotcha were the ones to beat in two-phase action during the second week of the Great Lakes Equestrian Festival (GLEF). One year later, McCarthy and the Rock Ridge Farms-owned mare repeated the same success in Thursday's $38,700 CSI3* 1.45m Two-Phase to open FEI action during GLEF II.

"We messed up the jump-off last Sunday so I definitely wanted to redeem myself today," McCarthy said of his determination to win. "My mare Gotcha loves it here so it seems to be a good palace for her and I'm delighted to win two years in a row."

Up against some fierce competitors in the field of 32, McCarthy was fortunate to have a later draw, so he knew just how fast the pace would be. With the 12-year-old Holstiner mare (Stakkato x Cassini), he blazed around the second phase in 25.57 seconds, just five one-hundredths of a second faster than second-place finisher and U.S. Olympic team silver medalist Kent Farrington (USA) and his ever-successful mount Creedance. Charlotte Jacobs (USA) and Rincoola Milsean, owned by North Star, took another podium finish, claiming third.

Gotcha is a not-so-secret weapon for McCarthy, who has piloted her to many victories up to the CSI5* level during their partnership over the last three years. According to McCarthy, she is particularly strong in Northern Michigan.

"The weather here is good for her," he commented. "She doesn't like it when it's too hot; she gets kind of [slow] in that weather so it suits her here. The footing is amazing; this team does an amazing job. She wins here a lot so I'm going to keep coming back. Any day you beat Kent is a deserved win."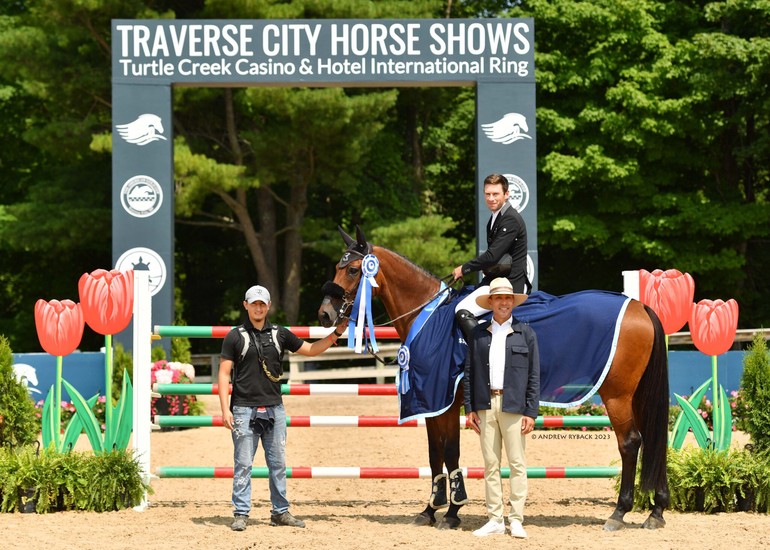 Simon McCarthy and Gotcha in their winning presentation, pictured with Ivan Rakowsky. Photo © Andrew Ryback Photography.
McCarthy's three-year relationship with Gotcha is getting better with age, although he knows he has to pay attention to keep up with her. "She's quite a spicy mare," he shared. "She's got a lot of energy. She definitely keeps me on my toes, especially in the warm-up. You can't be asleep or she'll spin you off. But she's unbelievably careful and consistent. She fights for me every time she goes in the ring, and she deserves to win these classes as much as anybody."

With Gotcha as a part of his string moving into the latter half of 2023, McCarthy has high hopes for each of his horses that it's going to be a successful run from the three-star to the five-star level.

"I'm lucky to have a good string of horses," he remarked. "I have Gotcha and Athletix Hero Z, who I'm hoping to jump in some five-star grand prixs this year. He's an interesting horse for me and I'm excited for him. I recently acquired a new horse that I own with Ilan Ferder, and I think that's going to be an exciting horse too, so we're just going to keep going and hopefully everything will come to fruition."

Show jumping continues on the international stage with Friday's $38,700 Elk Rapids Marina CSI3* Welcome Stake.