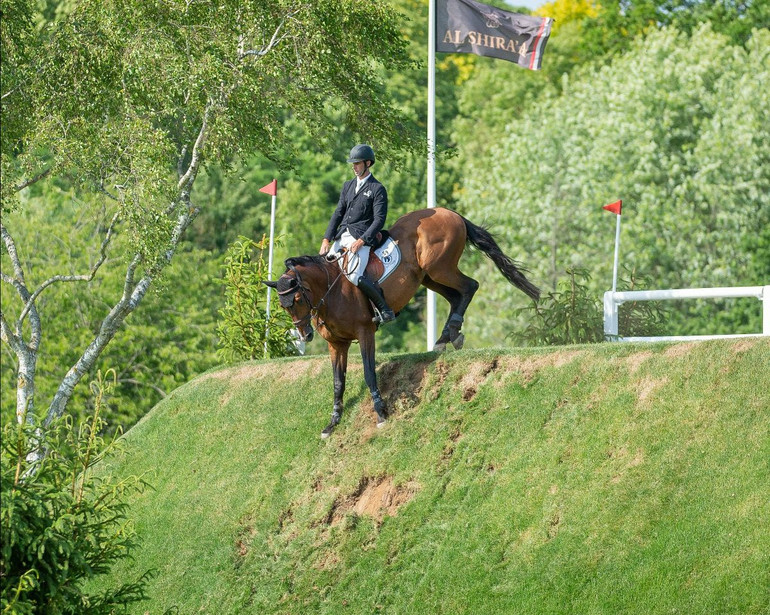 David Simpson and Pjotr Van De Kruishoeve won the Al Shira'aa Derby today at Hickstead. Photo © Elli Birch / Boots and Hooves.
Edited press release from Hickstead
---
Ireland's David Simpson won the Al Shira'aa Derby for the first time today at Hickstead, denying four-time winner William Funnell the chance to set a new record.
William produced the first clear round of the competition, riding the 13-year-old Equine America Billy Diamo (Cevin Z x Andiamo). His chances of claiming that historic fifth win were then given an even bigger boost when he managed to jump a second clear with new ride Dublon (Centauer Z x Up To Date Miltoo).
But 34-year-old David Simpson, drawn 25th to go out of the 27 starters, delivered a third clear round on the eight-year-old Pjotr Van De Kruishoeve (Bamako de Muze x Taran de La Pomme), despite it being the horse's first attempt in the Derby, guaranteeing the packed Hickstead crowds a jump-off.
William then had the unenviable task of jumping first and second in the jump-off. The warm weather and long first round clear had clearly taken the energy out of Equine America Billy Diamo, who was retired after knocking four fences. Things looked far more positive with second ride Dublon, who just had one part of the Devil's Dyke down to finish on four in a time of 91.68sec.
But that one fence down gave David a little bit of breathing space. Despite knocking the Derby Rails, he crossed the finish line in 90.48sec to take the win. "I said beforehand that I'd be delighted to finish with one or two down; the horse is only eight years old, and it's his first trip round, but it just goes to show," said David. "He's an amazing horse, and we'll see what the future holds for him. For now, we'll just celebrate this!"
David has won many international classes at Hickstead and has two Queen Elizabeth II Cup titles to his name. He counts the showground as home turf after being based here for many years. "I came here for the first time when I was very young and working for Shane and Chloe Breen, and for as long as I can remember, the Hickstead Derby has always been the show. To lift that trophy – words can't describe it," he added.
Pjotr Van De Kruishoeve, a bay stallion by Bamako De Muze, is one of the youngest Derby winners. "He's an incredible athlete, very intelligent, and just a great worker – he makes my life very easy," David said.
William Funnell did end up taking home the lion's share of the prizemoney by finishing second and third, plus he has now equalled John Whitaker's record of jumping five clear rounds around the tricky Derby course. The 57-year-old Surrey-based rider now hopes to return in 12 months' time for another crack at breaking the record of four wins that he currently holds alongside Eddie Macken, Harvey Smith, and John and Michael Whitaker. "Now I'll be hanging around for another year to try to do it, which seems to get more and more difficult!" he said.
Two Irish riders shared fourth place with four faults apiece – Jordan Coyle on Eristov (Cicero Z van Paemel x Concorde), with former two-time Derby champion Trevor Breen in sixth with Gonzalo (Viceroy T x Londontimes).