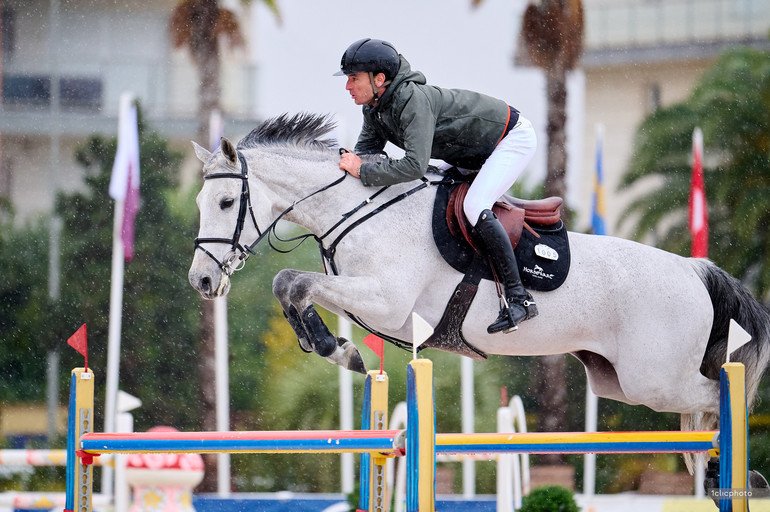 Steve Guerdat and Is-Minka took the top honours in the CSI3* CHG Grand Prix at Spring MET I 2023. Photo © Hervé Bonnaud/1clicphoto.com.
Press release from the Mediterranean Equestrian Tour
---
The third and last week of Spring MET I 2023 in Oliva Nova, Spain, concluded with a Swiss win in the CSI3* 1.50m Grand Prix, presented by CHG – Construcciones Hispano Germanas S.A – with the 2012 Olympic Champion Steve Guerdat taking the top honours with his exciting future prospect Is-Minka.
Eight out of the 34 horse-and-rider-combinations at start managed to clear the first-round track and join the deciding jump-off, where it became a battle between Olympic Champions: Penelope Leprevost (FRA) – team gold medallist at the 2016 Olympic Games in Rio de Janeiro – and Djagger Semilly (Diamant de Semilly x Apache d'Adriers) stopped the clock on 36.82, but had to settle for the runner-up position when Guerdat and Is-Minka (Mylord Carthago*HN x Flyinge Quite Easy 958 ) crossed the finish line in 36.64. Olivier Philippaerts (BEL) and H&M Miro (Diamant de Semily x Kannan) placed third in 37.24, Malin Baryard-Johnsson (SWE) – team gold medallist at the 2021 Olympic Games in Tokyo – and Harley Davidson (Hip Hop x Calypso III) finished fourth in 37.63, while rising star Lily Attwood (GBR) took fifth in 38.49 aboard Calvaro's Up To Date (Calvaro F.C. x Up To Date).
"Is-Minka just turned ten, and I have her since she was seven," Guerdat said about his winning mount. "She is a very talented mare. However, she is very green, she did not do much as a young horse. That shows a little bit every time she goes into the ring; she gets a bit tense and her true abilities don't really come across when she feels like that. That is why I have taken it really slow with her, and at every show, and for every month, she gives me a little more. She is still not 100% how she can be, but she is getting closer to that and the day she gets there, she will be an unbelievable horse. At the level we jumped today, she is already very successful, and I think she has a very bright future ahead of her."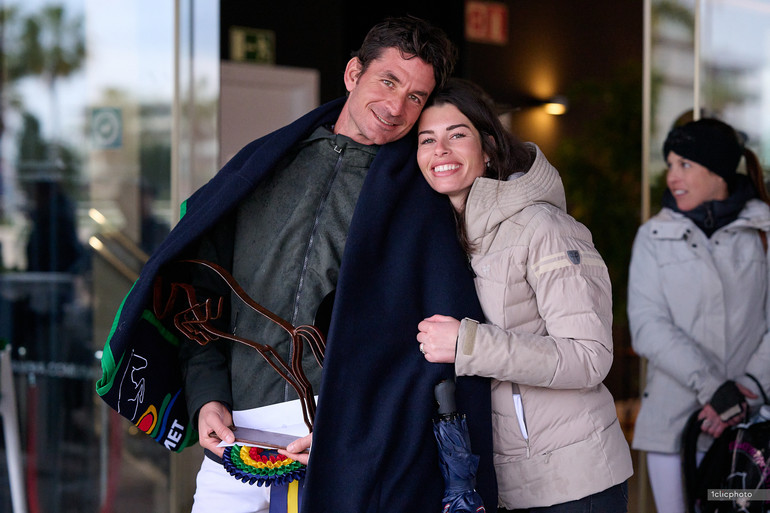 Steve Guerdat and his wife Fanny Guerdat Skalli with big smiles after the Grand Prix win in Oliva Nova. Photo © Hervé Bonnaud/1clicphoto.com.
"I wanted to try," Guerdat explained about his plan for the jump-off. "It was the last class of a long trip, we had many horses, so today was about winning. She is very fast, and I wanted to give it a go. The jump-off was very fast in general, so I tried to win – I did not think about the fences too much, I just wanted to have a quick time."
"It is always very nice to be here," the Swiss Olympic Champion said about the venue at Centro Ecuestre Oliva Nova. "It is a good start to the year, good for the young horses and for the horses to get back in shape, the facilities are very nice here."
After a week's break, the second part of Spring MET 2023 kicks off on February 7, followed by Spring MET III from 7-26 March and Spring MET IV from 4-23 April 2023.