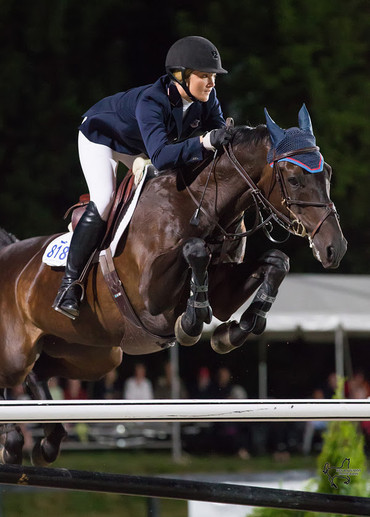 Katherine Strauss won the $50,000 Horseware Ireland Grand Prix. Photo (c) Ben Radvanyi.
It was a storybook ending at Angelstone last nigh as Katherine Strauss continued to shock. The 16 year old rookie, who claimed her first FEI win Thursday night in a thrilling jump off proved last night that it was no fluke.
Seven combinations navigated the first round track clear, setting up for an exciting and truly international field in the jump-off. Ireland was represented by both Conor Swail and Andrew Bourns, Chile by Samuel Parot, the USA by both Cara Rather Carey and Katherine Strauss and Canada by Erynn Ballard.
Ballard kicked off the jump-off in thrilling style, laying down what appeared to be an unbeatable round on Appy Cara. However, those thoughts were quickly proved wrong as the times got faster and faster and faster.
Swail was next up on his first of two jump-off mounts and took a full second off Ballards time with Dillinger. Next up was Samuel Parot who blazed the track, and took another half second off Swails time.
Just when it looked like the class was over, in walked 16 year old Katherine Strauss and All In. Strauss, who beat both Swail and Parot on Thursday, picked up the gallop and never let up. The crowd was on the edge of their seat, wondering if the 16 year old sensation could do it again... She did!
Strauss crossed the finish line and the crowd went wild! None of the final three combinations were able to catch Strauss's time, though Cara Rather Carey did give it a go to finish in third, and Strauss claimed back to back victories at Angelstone.
Source: Press release from Angelstone Tournaments