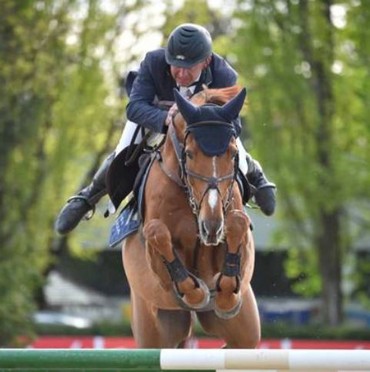 Bernd Herbert with Che Xiao San. Photo © sIBIL sLEJKO.
Bernd Herbert took the win in the CSI2* Grand Prix of Linz, riding Che Xiao San (Coriano x Baloubet du Rouet), ahead of Hugo Simon with CT (Casall x Claudio). Barbora Tomanova ended third with Sorceress and Astrid Kneifel is fourth with Royal des Bissons (Flipper d'Elle x Page de Paulstra).
Geir Gulliksen won the CSI2* Grand Prix of Drammen riding Grand Balou 4 (Balou du Rouet x Grandeur) after being half a second faster than Filip Ågren with Cardina (Cardento x Diamond) in the jump-off. Third place went to Ole Kristoffer Meland with Buckle Up (Colandro x Carentino).
The CSI2* Chantilly Grand Prix had Capt. Michael Kelly with Drumiller Lough (Heartbreaker x Mountain Pearl) as the winner. He was followed by three home riders - Adeline Hecart with Question d'Orval (Rosire x Tu Viens Dorval) in second place, Reynald Angot with Palawane de Sully (Rosire x Narcos II) in third and Timothee Anciaume with Olympique Libellule (Jarnac x Papillon Rouge) in fourth.