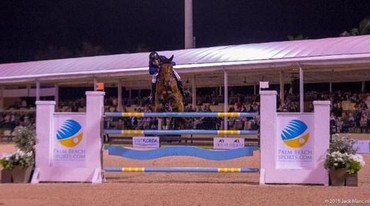 Conor Swail and Viva Colombia. Photo ©ManciniPhotos.
In an exciting jump-off finale, Conor Swail (IRL) and Viva Colombia finished with top honors in the $212,000 Holiday & Horses Grand Prix CSI 4* presented by Palm Beach Sports Commission and Discover the Palm Beaches at Palm Beach International Equestrian Center (PBIEC). Swail and Viva Colombia bested the talented jump-off of eight competitors with a time of 37.922 seconds. Eugenio Garza (MEX) and Bariano finished just off the pace for second place, crossing the timers in 38.25 seconds while Hardin Towell (USA) and New York posted the remaining double clear effort of the night with a time of 39.072 seconds.
The class of 32 competitors in the grand prix faced a difficult track set by course designer Anthony D'Ambrosio (USA), which had eight competitors move forward to the second round, while nine pairs dropped a rail on course, incurring four faults. Tiffany Foster (CAN) and Victor were the only duo to finish with a single time-fault in the first round and would finish in ninth place.
Swail rode late in the order aboard Viva Colombia, a 2005 Oldenburg mare (Couleur-Rubin x Lando Lady) owned by Ilan Ferder, and made the most of his trip around the track, which called for scope and adjustability. "We had planned to leave Viva for tonight. A good friend of mine, Ilan Ferder, owns her and I've had a really good year with her. She's just getting better and better," said Swail. "I thought tonight she was just wonderful and jumped great in the first round. Things worked out for me in the second round with Samuel [Parot] and Kent [Farrington] being a bit unlucky, but for me it felt like we were going to be close and I wanted to go for it."
Garza would finish with the first double clear effort of the night, which seemed tough to beat, as Towell followed but couldn't reach the 38 second mark. A single rail burdened Parot and Farrington, who blazed around the course, both finishing in less than 37 seconds. Farrington, piloting longtime partner Uceko, seemed to have all but added another win to their record after dashing through the course in a nail-biting effort, but a rub at the final vertical kept Farrington from his second win this week, as the duo added four faults for fourth place.
Towell was proud of his third place finish aboard New York stating, "Tonight was a great class and I was really happy with New York's performance. We got him a couple of months ago and he's been out of the spotlight a bit compared to my other horses Emilie and Lucifer. I was really proud of how he handled everything tonight."
"I think he's really stepping it up and I'm looking forward to what he has in store for the future. I am so thankful to have the support of Jennifer Gates behind me with all of the horses and it feels great to have finished so well in a very competitive class," he continued. "Conor is a close friend and it's never fun to lose but I'm so happy for him that he won. Eugenio rode great and is really stepping up to the plate in the bigger classes. I think it was a great show of talent tonight."
Motivated to finish with a respectable result, Swail felt the course was well-suited for his mare, even though the track proved difficult for many of the night's competitors. He elaborated, "I thought the course looked quite nice when we walked it and it wasn't so big, but it was extremely careful and there was a bit of width on the oxers. In that respect, you needed a really good horse to jump around it."
In a careful but quick effort, Swail nudged out Garza for the fastest double clear effort in the jump-off, pushing for the final finish and earning his 23rd FEI victory of the year. Viva Colombia, both talented and scopey, has proven her consistency in many of the large FEI classes the duo have contested together this year.
"For me, when I got her in the beginning, I felt like it was really important for her to gain confidence in our program and our system. I worked on her balance a lot this year. The carefulness and scope was always there with her. I wanted to focus on making her stride a bit more adaptable and adjustable. I think now she's really learned that throughout the year and has been very successful," he continued. "Viva has been quite fast and has won several speed classes too, which has helped her be a little bit quicker in her mind. The balance has gotten a lot better, and she's much more adjustable."
Swail had a tremendous fall season and collected numerous wins during the indoor circuit season. He will now give his string a rest before looking towards the commencement of the Winter Equestrian Festival circuit in just a few short weeks at PBIEC.
"She'll get a nice break. She deserves it. We probably won't bring her out again until week four or five during circuit. It's been great to finish the way we have with her, and she's just fantastic," he noted. "Her consistency has been extremely solid, and I'm delighted for Ilan and myself that things are going well. We have a real quality horse on our hands."
Steadily shifting up the world ranking leaderboard this year and currently sitting in 37th, Swail has set his sights on reaching the top ten in 2016. "I'd really like to get into the top ten in the world. It's a pretty big goal, but I'm 37 now and feel like that's where I need to be. I know that what I need to do is get a few bigger grand prix wins this year. I think I have enough ranking class wins, and it's time to focus on getting good results in those bigger classes. I don't think I could have had a better start than tonight," he said. "I want to focus on improving those results so that's kind of what the main goal is right now. We have some very nice horses, and we're looking forward to another great go at it this season."
Results $212,000 Holiday & Horses Grand Prix CSI 4* presented by Palm Beach Sports Commission & Discover the Palm Beaches

1. VIVA COLOMBIA, 2005 Oldenburg mare by Couleur-Rubin x Lando Lady CONOR SWAIL (IRL), Ilan Ferder: 0/0/37.922
2. BARIANO, 2001 Belgian Warmblood gelding by Jetset-D x Ulderina van Westleven EUGENIO GARZA (MEX), El Milagro: 0/0/38.25
3. NEW YORK, 2006 Dutch Warmblood gelding by Verdi x Windspiel HARDIN TOWELL (USA), Jennifer Gates LLC: 0/0/39.072
4. UCEKO, 2001 Dutch Warmblood gelding by Celano x Patricia KENT FARRINGTON (USA), R.C.G. Farm: 0/4/36.456
5. ATLANTIS, 2003 Zangersheide gelding by Andiamo x Dodana W SAMUEL PAROT (CHI), Samuel Parot: 0/4/36.536
6. DEAUVILLE S, 2006 Holsteiner gelding by Diamant de Semilly x Touch Ofclass LAURA KRAUT (USA), Old Willow Farm: 0/8/37.343
7. GENTILLE VAN SPIEVELD, 2006 Belgian Warmblood gelding by Heartbreaker x Tequila van Spieveld LESLIE BURR-HOWARD (USA), GJ Stable & Peter Howard: 0/8/41.262
8. D'ULIEN VAN DE SMEETS, 2003 Belgian Warmblood mare by Thunder van de Zuuthoeve x Ulien van de Smeets JUAN ORTIZ (VEN), Synchronicity Group: 0/EL
9. VICTOR, 2002 Dutch Warmblood gelding by Elmshorn x Golden Girl TIFFANY FOSTER (CAN), Torrey Pines Stable & Artisan Farms: 1/83.61
10. ABUNOLA, 2005 Dutch Warmblood mare by Numero Uno x Udinola H MARGIE GOLDSTEIN-ENGLE (USA), Elm Rock Partners, LLC: 4/78.51
11. CORNET 39, 2004 Oldenburg gelding by Cornet Obolensky x Celine LAUREN HOUGH (USA), Paris Sellon: 4/78.75
12. CASPER, 2006 Oldenburg gelding by Contender x Falubet SHARN WORDLEY (NZL), Sky Group: 4/78.84
Source: Press release from www.pbiec.com