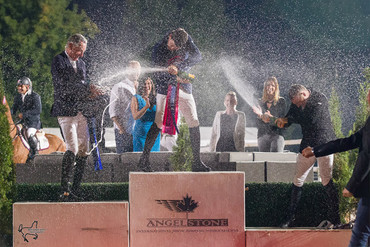 Podium celebrations at Angelstone International. Photo (c) Ben Radvanyi.
Angelstone's seven week season came to a dramatic conclusion on Saturday night with the hosting of The International Grand Prix, presented by Dwight Crane and Delta Hotel Guelph. The FEI CSI*** competition featured a field of 30 horses representing Canada, the United States, New Zealand, Chile, Columbia and Ireland.
US Olympian, Leslie Howard entered the evening's event with an eye on a three-peat, as she had won both the 2013 and 2014 editions with her mount, Tic Tac.
As the lights went up, Angelstone staffers began assigning children from the local community with the 30 horses in the field for the venue's Commitment to Educate Program, with a $1000 scholarship up for grabs.
German course designer, Werner Deeg designed a course which saw a total of 11 horses move on to the jump off with clear performances. With a large number of clears, the jump off course proved to be far more difficult, resulting in only 3 double-clear rounds.
Conor Swail aboard Grafton set the early pace with a blazing time of 46.83. Canadian Olympian, Mac Cone on Gasper Van Den Doorn, was in hot pursuit but was off the pace by nearly two seconds, followed by New Zealander, Sharn Wordley on Barnetta rounding out the final podium spot in third place.
The night was in Irishman Conor Swail's pocket from the get-go as he also turned in the fastest time of the night (45.29) aboard his second ride, Dillinger, resulting the fastest of the 4 fault performances, landing him in fourth position overall.
Swail will depart Angelstone with a total of $27,720 for his first place International finish with Grafton and an additional $8,400 for Dillinger.
As Swail, Cone and Wordley stepped up to the podium, they were joined by Ms. Carli Hunchak, the lucky child that was matched up with the winning horse of the night. She will earn a total of $1,000 from Angelstone's Commitment to Educate fund.
Source: Press release from Angelstone International