Press release from Washington International Horse Show
---
Competition at the 2021 Washington International Horse Show (WIHS) continued on Friday, October 29, with the highlight event of the night being the $50,000 International Jumper Speed Final at the Tryon International Equestrian Center (TIEC) in Mill Spring, North Carolina. For the second time, Israeli rider Sydney Shulman of Greenwich, CT, and Jill Shulman's Villamoura took home the top honors.
Forty-four horse-and-rider combinations competed in a faults converted format over the track designed by Bernardo Costa Cabral (POR) in the hopes of producing the winning time. Shulman and Villamoura were 17th to go in the order and could not be caught after stopping the timers at 53.25 seconds.
Long-time partners Shulman and Villamoura, a 12-year-old Selle Français mare by Diamant de Semilly, are always a pair to watch out for in speed classes and they proved their consistency tonight. The duo topped this class in 2019 as well as the $36,000 International Jumper Accumulator Costume Class.
"I definitely planned on aiming for this class tonight for her to try to win," explained Shulman. "I've had her a little over six years now. She's unbelievable. She's as fast, brave, and careful as any horse in the world really."
Shulman knew she would have to go all out after McLain Ward and Catoki set the pace early on with a quick time of 53.92 seconds.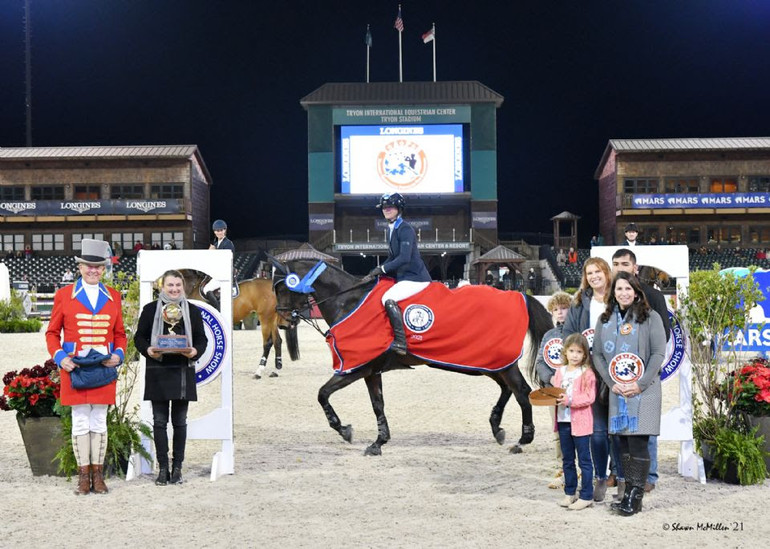 Sydney Shulman and Villamoura in their winning presentation with ringmaster Steve Rector, WIHS President Vicki Lowell, Amanda and Reddick Young, Lilah and Logan Cope, and TAPS Vice President, Sports and Entertainment Diana Hosford. Photo © Shawn McMillen Photography.
"After McLain went on Catoki, he came out and started to fire me up," said Shulman. "Little did he know he actually gave me more of a fire inside me to try to beat him. Catoki and Villamoura are probably the two fastest horses that show consistently against each other. It's a little bit of a fun game at this point, and we joke around about it.
"Although they both have similar strides and we often do the same numbers, Villamoura's right lead is actually really big, and I was able to leave out [a stride] after the Longines double to the MARS Equestrian™ oxer," continued Shulman. "I did seven strides there, and [Ward] did eight, which then let me do one less than him to the liverpool as well. She definitely made up the time there. She's just like lightning."
Shulman and Back Country Farm, the business she runs with her mother Jill Shulman, enjoy coming to the Tryon International Equestrian Center. Although the young rider always enjoyed showing in the Capital One Arena, she was pleased that TIEC is the venue for 2021.
"I personally love showing in Tryon," commented Shulman. "The footing is amazing, and the atmosphere at night is great. I think putting this show here really gives it a nice and extra-important feel. We are glad to support Washington International Horse Show. I've been going to WIHS since 2007. Winning here was just the icing on the cake."
Shulman was also awarded The General Dwight D. Eisenhower Memorial Perpetual Trophy donated by the late Arthur J. Morris.
Third place honors in the class went to Karl Cook of Rancho Sante Fe, CA, and Kalinka van't Zorgvliet. Cook rode his mount to a time of 54.73 seconds.
A special program in the Speed Final is the "Jump for TAPS," where money is donated for every clear round over the TAPS jump. The Tragedy Assistance Program for Survivors (TAPS), an official charity of WIHS, is the leading national organization providing compassionate care and survivor support services for the families of America's fallen military heroes.