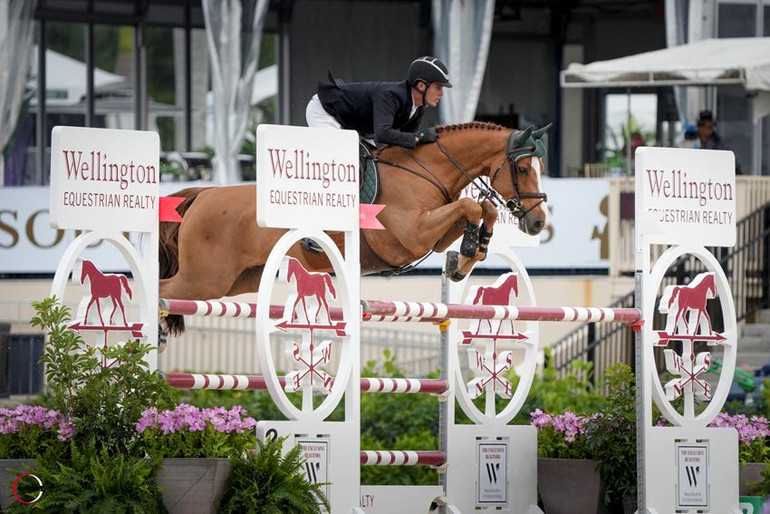 Tanner Korotkin and Quinn 33, winners of the Wellington Equestrian Realty CSI3* 1.45m Speed. Photo © Sportfot.
Press release from Wellington International
---
The CHF37,000 Wellington Equestrian Realty CSI3* 1.45m Speed highlighted Friday, January 13, in the International Arena at the Winter Equestrian Festival (WEF). It was a foot race to the finish, and the win went to Tanner Korotkin for the USA aboard Quinn 33.
The international entry list included fifty-four horses and riders jumping against the clock. Nick Granat (USA) designed a technical 1.45m track, with twelve obstacles total and a time allowed of 72 seconds.
The fastest time of the day was posted by 21-year-old Korotkin and his 2010 Holsteiner gelding (Quidam De Revel x Contender). The pair finished just below the minute mark in 59 seconds for owner Eickendorf Horses.
Brazil's Eduardo Menezes and Geavanta-C, owned by Stal Lenssens, chased Korotkin down, but finished just off the pace by fractions for a time of 59.18 seconds. Sydney Shulman Desiderio (ISR) rounded off the podium finishes riding Nanini van d'Abelendreef for owner Jill Shulman in a time of 60.15 seconds.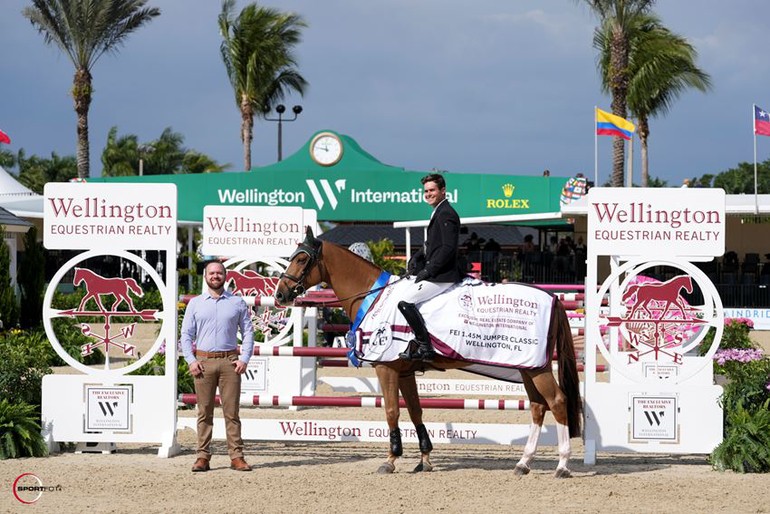 Cam Scott of Wellington Equestrian Realty presenting Tanner Korotkin and Quinn 33 as winners. Photo © Sportfot.
"The course designer definitely gave us a lot of options to go very fast today," said Korotkin. "The horse that I'm on, I'm very confident with and we have had a lot of wins recently. I thought it was a very solid course for his style and how he likes to go."
Korotkin and Quinn have pocketed four international victories together in the short five months they have been partnered. They gave the illusion, however, on Friday that they have spent years together.
"He's just a fighter, and he's one of the fastest horses in the country, in my opinion," said Korotkin. "He's careful, loves to win. He's just got that winner's heart, and I like that kind of horse. We get along great."
Starting his WEF season with a win in the FEI ranks, Korotkin is using the momentum to keep moving up noting, "I have a good string of horses here at the moment and my goal is to focus Quinn on the 1.50m classes. Then, I'll point my other ones to the bigger grand prix, and I hope to be a contender in the CSI4* and CSI5* classes."