Press release from Traverse City Horse Shows
---
Alison Robitaille (USA) returned to Traverse City with some horsepower to spare. In Thursday's opening FEI class, the $38,700 Downtown Traverse City CSI3* 1.45m Speed, she took the win by nearly a second on Ester de Maugre.

Quite a few entries came to play for week two of the Traverse City Spring Horse Shows, presented by Turtle Creek Hotel & Casino, with 35 coming forward in Thursday's class, despite cold and wet weather conditions. Guilherme Jorge (BRA) set a beautiful track for the international field to take on, and the lead changed hands a few times.

Robitaille had the benefit of knowing how the course rode when it came time for her third and final entry. With Jikke-Cara and Oakingham Lira, she put in a fast clear and a fast four, respectively, then she put together her game plan with her final entry.

"They're all such different horses," she said of her three rides, all owned by Alison Firestone LLC. "But I think it always helps to have more rounds, so I think it was an advantage [to have three]. It was my third time doing the course so I knew exactly where I wanted to cut the turns; I cut a little closer into the double on her and I think I did a tighter turn back to the four-stride line."

With a big week ahead for Ester de Maugre, winning the class wasn't part of the plan initially, but, as they often do, plans change while on course. "My plan was to really go medium today because I'm planning on riding her in the Grand Prix [on Sunday]," Robitaille explained. "But from the first fence she felt like she was on it, so I went with her. Everything just kept coming up exactly how I wanted. She was very good to me. She spread her wings. I was thrilled with how she finished up."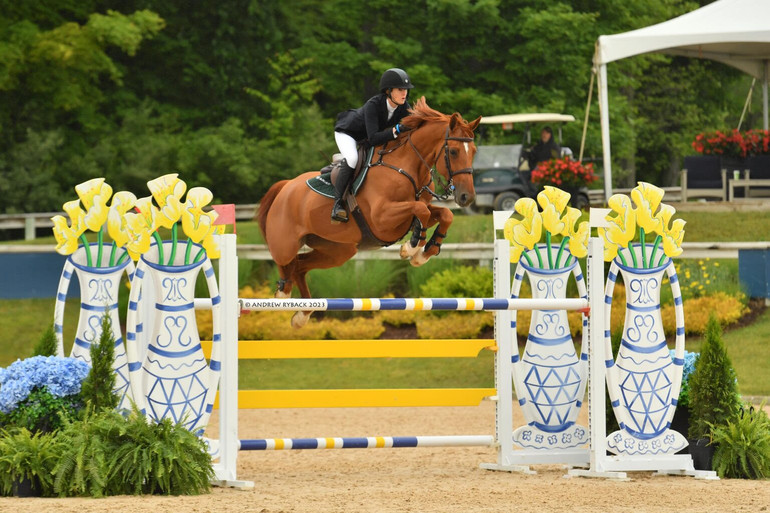 Alison Robitaille and Ester de Maugre shoot straight to the top of the leaderboard. Photo © Andrew Ryback Photography.
Claiming the lead with just two remaining, she unseated Katie Dinan (USA) who led for quite some time with the Grant Road Partners-owned Atika des Hauts Vents. With Dinan taking second, it was Colombia in third, as Roberto Teran Tafur held onto a podium placing after a speedy round early in the class aboard Santana, owned by Rocking Basilisk Farm, LLC.

Robitaille has had a big year breaking back onto the scene. The partnership between Robitaille and this nine-year-old Selle Français mare (Vigo Cece x Ogano Sitte) started coming together in the show ring at the end of February after being paired together by Kent Farrington (USA). She has several top mounts that are still very young, meaning she'll be one to watch as her horses mature and become even more competitive.

"She's very fast naturally which is always an advantage in speed competitions," she continued about Ester de Maugre. "She's really game and I love having her in my string."

Robitaille, unlike many, is big on chestnut mares, and this one fits her style just right. "She's a really smart horse. She loves her job and she comes out the same every day. I also love chestnut mares. I have always been very lucky and have had a lot of good chestnut mares. I love the look in her eye and her big floppy ears. She's just always wanting to do the right thing," she explained.

Echoing the sentiments of those returning to Traverse City, Robitaille said, "I love this area. It's always great to be back here. They've made such great improvements. The FEI stabling is beautiful. The ring looks great. It's a great place to be for a longer period of time with the horses."

International show jumping resumes Friday with the $38,700 Village of Elk Rapids CSI3* Welcome Stake.