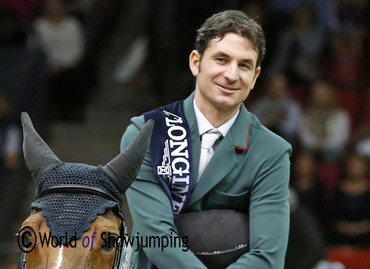 Steve Guerdat won in Dettighofen. Photo (c) Jenny Abrahamsson.
Der Grosse Preis von Albführen in Dettighofen suitably went to Albfuehren's Happiness (Heartbeat x Lambrusco Ask) and Steve Guerdat (SUI) after a clear winning round. Anna-Julia Kontio (FIN) was second with Pacific des Essarts (Diamant de Semilly x Totoche du Banney) and Paul Estermann cam third with Lord Pepsi (Lord Pezi x Santander).
Clarissa Crotta (SUI) and her relatively new ride Conte Bellini (Cornet Obolensky x Ramiro) won the Grand Prix in Leningrad as the only combination with two clear rounds. Natalia Simiona (RUS) was second with Klen (Kwazimodo x Libertas). Third place went to Conte Bellini's former rider Kristaps Neretnieks (LAT) and Zuko S (Odermus R x Voltaire).
The Stokbroekhoeve Grand Prix Bosserheide in Koningsbosch went to Mathijs van Asten (NED) and Aysatti (No Limit x Creool) after a fast and double clear round. Marc Bettinger (GER) came second aboard Chaneleur (Michael x No Limit) with Emma Augier de Moussac (CZE) and Kanonja (Kannan x Baloubet du Rouet) in third.
Andreas Knippling and Cassius 56 (Canturo x Aloube Z) won the Grand Prix in Wiener Neustadt ahead of another German rider Tim Hoster with Cerano (Cesano x Acord). Omer Karaevli (TUR) was third with Cortani (Cornet Obolensky x Atleico).
The win in Massongy went to Philippe Putallaz (SUI) and Quessant de Perhet (Quidam de Revel x Muglet du Manoir). Guillaume Hennequin (FRA) was second with Dir de le Rose (Kashmir van't Schuttershof x Narcos II) and Thjomas Leveque (FRA) was third riding Radja de Rochetaille (Burggraff x Henaud).
The Grand Prix in Rockwood, Canada on Saturday went to Nestor Nielsen van Hoff (URU) and Prince Royal Z de la Luz. Andres Alvarez (ECU) was second riding Cash Z and Erynn Ballard (CAN) was third with Appy Cara.
In Keysoe, England, Nick Benterman (GBR) won the 2* 1.45 Longines Ranking class last Thursday. Benterman won the class aboard Zorland D with WIlliam Whitaker (GBR) in second place and Anthony Condon (IRL) in third.
Click here for full results (Scroll down to Competition No.10)