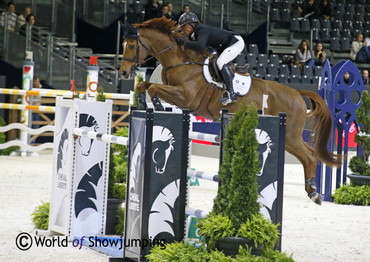 Olivier Robert with Quenelle du Py. Archivephoto (c) Jenny Abrahamsson.
The CSI3* Grand Prix de Megève went to Olivier Robert (FRA) and Quenelle du Py (Tresor du Renom x Ryon d'Anzez) after a 12-horse jump-off. In addition to Robert the only double-clear rider was Nadja Peter Steiner (SUI) and Saura de Fondcombe (Balou du Rouet x Paladin des Ifs). Number three Frederique Fabre Delbos and Nirvana Basters (Rosire x Iris Landai) had by far the fastest time in the jump-off, nearly three seconds faster than the winner, but on the expense of a fence down and thus four faults.
Abdel Said and his nine-year-old ride California (l'Esprit x Libero H) won Saturday's 1.55 Grand Prix in Knokke, presented by Porsche. The combination is on a good form at the moment as they also won the small Grand Prix last weekend. Said and California won by the smallest margin, only 0,02 seconds ahead of Patrice Delaveau and Orient Express Hdc (Quick Star x Le Tot de Semilly). Third place went to Niels Bruynseels and Cas de Liberte (Cracky Z x Chellano Z).
It was Gabor Szabo Jr. and Timpex Bolcsesz (Timpex Cabale x Hargita) taht won the Grand Prix in Budapest ahead of Sören Pedersen with Tailormade Chaloubet (Chacco-Blue x Baloubet du Rouet) and Amre Hamcho with Senorita (Caesar van de Helle x Sandro).