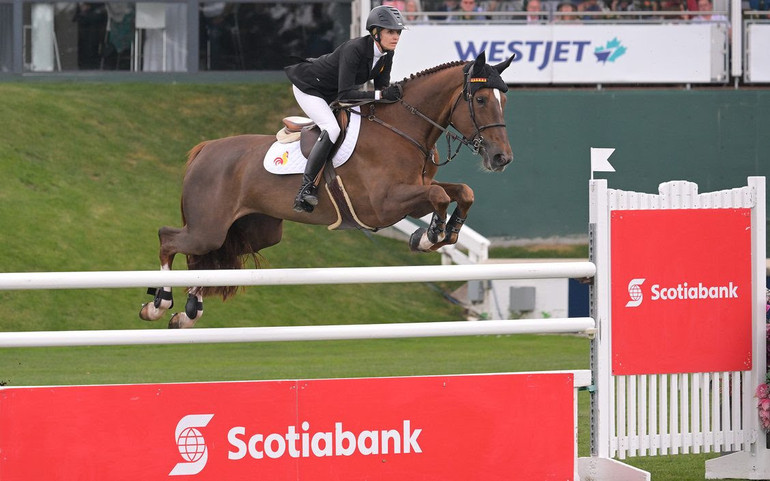 Tiffany Foster and Electrique, winners of the CSI5* 1.50m Scotiabank Cup at Spruce Meadows. Photo © Spruce Meadows Media/Mike Sturk.
Edited press release from Spruce Meadows
---
The CSI5* 1.50m Scotiabank Cup was the final competition to wrap up Friday of the Spruce Meadows 'North American' 2023, presented by Rolex. 43 horse-and-rider combinations stepped through the clock tower to challenge the track designed by Santiago Varela (ESP).
Despite a little bit of rain, nine of the competitors jumped clear in the first round and advanced to the jump-off. The depth of Tiffany Foster's (CAN) current roster is something all riders covet. On Friday, Tiffany brought the 9-year-old mare Electrique (Emerald x Voltaire) through the Clock Tower and she performed like an old pro. In the jump-off, Tiffany used the mare's big stride and careful nature to best the rest of the competitors. The pair galloped through the finish line in a time of 39.15s to secure Tiffany's second International Ring win in a row.
"I think especially here at Spruce Meadows, you hear the cheer when you go in (to the ring) in front of the home crowd – I always try my best to make them proud. I love jumping here, I love jumping in front of the Canadian fans and hopefully we can carry on tomorrow," Foster said on her second International Ring win of the week.
Ireland's Darragh Kenny and California Pie (Captain Cooper x Ramiro's Son) placed second in 39.68, while his compatriot Paul O'Shea (IRL) and Squirt Gun (Diarado x Quick Star) took the third place in 40.09. Conor Swail (IRL) and Count Me In (Count Grannus x Sherlock Holmes) finished fourth in 40.24 and Virginia Bonnie (USA) fifth in 45.24 aboard Efodea (Kashmir van Schutershof x Nabuur).