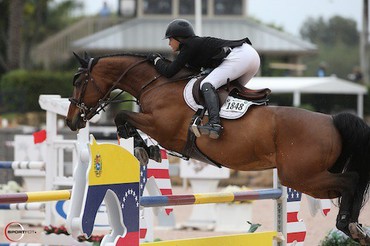 Victoria Colvin and Cafino. Photo (c) Sportfot.
Seventeen-year-old Victoria Colvin (USA) and newly acquired mount Cafino, owned by Take The High Road LLC, topped the $25,000 Suncast® 1.50m Classic today riding clear through the jump-off in 35.57 seconds to take the win. Laura Kraut (USA) and Nouvelle were close behind completing the jump-off course in 36.085 seconds for second and Andrew Ramsay (USA) and Winn Winn crossed the timers in 36.101 seconds to take third.
Colvin, coming off a record-breaking performance at WEF 6 $100,000 USHJA/WCHR Peter Wetherill Hunter Spectacular aboard Dr. Betsee Parker's Ovation, has recently started riding Cafino, who was purchased from Alexander Zetterman to help jump-start her show jumping career. Even though the two have not been partnered for long, Colvin's skills in the ring come naturally, as she piloted the 12-year-old Swedish Warmblood gelding to a win in the large class full of veteran pairs.
"I'm so happy with the win today. It was just amazing. I haven't been riding him for a very long time; it's really only my second week! He was great last week in the High Classic and I went fast there too, so it was good preparation for today," smiled Colvin.
The switch from the hunters to the jumpers has come easily for Colvin, who enjoys the excitement of the jumper ring. "It's nice to be able to go into the hunter ring and be slow and soft and then be able to flip a switch to the jumper ring which is just faster and spicier," she laughed. "It really does help with the handy classes and the equitation too though, so it all balances out for me."
The pair will contest the Artisan Farms Under 25 Grand Prix Series Semi-Final, presented by Kingsland Equestrian, in Week 9 of WEF and will continue to map their plans from there. "I'm really excited to have the ride on this horse, and he's just great. He's perfect on the ground and when you bring him next to the ring he understands its time to go and get the job done, which I love," commented Colvin.
Final Results: $25,000 Suncast® 1.50m Championship Jumper Classic
1. CAFINO: 2003 Swedish Warmblood gelding by Cardento 933 x Roderik 856 VICTORIA COLVIN (USA), Take the High Road LLC: 0/0/35.570
2. NOUVELLE: 2004 KWPN mare by Solitair x Contango LAURA KRAUT (USA), Evita Group: 0/0/36.085
3. WINN WINN: 2003 AES mare by Chin Chin x Wagenaar ANDREW RAMSAY (USA), Andrew Ramsay: 0/0/36.101
4. VALINSKI S: 2002 KWPN gelding by Nikinski x Julius BEN MAHER (GBR), Wyndmont: 0/0/37.083
5. DEAUVILLE S: 2006 Holsteiner gelding by Diamant de Semilly x Lux LAURA KRAUT (USA), Julius Peter Sinnack: 0/0/37.283
6. BUGATTI: 2006 KWPN gelding by Heartbreaker x Pilot WILHELM GENN (GER), Eduardo Leon: 0/0/38.984
7. ZONNEGLANS: 2004 KWPN mare by Dutch Capitol x Wellington GEMMA PATERNOSTER (GBR), Gemma Paternoster: 0/0/43.935
8. ZARISMA: 2004 mare by Chin Chin x Quick Star ALVARO DE MIRANDA (BRA), Fabio de Arruda Martins: 0/0/44.016
9. QUOINTREAU UN PRINCE: 2004 Selle Francais gelding by Diamant de Semilly x Rosire LAURA CHAPOT (USA), Laura Chapot & McLain Ward: 0/4/36.473
10. ORBETELLO: 2003 Oldenburg stallion by Orlando x Landgraf I CHRIS EWANOUSKI (USA), Hampton Farms LLC: 0/4/37.109
11. BACKSTORY: 2006 KWPN gelding by Ustinov x Amulet DARRAGH KERRINS (IRL), David Hopper:0/4/37.910
12 WELCOM COR: 2006 Holsteiner mare by Caretino x Coronado WILHELM GENN (GER), Ann F. Anastasio: 0/8/37.171
Source: Press release from Jennifer Wood Media, Inc.