Press release from Equestrian Sport Productions written by Jennifer Wood and Summer Grace for Jennifer Wood Media, Inc.
---
The highlight event of the 2019 Winter Equestrian Festival (WEF), the $500,000 Rolex Grand Prix CSI5*, was held as the final "Saturday Night Lights" class on Saturday, March 30. Topping the ultimate test at WEF were McLain Ward (USA) and HH Azur in a thrilling eight-horse jump-off. WEF concludes on Sunday, March 31, ending a 12-week circuit of top jumper, hunter, and equitation competition that awarded more than $9 million in prize money.
The 2019 WEF concludes on Sunday, March 31, at 1 p.m. with the $50,000 USHJA International Hunter Derby on the grass derby field at Equestrian Village. The $50,000 Puissance America Grand Prix CSI2* and the $50,000 CaptiveOne Advisors 1.50m National Grand Prix will wrap up international jumper competition on Sunday in the WEF International Arena.
In a field of 40 entries, some of the best horses and riders in the world vied for the chance to take home the top prize money of the circuit. They were riding over a course set by 2016 Rio Olympic Games designer Guilherme Jorge of Brazil.
There were eight that found the key to a clear round to advance to the jump-off. The pathfinder was David Blake of Ireland riding Pine Hollow Farm's Keoki. They set the pace at 44.36 seconds with a steady clear round, which would keep them in fifth place at the conclusion of the class.
The winning time was lowered with the next horse, H5 Quintol, owned by H5 Stables and ridden by Eduardo Menezes (BRA). They sped through and despite a hard rub at the second to last vertical, stayed clear in 39.69 seconds. They would finish in fourth place.
Next in was 19-year-old Lucy Deslauriers (USA) riding Lisa Deslauriers' Hester. With an impressive early rollback to the Adequan vertical and a quick pace through the remainder of the jump-off, they shaved four-tenths of a second off the leading time to finish in 39.25 seconds for third place.
In her first class of the week on Wednesday, Deslauriers had a fall in the 1.45m class. With her usual determination, she bounced back for a solid finish on Thursday to qualify for the Rolex Grand Prix.
"I think at the beginning of the week I was definitely a little out of practice mentally without being in the ring for a few weeks," said Deslauriers, who is currently a fresh-man at University of Pennsylvania. "I really tried to just regroup. I came back and jumped the WEF [Challenge Cup], and the horse felt great. I knew it was up to me to stay out of his way coming into tonight. I really tried to stick to the plan, do everything I could, and I knew he'd be right there with me. I'm thrilled."
While Deslauriers has won a five-star class before, she noted, "Unquestionably, this is one of the top, if not the top, moment. I think not only as prestigious as this class is, but to be sitting next to these two (McLain Ward and Kent Farrington) for sure."
To the delight of the crowd, the rounds kept getting faster and faster. Rolex testimonee Kent Farrington (USA) and Gazelle, owned by Farrington and Robin Parsky, started off with a blazing gallop and never let up, streaming through the timers in 37.82 seconds. They would have to wait for the remaining four entries to see if their time would hold up.
"[McLain and I are] great competitors, and we're friends. I know if he's coming at the end of the class, it's going to take everything usually to win," said Farrington. "He's on one of his best horses and it's one of the best horses in the world. I tried to go as fast as I could go without being completely reckless. [Azur] has a bigger stride, so I thought on my rollbacks, I did the maximum that that horse could do. I think today's jump-off suited a bigger-strided horse, but it was very close at the end. He had a tremendous round. I think it was an unbelievable effort from him and his horse. Unfortunately, we ended up second today."
Farrington was proud to represent Rolex in the final grand prix of the WEF season.
"I think Rolex has raised the whole level of the sport, especially here at this venue," he said. "As an athlete, it's one of the greatest sorts of achievements; I'm very proud to be a Rolex ambassador. They do a lot for the sport worldwide. They've historically been a big sponsor of the sport and continue to do so. I think we're all very lucky to have them involved and to raise the level of the sport to where it is today."
Daniel Bluman (ISR) and Ladriano Z, owned by Over the Top Stables LLC, would enter the jump-off next, but it was not to be when they had a rail at the Adequan vertical. They finished on four faults in 39.09 seconds for sixth place.
With an unfortunate fall at the second to last fence in the jump-off, Laura Kraut (USA) and St. Bride's Farm's Confu were eliminated and finished the class in eighth place.
Next in was Rodrigo Lambre (BRA) riding Mario Onate's Velini. With a rail down over the Rolex oxer, they would land on four faults in 40.15 seconds for seventh place.
It all came down to the final rider in the ring to see who would receive the Rolex time-piece and top honors for the WEF circuit. With three wins in this final grand prix over the 12-year history of the class before Saturday night, Ward was certainly stiff competition.
Tapping into HH Azur's massive stride and incredible talent, Ward galloped around and made short work of the jump-off. After adding a stride in the final rollback, Ward pushed to the final Rolex oxer. They sped through the timers in 37.42 seconds to take the win over Farrington by four-tenths of a second.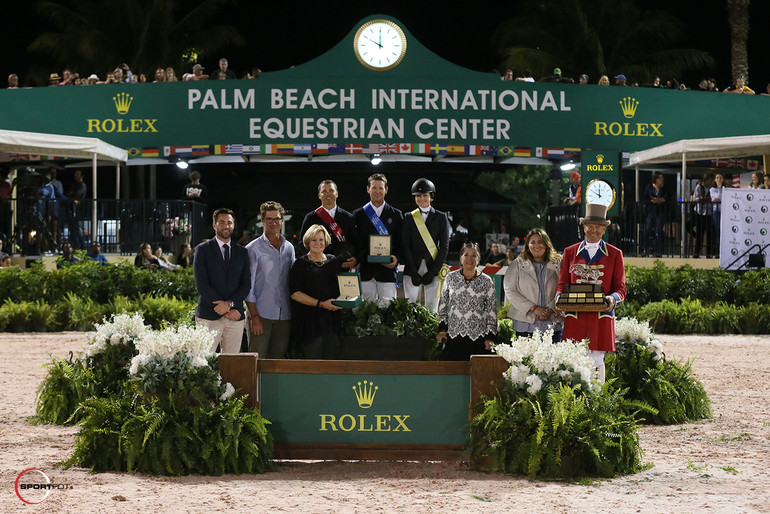 Kent Farrington, McLain Ward, and Lucy Deslauriers on the podium, joined by Kyle Younghans, Sports Marketing Manager of Rolex Watch USA, Quentin Judge, Jeannie Harrison, Marsha Dammerman, Cayce Harrison, and ringmaster Steve Rector. Photo © Sportfot.
"The jump-off set up well for my horse. I have a bigger stride than [Kent's horse] has, and I knew I could do six [strides] from two to three," said Ward. "I thought I could cut back on the double maybe a bit faster. The rollback didn't show up, I was losing to the left, and I had to add one and kind of was dealing cards. I figured there was nothing to lose. [The last oxer] looked far away about six or seven strides out, but she covered it beautifully. Let's be honest, it was a half an inch. It was great sport. Sometimes [Kent is] in this seat, and sometimes, I'm in that seat. It goes both ways."
It was a great return to the top for the HH Azur, who is owned by Double H Farm, François Mathy, and Ward. A slight injury kept her from competing at the FEI World Equestrian Games™ Tryon 2018 and since then, Ward and his team have worked to return her to her winning ways.
"I'm really excited for Azur and all of her owners," said Ward of the 13-year-old Belgian Sport Horse mare by Thunder van de Zuuthoeve x Sir Lui. "It's been a long road back since she was injured last summer. Obviously, she's one of the best horses in the world, and her not being fit and healthy for the WEG was a huge disappointment to everybody involved with her. It's a real testament to Tim Ober, our vet; Mikey Boylan and Lee McKeever and his team, who really brought this mare back to top sport.
"Coming back this winter, we've had a little bit of four fault-itis," he continued. "I thought she jumped really great in the five-star a few weeks ago here and had kind of a funny rail down. Then I made a mistake in California in the $1 Million Grand Prix. So, it was nice to put it together. I think she's been in good form, but finally I put it together to not make a mistake. It was great for everybody involved."
Mark Bellissimo, CEO of Equestrian Sport Productions, thanked the athletes for the in-credible sport that took place and noted the steady growth seen over the last 11 years of the Winter Equestrian Festival.
"It was probably the biggest crowd that we've ever had here," he said. "It was a great show that these three athletes here – a new generation in Lucy and two of the most gifted athletes in the sport – gave, to go out there and compete at this level is just absolutely fantastic.
"I want to thank Rolex," he continued. "Rolex has continued to be a great sponsor for the sport and for this venue. To see the level of competition, which will be on an NBC Sports broadcast, I think is great for the promotion of the sport. I think that there's just a great opportunity here for the venue and for the sport. We're excited about it. I think we'll look at investing a significant amount of resources in this venue over the next six to eight months. We're excited that we're able to attract the athletes that we have and the level of competition that we saw tonight."
Several special awards were presented on Saturday night, including:
Simba Run Perpetual Trophy – Gazelle, owned by Kent Farrington and Robin Parsky
Overall Martha Jolicoeur Leading Lady Jumper Rider, in memory of Dale Lawler – Amanda Derbyshire
The Dennis Dammerman Perpetual Trophy – McLain Ward
Oliver O'Toole Perpetual Memorial Trophy – Groom of Ladriano Z – Jessica Stanek and the groom of Clooney 51 – Sean Vard
Champion Equine Insurance Overall Jumper Style Award – Ladriano Z, owned by Daniel Bluman