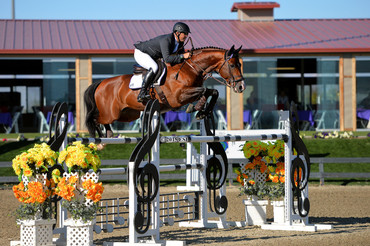 Vinton Karrasch on Coral Reef Follow Me II. Photo (c) ESI Photography.
Thermal, California (February 5, 2015): Vinton Karrasch, of Rancho Santa Fe, California, flew 2,500 miles to compete at HITS Desert Circuit IV, the first of two Fédération Equestre Internationale (FEI) World Cup qualifying weeks at the HITS Desert Circuit. His effort paid off as Karrasch won the first FEI class of the week, the $34,000 HITS Desert Classic, presented by OSPHOS®, on Thursday, riding Coral Reef Follow Me II, a 10-year-old Westphalian owned by Coral Reef Ranch.

"My plan for this whole year has been the World Cup; I've been targeting the World Cup," said Karrash after clinching the blue ribbon and a $11,220 prize with a time of 41.05 seconds, and taking a victory lap around the ring with the other eight jump-off riders. Three of those jump-off riders also went double-clear in the second round, out of a total 36 horses that entered the class. Karrash will take home the $11,220 prize and plans to return for Desert Circuit V, the second FEI World Cup qualifying week at HITS Thermal.

Karrash said Coral Reef Follow Me II is quicker than people estimate. "Once we got going [in the jump-off] we were really going," he said. "He's deceptively fast." Karrash said the course, designed by Martin Otto of Munster, Germany, was "was pretty straight forward."

In second place was Tamie Phillips on her own Cat Balou, to win $6,800. The pair completed the jump-off in 42.35 seconds, a full second ahead of the third place rider, Lauren Crooks on Cathy Langston's Ziezo II in 43.81 seconds. The fourth rider to go double-clear, Jenni McAllister on Casseur de Prix, owned by Granville Equine, finished in 45.06 seconds.

Will Simpson, who won five Grand Prix in a row to start the circuit, came in fifth with a time of 41.79 seconds and four faults on Monarch International's The Dude.

Coming up Saturday, February 7, is the $50,000 HITS Grand Prix CSI-W2*, presented by OSPHOS®, an FEI World Cup qualifier, that will be held under the lights of the Grand Prix Stadium. Then, after a one-week intermission, HITS Desert Circuit V starts February 17, bringing riders yet another FEI World Cup qualifying week at HITS Thermal, including the $50,000 HITS Grand Prix CSI-W2*, presented by OSPHOS®, on February 21. For more information, visit HitsShows.com.

Source: Press release from HITS, Inc.