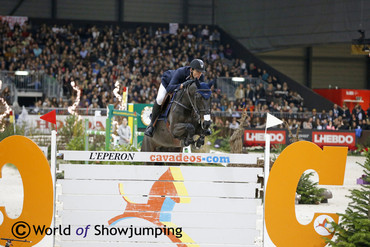 Gregory Wathelet with Oh d'Eole - here seen in Geneva. Photo (c) Jenny Abrahamsson.
Saturday's biggest class 'Art on Ice Preis' in Zürich was won by Gregory Wathelet on Oh d'Eole (Kannan x Papillon Rouge). Gregory was a second faster than Hans-Dieter Dreher with Colore (Contender x Lord) in the second phase of the 1,50 class. Hansi was another second ahead of Bertram Allen with Romanov (Heartbreaker x Fedor) who also had a second up to the rider behind him - Kaya Lüthi with Pret a Tour (Hiram Chambertin x Stew Boy).
Ludger Beerbaum and Zinedine (Guidam x Heartbreaker) won the 1,40 class on Saturday night. It was a class where 15 of the best riders in the world competed against juniors and young riders. The experienced riders dominated though by taking the top 8 places. Second place went to Pius Schwizer with Anisette de Lassus (Sherman-Sitte x Blume la Borderie) and third to Gregory Wathelet with Zippit (Berlin x Zeus).