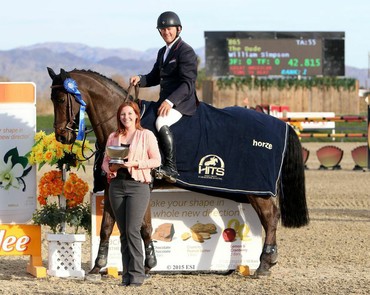 Will Simpson and The Dude took first place in the $25,000 SmartPak Grand Prix. Photo (c) ESI Photography.
With no faults and a time of 42.815 seconds, Will Simpson and The Dude, owned by Monarch International, won the first Grand Prix of the season at the HITS Desert Circuit. One of only three riders to go clear, Simpson prevailed in the jump-off with a time almost three seconds faster than his nearest competitor, Susan Artes and Zamiro, owned by Alix Fargo.
With the win, Simpson, of Westlake Village, California, took home a cash prize of $7,500. Artes, of Burbank, California, placed second, with a clear round in a time of 45.222 seconds, while Eduardo Menezes, of Carlsbad, Brazil, and Clear Me, owned by Ilan Ferder, placed a close third with no faults in a time of 45.714, in the course designed by Florencio Hernandez, of Mexico City, Mexico.
Simpson was quick to give credit to The Dude for the win. "He is a horse we are really excited about, and a horse that seems to truly understand the sport," said Simpson. He also praised SmartPak, the sponsor of the class and numerous Grand Prix throughout the HITS Thermal and HITS Ocala circuits. "A company very much into horses like they are," said Simpson, "makes our horses safer and happier."
The $25,000 SmartPak Grand Prix is the first major showjumping event of the 2015 HITS Desert Circuit. The circuit will continue for eight weeks, from January 13 through March 15, with an off week in February. The next Grand Prix is the $50,000 Equine Couture/Tuffrider Grand Prix on Sunday, January 18. Throughout the entire series, held at the state-of-the-art HITS Desert Horse Park, hundreds of riders and horses will compete in dozens of classes for all levels of experience, with more than $3 million in prizes at stake.
Source: Press release from HITS Media Team