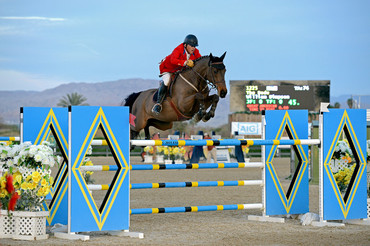 Will Simpson and The Dude. Photo (c) ESI Photography.
Olympian Will Simpson continued to set high standards with his Grand Prix winning spree at HITS Thermal, claiming his impressive seventh first-place win this season in the $34,000 FEI HITS Desert Classic on Thursday.

Eleven horses made the jump-off and seven went double-clear. Simpson and The Dude, owned by Monarch International, went last to finish double-clear in 36.45 seconds. In second was Eduardo Menezes, on Quintal Mercedes Benz, owned by Santiago Hank, who went second-to-last and finished a clean jump-off round in 37.04 seconds. Rounding out the top three was Patricio Pasquel on his own Careyes, finishing with no faults in 37.11 seconds.

The Dude, Simpson said, has elevated the entire Monarch team and made a critical impact on their classes in this circuit. "He is wonderful to have in the barn and has added some real excitement for us," he said. When asked about his string of Grand Prix wins and other competitors at HITS Thermal, Simpson said, "It's like a heated battle that we are all having so much fun with. All day long everyone keeps saying stuff to me in great fun, that they will do this or do that to catch me. It's great sport and it's what we are here for. I live for this stuff, and when you finally have a superstar horse it gets pretty sweet."

He tries not to think about how many wins he's had this circuit, but others don't let him forget that fact. "I come out and do my job diligently. I am so fortunate to have a great team in the Heidegger family (which owns Monarch International) and amazing guys in the barn who have everything running just right. We are all working overtime to keep everything going along smoothly. I'll let him have some time off now, 'til Sunday; he is a young horse and we are careful with him. But he sure loves this and I don't want to get ahead of him. Man that was fun."

Second-place winner Menezes said of Simpson's wins, "Will has ramped up the sport of jumping here and it's been good for all of us. We are all going faster and going after him and that has made us all better. This is why we show these horses, wanting not only for the win, but to be a part of a good win. Winning and being the only clear is nice but it's just not our sport - this circuit has been anything but dull. We will continue to try to catch him."

Pascal, too, commented on the Grand Prix. "The class was more technical than big today," he said. "With 10 in the jump-off, it was nice, although a bit different going at night. My horse was quite good and I tried to run fast to beat Will. We are going to have to go super-fast to beat him."
Source: Press release from HITS, Inc.