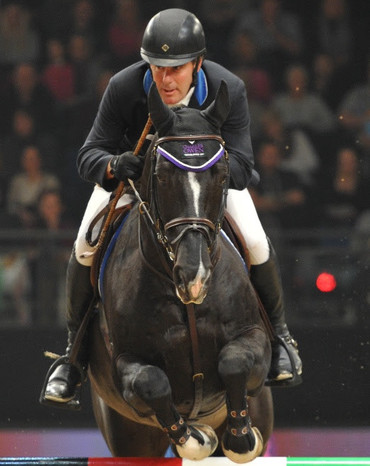 William Funnell and Billy Congo won the 1.50-metre jump-off class, sponsored by Horse & Hound. Photo (c) Trevor Meeks.
European Championships team gold medal-winning combination William Funnell and Billy Congo (Vechta x Animo) delivered a classy display to end day two of the Equestrian.com Liverpool International Horse Show in winning fashion. The 1.50-metre jump-off class, sponsored by Horse & Hound, saw Funnell and the 15-year-old stallion at their brilliant best, and another bumper Liverpool Echo Arena crowd loved every minute.
Twelve combinations made it through to the jump-off, and Funnell's time of 35.28 seconds proved too much for the rest, although Ireland's Billy Twomey actually went quicker on Diaghilev (Vangelis S x Handstreich), but they had the last fence down.
Liverpool-born Peter Charles, part of Great Britain's London 2012 Olympic gold medal-winning team, finished second with the richly-promising Dauphin (Memphis x Damiro), while Irish challenger Dermott Lennon finished third aboard Fleur IV (Chatman x Darco).
Funnell collected a first prize of £6,000, and he was understandably delighted after an immaculate display that showcased everything about the horse's poise and power. "I wasn't going to do anything daft tonight," he said. "I kept everything tight and neat, and luckily it forced a few errors. He has won at five-star level, he has won more than £600,000 in his career, and he is a class act."
"His results speak for themselves. I have won a five-star grand prix with him, and he is a horse of a lifetime. It's lovely to have a horse of that quality."

Funnell, meanwhile, offered high praise for the inaugurual Liverpool show. The Echo Arena rocked to the rafters on Saturday as bumper crowds packed out the venue.
"You run out of superlatives for this show," he added. "We have tried to give entertainment, and you can see with the riders that we are really enjoying the show. The whole thing is just fantastic."
Another Italian win
Earlier in the afternoon, Piergiorgio Bucci and Casallo Z (Casall x Carthago Z) made it another successful Italian job following his compatriot Emanuele Gaudiano's victory on Friday, and there was no doubting his supremacy in the 1.45 metre class against the clock, sponsored by Equo.
"I have enjoyed this show so much," he said. "I must say congratulations to Nina (Barbour) and all the organisers. This is the first year at Liverpool, and they have done an amazing job. It is so impressive. It is a super arena, and you get a really good, warm feeling in there."
The Liverpool Echo Arena was bursting to its 6,000 capacity for a thrilling afternoon session, and the feature class provided some pulsating action, with Bucci prevailing in a time of 46.44 seconds.
Britain's Laura Renwick had set a scorching pace aboard Heliodor Hybris (Diamant De Semilly x Cannonball), clocking 47.50 seconds, while Ireland's Billy Twomey challenged strongly with Tin Tin (Cavalier x Animo), but ultimately they had to settle for second and third places, respectively.
---
Source: Press release from Liverpool International Horse Show // Picture (c) Trevor Meeks