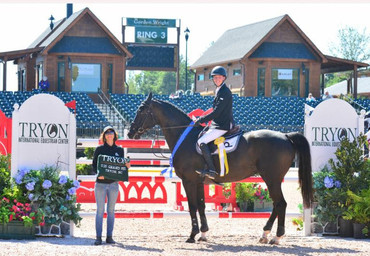 Wilton Porter and Delinquent JX pose with groom Monica Melero in their award presentation. Photo ©ManciniPhotos.
Wilton Porter of Bartonville, TX, dominated the $15,000 Under 25 Grand Prix at Tryon International Equestrian Center (TIEC) today, piloting both of his mounts to finishes in the top three. Porter collected first place aboard Delinquent JX and third aboard Patriot, both owned by Sleepy P Ranch, LLC. Alise Oken of Charlotte, NC, and Kaid Du Ry placed second between both of Porter's rides.

Porter and Delinquent JX, a 2007 Scottish Sport Horse gelding, bested the class of 21 entries, capping the four-horse jump-off with a time of 40.394 seconds. As the last pair to return in the jump-off, Porter felt the pressure of riding a fast clear round after Oken blazed around the track aboard Kaid Du Ry, stopping the timers in 42.75 seconds.

"I'm feeling really good about today. Both of my horses were very solid in their rounds and I felt like I needed this after last night. It was, in a way, redemption for me because I didn't have the best rounds and wanted to prove to myself that I could get it done," said Porter.

Both horses take a similar ride according to Porter, who said both Delinquent JX and Patriot are very straightforward and two of the best in his string of upper level mounts.

"The plan didn't really change that much between the two of them on course and when I walked it, I thought it was a really fair test but there weren't that many clear trips, which surprised me," said Porter. "My strategy with Patriot in the jump-off, after seeing some of the rails come down, was to just go neat and clear and see if that would put the pressure on Alise, which she totally took in stride and answered, so I knew I needed to go for it on Delinquent."

Deliquent JX and Porter are a relatively new pair, partnered before the most recent 2015 Winter Equestrian Festival (WEF) in Wellington, FL. The pair has been consistent at the 1.40m and 1.50m level, but today was a real step forward in the pair's partnership for the future.

"This is our first major win together. He's eight years old and we got him in late 2014 from England from Simon Buckley and he's up and coming. We've tried to figure out where he would be most comfortable and he's really stepping up," said Porter. "We're hoping that he'll be a really solid Grand Prix horse or a great FEI speed horse."

As Porter continues to make his mark in the young rider standings, he will focus on improving and becoming more consistent with each ride. Showing a natural ability to perform and compete, the sky is the limit for one of the United State's up-and-coming talents.

"One of the most important things for me this summer is developing my team and maintaining consistency throughout the season," he commented. "I really want to work to move up in the new Under 25 ranking list that we have. I think I'm sixth right now, but I want to focus on that consistency and keep winning prize money to move up. That is definitely a huge goal right now."

The Sleepy P Ranch team will be based at TIEC for a majority of the summer season, where they have been since the Spring Series, which concluded on June 7. Porter has thoroughly enjoyed his time at TIEC and believes that the venue will bring great things to the sport in the near future.

"We've gotten to spend a lot of time (here), and I really love it. The ring space is incredible and really allows us to work our horses properly. The stabling is just amazing, and anything you could ever need is here," said Porter. "They've thought of everything, and it is really an amazing facility."

Final Results for $15,000 Under 25 Grand Prix:
1. DELINQUENT JX, 2007 Scottish Sport Horse gelding by Darco x Summer Love WILTON PORTER, Sleepy P Ranch, LLC: 0/0/40.394

2. KAID DU RY, 1998 Selle Francais gelding by Brettt Saint Clair x Candy Des Champs ALISE OKEN, Hi Hopes Farm, LLC: 0/0/42.75

3. PATRIOT, 2003 Holsteiner gelding by Colman x Harmonie XIV WILTON PORTER, Sleepy P Ranch, LLC: 0/0/46.436

4. BETTERTIMES, 2006 Dutch Warmblood mare by Londontimes VICTORIA COLVIN, Heritage Farm, Inc: 0/8/45.392

5. CABRAS, 2004 Holsteiner mare by Colman x Ostia IV NOEL FAUNTLEROY, Noel Fauntleroy: 4/77.129

6. PARK LANE, 2005 Scottish Sport Horse gelding by Pall Mall x Nistrea DAVID BLAKE, Pine Hollow Farm: 4/77.589

7. LUMIERE, 2004 Oldenburg gelding by Clay x Feodora VICTORIA COLVIN, Peacock Ridge, LLC: 4/78.213

8. ANABELLE 28, 2006 Belgian Sporthorse mare by Kashmir Van Schuttershof x Tabelle MEGHAN SHADER, Shader Sporthorses, LLC: 4/78.976

Source: Press release from Tryon International Equestrian Center.