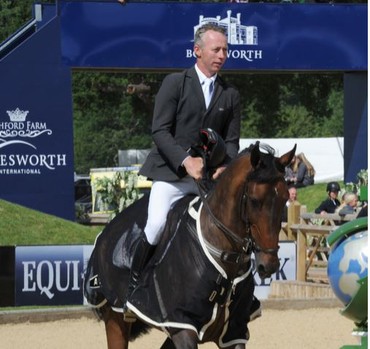 Dermott Lennon and Loughview Lou-Lou won at Bolesworth. Photo (c) Bolesworth International.
Former world champion Dermott Lennon ensured that Irish eyes were smiling on day one of the Ashford Farm CSI4* Bolesworth International by delivering a commanding display on the consistently successful Loughview Lou-Lou (Limmerick x Jack Of Diamonds).
Irish star Lennon won the 1.50 speed class, sponsored by AGA, to continue a successful season that saw the combination crowned grand prix champions at Royal Windsor last month.
Their time of 60.13 seconds proved too hot to handle for the rest of a 55-strong field as world number one Scott Brash's Bolesworth debut ended in frustration when he was eliminated at fence three aboard Hello Forever after the horse refused.
Lennon, though, had no such trouble, claiming victory and a £7,260 prize by an emphatic margin from British challenger Nicole Pavitt and Victor Blue (My Bjorn W x Rebel II Z), while American Laura Kraut was third aboard Nouvelle (Solitair x Contango) and Laura Renwick fourth on Heliodor Hybris (Diamant De Semilly x Cannonball).
"The course jumped well," said Lennon, who won the world title in 2002. "There was a lot of turning, but it was a fair course and the ground was really good to help you make the turns. "Lou-Lou is actually easier to ride when she is going fast, and she has a huge stride. It suited us today.This is my first year here at Bolesworth, and it is a stunning place. It's beautiful."
Elsewhere, Harriet Nuttall and her speed machine Silver Lift (Easy Lift x Silver Cloud) wasted little time in making an impact as the Somerset rider continued a highly-successful year on the 10-year-old grey gelding by winning the 1.40 two-phase class, sponsored by A W Jenkinsons.

The Castle Arena's main feature class proved to be a thrilling spectacle, with Nuttall clocking a jump-off time of 29.89 seconds that gave her victory from Ireland's Captain Michael Kelly on Drumiller Lough (Heartbreaker x Mountain Pearl), while James Smith and Tyson Uno (This Uno x Grosso Z) finished third.

It was another classy performance by Silver Lift, and acted as perfect preparation for next week's Hickstead Speed Derby, where Nuttall hopes he can go one better than last year's runners-up spot. "He is a quick horse, and he is in his element at 1.40m," she said. "He has been winning a lot recently, taking a class at the Odense Nations Cup Show and in Lisbon".

"The Castle Arena is on a bit more of a slope than you would think, but he likes a bit of hilly ground and that really suited him today. I had a particularly good shot to the oxer fence up the hill. He is part-thoroughbred, so he has a good canter and is quick over the ground. He was second in the Hickstead Speed Derby last year, and he has got a very good record there."



Source: Press release from Bolesworth International