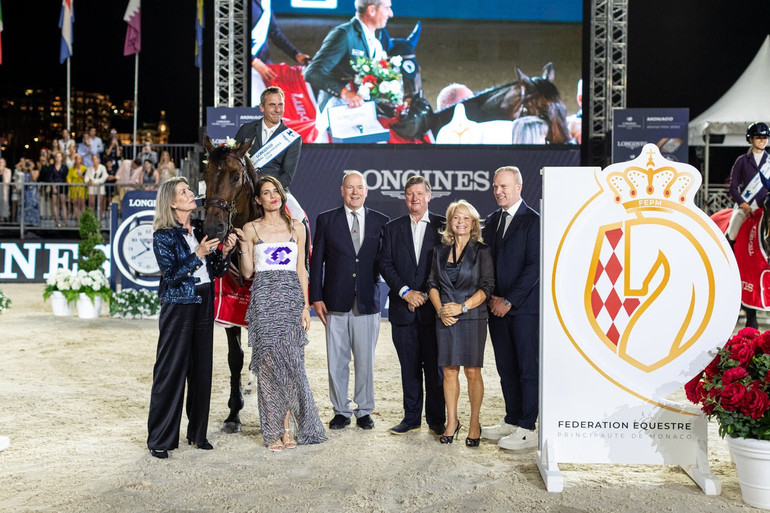 Donatello d'Auge and Julien Epaillard took their second LGCT Grand Prix win of the 2023-season. Photo © LGCT.
Edited press release from Longines Global Champions Tour
---
Under the patronage of HSH Prince Albert II of Monaco, the 9th leg of the Longines Global Champions Tour at Port Hercules in Monte Carlo, Monaco, concluded with a French victory in the CSI5* 1.60m Longines Global Champions Tour Grand Prix du Prince de Monaco.
As last to go in a jump-off between five horse-and-rider-combinations, current world number two Julien Epaillard (FRA) and his home-bred Donatello d'Auge (Jarnac x Hello Pierville) took their second LGCT Grand Prix win of the season when the clock stopped on 36.54 seconds. "This Grand Prix was a big aim for me," Epaillard said. "Maybe this is the best Grand Prix I've ever won, so we will enjoy it! Donatello is a special horse for us – I bred him with my wife Susana. He is ten and has now won three five-star Grand Prixs; it is very nice to breed a horse like him and celebrate this win together."
Harrie Smolders (NED) and Monaco N.O.P. (Cassini II x Contender) placed second, securing their Golden Ticket to the Longines Global Champions Tour Super Grand Prix in Prague later this year, while Greece's young talent Ioli Mytilineou collected her first-ever LGCT podium taking third place wth the lovely Levis de Muze (Elvis ter Putte x Tinka's Boy).
"We were so close in Cannes, we had the fastest time, but the last fence down so I am so glad to now get the Golden Ticket," Smolders said. "Monaco N.O.P. was again outstanding today. I think Julien had the advantage to go last, I must say he did it very, very, slick, and I can only be very proud and grateful for my horse Monaco, he was brilliant again."
Philippe Rozier (FRA) and Le Coultre de Muze (Presley Boy x Vigo d'Arsouilles) finished fourth, while Jeanne Sadran (FRA) and Unforgettable Damvil (San Patrignano Corrado x Papillon Rouge) finished fifth.
Maikel van der Vleuten (NED) remains on top of the overall LGCT rankings for the 2023-season with 203 points. Christian Kukuk (GER) sits second on 180.2 points, while Malin Bayard-Johnsson (SWE) has slipped down to third on 160.14 points. Two-time LGCT champion Edwina Tops-Alexander (AUS) stays fourth on 148 points.