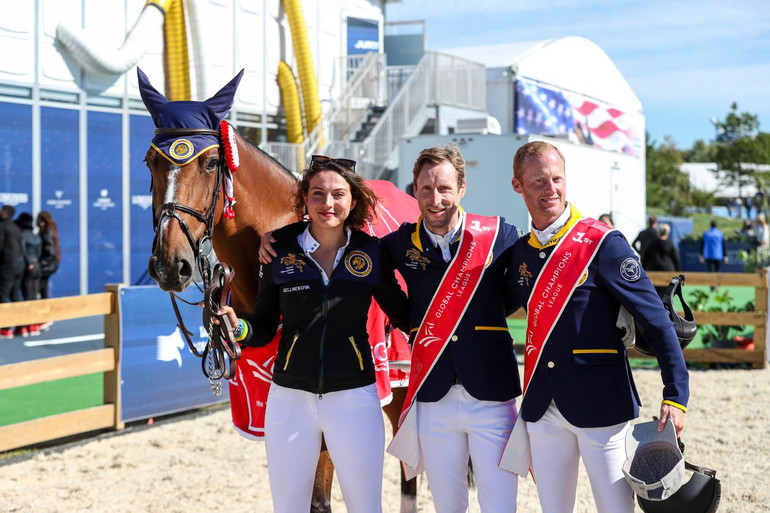 Anna Kellnerova, Pieter Devos, and Niels Bruynseels of the winning Prague Lions team. Photo © GCL/Stefano Grasso.
Edited press release from Global Champions League
---
Set in the heart of New York Harbour on the green oasis of Governors Island, Saturday's GCL of New York saw riders battle it out for the final points to add to their tally ahead of the 2022 Championship Final in Riyadh, Saudi Arabia. The thrilling competition leaves Stockholm Hearts and Berlin Eagles just one point apart heading into the final round, making it the closest GCL Championship finish ever.
As the only team to post a sensational double clear in GCL of New York, the Prague Lions saved an incredible result to take their third win of the 2022 season. Niels Bruynseels aboard Matador (Emerald x Laredo) and Pieter Devos with his impressive mount, MoM's Toupie De La Roque (Kannan x Nabab de Reve) partnered for the win and took maximum points for their team in the city that never sleeps.
Just two rails separated the top teams on the podium, while overnight leaders Madrid In Motion took silver medal position after one rail from Maikel van der Vleuten aboard Dywis HH (Toulon x Corofino II) and a double clear performance from Angelica Augustsson Zanotelli with Kalinka Van De Nachtegaele (Epleaser van'T Heike x Cicero Z). The Miami Celtics rounded out the podium, finishing in third on eight faults, moving up two places on the overall season standings from 13th place after solid rounds from Bertram Allen aboard his mount Pacino Amiro (Pacino x Nc Amiro) and Edouard Schmitz aboard Gamin van't Naastveldhof (Chacco Chacco x Toulon).
Speaking of his team's win, a thrilled Niels Bruynseels commented on their performance being the perfect lead-in to the final in Riyadh next month. "It is such an important win for our team, as it means we get the points to secure us into the top four of the overall championship."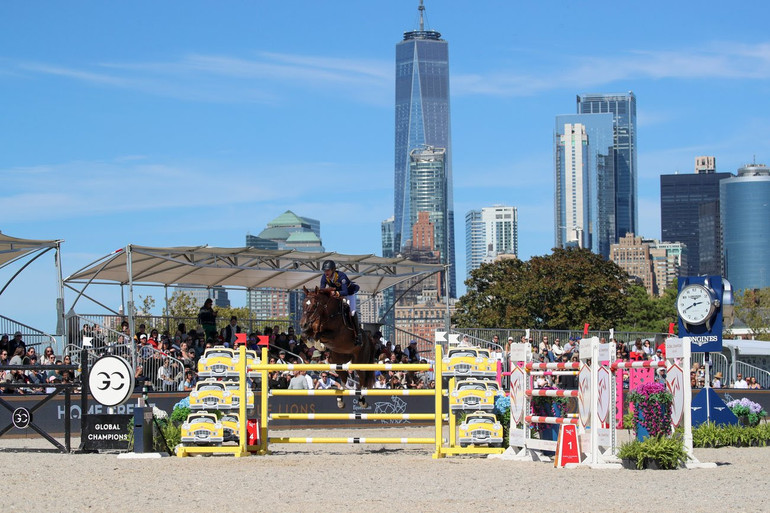 Pieter Devos and MoM's Toupie de la Roque contributed two clear rounds in round two of the Global Champions League at the Longines Global Champions Tour of New York to earn victory for Prague Lions. Photo © GCL/Stefano Grasso.
Packed grandstands under the blazing New York sun resulted in an incredible atmosphere surrounding round two of the GCL which could be cut with a knife. Pieter Devos gushed about the impressive arena "Not many people get to be able to say they have ridden with the New York skyline as their arena backdrop. The incredible crowd give this show such a great atmosphere that just makes a really exciting competition for us to ride in."
Resulting in a last-minute change in overall standings, the formidable Stokholm Hearts powered by H&M We Love Horses consisting of Malin Baryard-Johnsson and Peder Fredricson have snatched back the lead from Berlin Eagles powered by Fundis after today's round 2, as they head into the final one point ahead of the rival team.
Leading into next month's league finals in Riyadh, the top four standings after round 14 in New York are:

1st – Stockholm Hearts, 275 points
2nd – Berlin Eagles, 274 points
3rd – Prague Lions, 239 points
4th – Shanghai Swans, 234 points