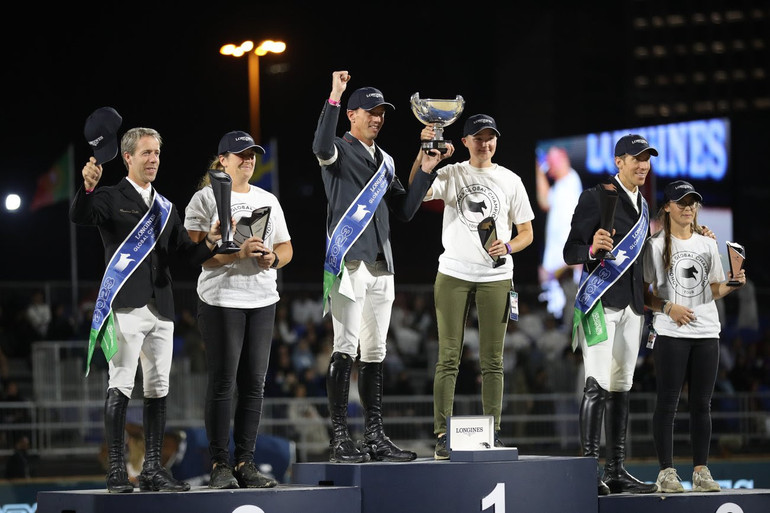 Paulina von Bornsdorff, Alin Seidler and Louise Barrraud, the grooms of the top three in the LGCT overall standings of the season, joined their riders Harrie Smolders, Maikel van der Vleuten and Henrik von Eckermann on the podium in Riyadh. Photo © LGCT.
Edited press release from Longines Global Champions Tour
---
Harrie Smolders (NED) claimed the 2023-title Longines Global Champions Tour Champion of Champions in Riyadh (KSA) on Saturday, when securing the overall victory of the tour for a second time. Christian Kukuk (GER) and Checker 47 (Comme Il Faut x Come On, bred by Wolfgang Kipp) won the CSI5* 1.60m LGCT Grand Prix of Riyadh, collecting the final Golden Ticket for the LGCT Super Grand Prix held at the GC Prague Playoffs in November.
"The level of this series is definitely the highest in our sport," Smolders said. "To then be crowned as the overall winner means you have good management, good horsemanship, great horses, but also the total package. The family behind you, the support, sponsors, for me especially Team Evergate, Copernicus Stables, and family Spronken that believe in you. All this commitment together, with all the dedication from all my team, my people, and my grooms – this is a big milestone for all of us."
Leaving it right until the last Longines Global Champions Tour Grand Prix of the season, the overall title battle came down to the wire between Maikel van der Vleuten (NED), Harrie Smolders and Henrik von Eckermann (SWE) and there was drama from start to finish. When Harrie Smolders and Uricas v/d Kattevennen (Uriko x San Patrignano Cassini, bred by Otto Boje Schoof) had two down in the first round, the Dutch rider had to sit nervously for the remainder of the class to find out where Maikel van der Vleuten and Henrik von Eckermann would finish.
An early rail in round one from Henrik von Eckermann and King Edward (Edward 28 x Feo, bred by Wim Impens) wiped them out of contention. Van der Vleuten had to finish first or second to secure the championship title, so the pressure was on as Beauville N.O.P. (Bustique x Jumpy des Fontaines, bred by Pascal Habets) and van der Vleuten entered the arena. As a fence came tumbling down, leaving van der Vleuten seventh, the 2023 Longines Global Champions Tour Champion of Champions title was handed to an emotional Smolders.
Smolders finished on top of the 2023 Longines Global Champions Tour overall standings with 252 points, followed by van der Vleuten in second with 246 points, Henrik von Eckermann in third with 245.5 points, Christian Kukuk in fourth with 241 points and Simon Delestre in fifth with 237 points.
"I must say I am very pleased with my second place," Maikel van der Vleuten said. "In general, I had a fantastic season. The first half we had some very good results with podium places – and then in the second half of the season I have four LGCT Grand Prix with just one down which is where I lost some points. In the end it was enough for second place, and all my congratulations go to Harrie Smolders because he is one of the best, if not the best and he deserved the win."
After his victory in the LGCT Grand Prix, Christian Kukuk said: "I can only smile, I am very, very emotional. I came here with the goal to win the ticket for the LGCT Super Grand Prix. To bring it home and cross the finish line to win is just amazing."
Malin Bayard Johnsson (SWE) and H&M Indiana (Kashmir van Schuttershof x Animo's Halllo, bred by W. Vanderlinden-van Turtelboom-Ruys) gave everyone a run for their money, securing second place in the Grand Prix – just 1.60 behind Kukuk. Simon Delestre (FRA) and Dexter Fontenis Z (Diarado x Voltaire Pref, bred by S.C.R.I S.Ky Horses) placed third.