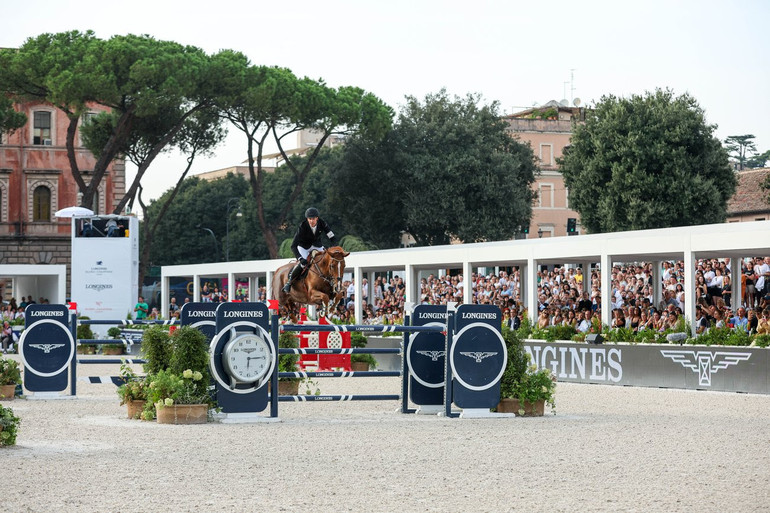 "That feeling when you feel that you are back and the horse is with you to 100%, the team you have… that is everything, just everything," Henrik von Eckermann said after winning the LGCT Grand Prix of Rome with King Edward. Photo © LGCT.
Edited press release from Longines Global Champions Tour
---
Sweden's Henrik von Eckermann – current world number one – and King Edward (Edward 28 x Feo, bred by Wim Impens and owned by Dufour Stables Ag) won Saturday's Longines Global Champions Tour Grand Prix of Rome at the iconic Circus Maximus.
The €440,000 LGCT Grand Prix of Rome saw an electrifying jump-off between eleven horse-and-rider combinations, leaving the sold-out crowd on the edge of their seats from start to finish. Following his win in Rome, von Eckermann now enters the race for the 2023 LGCT Championship title together with Harrie Smolders (NED) and Maikel van der Vleuten (NED).
David Will (GER) and My Prins van Dorperheide (Zilverstar T x Winningmood, bred by Philippaerts We Live Horses Bvba and owned by Vogel & Will Equestrian GmbH) came incredibly close to winning their second LGCT Grand Prix of the season, finishing just 0.20 seconds behind von Eckermann and King Edward. Peder Fredricson (SWE) on Catch Me Not S (VDL Cardento x Ramiro's Son I, bred by Krister Svedberg and owned by Ebba Berglöf) and Andreas Schou (DEN) on I Know (Arezzo VDL x Hors la Loi II, bred by H.J.M. Dekkers and owned by Schou Absolute Horses, Bækgaarden Youngster A/S and Joergen Schou Holding A/S) finished joint third, clocking in the exact same time in the jump-off. This shared podium moment highlighted the fierce competition in the 14th stage of the LGCT season.
"I was almost getting a bit crazy because you know how it should be but you don't really 'get it'," von Eckermann said after his win, coming back with a bang after a less-than-ideal performance in London. "Now it was back how it should feel… and that for me, of course winning is amazing, but that feeling when you feel that you are back and the horse is with you to 100%, the team you have… that is everything, just everything."
As von Eckermann and Will both already have won their golden tickets to the LGCT Super Grand Prix, the place available for the Rome winner gets handed down to joint third-place finishers Fredricson and Schou.
With Harrie Smolders on 252 points and Maikel van der Vleuten on 238 points not scoring in Rome, the LGCT Championship race to the finals in Riyadh will come down to the finest margins. Henrik von Eckermann has catapulted himself into third and a chance to claim the 2023-season title as he now sits on 235.5 points.