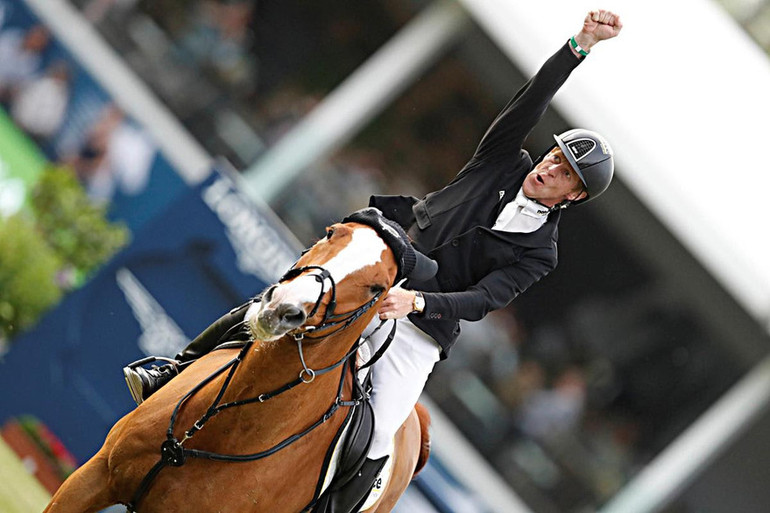 Marcus Ehning, last year's Grand Prix winner in Madrid, is one of the riders heading for the 2017-edition of the event. Photo (c) LGCT / Stefano Grasso.
An impressive 9 out of the world's Top 10 riders will be pulling out all the stops for the highly anticipated Longines Global Champions Tour and Global Champions League of Madrid this week.
From 19th - 21st May, the very best riders in the sport will be heading to the beautiful destination of Club de Campo Villa de Madrid.
Current LGCT ranking leader Lorenzo de Luca (ITA) will head to the fourth leg of the Tour, hoping to extend his lead against the rest of the field. Currently sitting on 100 points overall, the Italian rider will be fending off the likes of 2014 LGCT Grand Prix of Madrid winner Maikel van der Vleuten (NED) who has a tally of 89 points overall, and the ever-consistent Olympic gold medallist Scott Brash (GBR), who is just 25 points away from the lead.
Leading the star-studded pack will be newly crowned world no. one Kent Farrington (USA). World no. three Daniel Deusser (GER), world no. four Eric Lamaze (CAN) and world no. five Christian Ahlmann (GER) have all added their names to the roll-call of contenders taking part in the first European leg of the Tour.
Last year's LGCT Grand Prix of Madrid winner and world no. seven Marcus Ehning (GER) will also return to defend his Grand Prix title from 2016, with top French riders Simon Delestre (FRA) and Kevin Staut (FRA) also keen to add their names to the prestigious list of past winners next weekend.
---
Source: Press release from LGCT // Picture © Stefano Grasso/LGCT