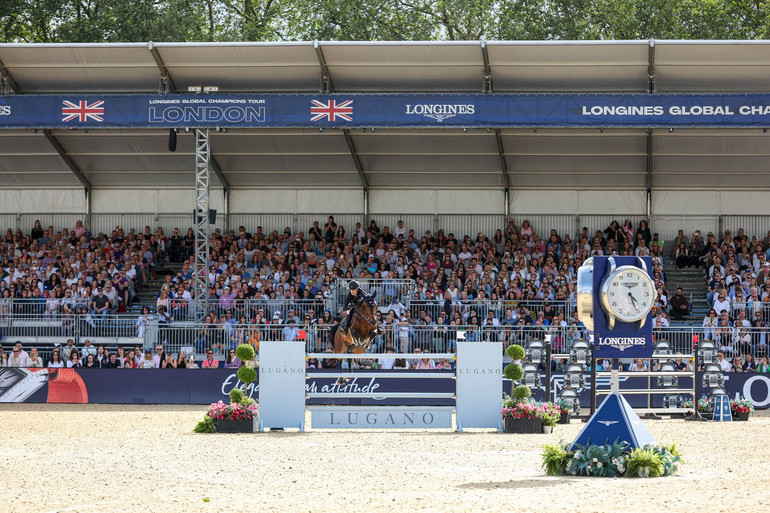 Jessica Springsteen and Don Juan van de Donkhoeve won the LGCT Grand Prix of London. Photo © Longines Global Champions Tour.
Edited press release from Longines Global Champions Tour
---
USA's Jessica Springsteen rocketed to victory in the Longines Global Champions Tour Grand Prix of London with the 14-year-old Don Juan van de Donkhoeve (Bamako de Muze x Heartbreaker) as Belgium's Olivier Philippaerts had to settle for second place once again on H&M Miro (Diamant de Semilly x Kannan). Picking up his 24th LGCT Grand Prix podium finish, Dutch rider Harrie Smolders and the incredibly consistent Monaco N.O.P (Cassini II x Contender) placed third. Jessica Springsteen's triumph not only claimed her the coveted top spot on the podium but also earned her the "golden ticket" to the LGCT Super Grand Prix in Prague.
Speaking to GCTV, an emotional Jessica Springsteen smiled: "I'm so happy with Don today, I took some risks but it paid off. I'm so excited, I'm honestly in shock; this is my first 5* Grand Prix win with Don so I'm so thankful. It means so much to win here, especially in front of this incredible atmosphere and crowd in London. It's an incredible venue and an incredible crowd, they really give you the energy – they're really cheering you on and I think you and your horse, they really feel that which is special."
Following his win with Stockholm Hearts powered by H&M We Love Horses in the GCL of London yesterday, Olivier Philippaerts certainly is on form in the British capital. Chasing the win, Olivier commented: "I'm incredibly happy, I've just got to work a bit harder to bring home a win. I've been hungry for it for a very long time already, so I will keep pushing it, keep trying, and hopefully one day we will pull it off."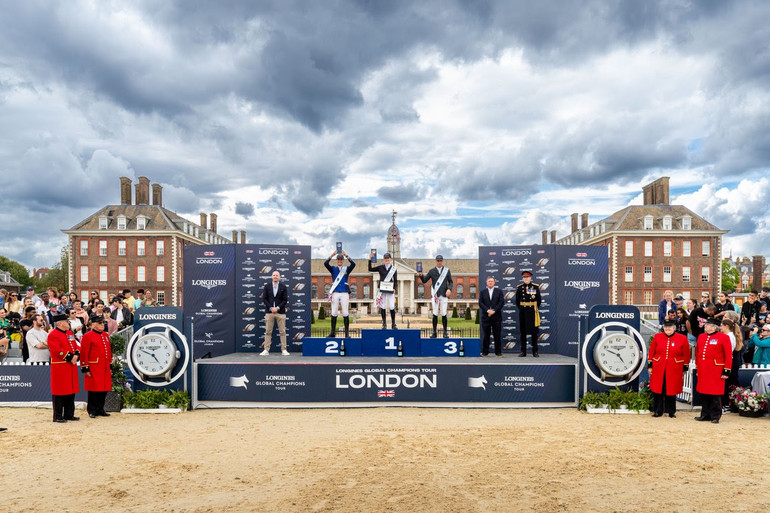 The podium in London: Jessica Springsteen, Olivier Philippaerts and Harrie Smolders. Photo © Longines Global Champions Tour.
As one of the most consistent horses of the tour this year, Monaco N.O.P added a crucial 35 points to Smolders' LGCT championship total of 229 points. Speaking of his partner, Harrie commented: "Monaco jumped outstanding again, I am very grateful."
Closing the gap in the LGCT championship race Harrie Smolders is now just nine points behind Maikel van der Vleuten on 238 points. Christian Kukuk slips into third place on 205 points and Simon Delestre sits in fourth just behind with 198 points.