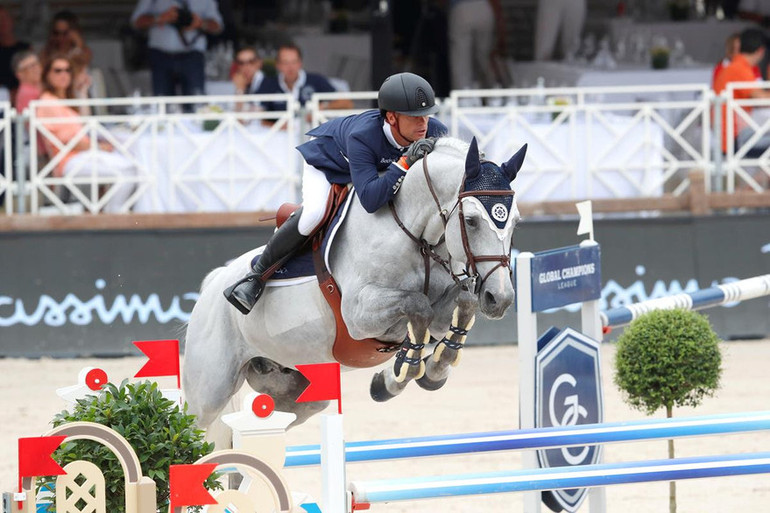 Jerome Guery and Garfield de Tiji Des Templiers for St Tropez Pirates. Photo (c) Stefano Grasso/GCL.
The St Tropez Pirates charged into pole position during the first round of the Global Champions League of Monaco as the seventh leg unfolded today. Best friends Simon Delestre and Jerome Guery produced a foot-perfect double clear in one of the smallest and technical arenas, while the battle for the overall title rockets up a gear.
Talking about their leading performance today, Jerome Guery of the Pirates said: "It's a great start. The points are most important tonight, but we're really happy to go into tomorrow in such a good position."
Hot on St Tropez Pirates' heels are Valkenswaard United, who put in a strong effort to finish fifth today with Janika Sprunger and Alberto Zorzi, but it was a shock result for the heavy-weight Hamburg Diamonds duo after John Whitaker's Talisman de Mazure (Quincy x Quaprice) napped back towards the in-gate, tumbling the team down to 17th in today's results, despite U25 rider Jos Verlooy's valient clear.
The crowd was initially lulled into a false sense of security after a number of early relaxed rounds, including Pieter Devos for home-team Monaco Aces, Yuri Mansur for Mexico Amigos and Miami Glory's Scott Brash, but it was not long until the riders started to feel the pressure of Luc Musette's challenging course, and the poles started to come down.
Despite a skittish round in an earlier event, Christian Ahlmann came back fighting and produced a perfect clear, giving the Mexico Amigos the second double clear of the evening, shooting the team up to third in tonight's class. The Vienna Eagles followed close behind, with Gregory Wathelet producing the first fastest round for the team before teammate Niels Bruynseels put in another stunning clear to keep the team in second overall.
---
Source: Press release from GCL/Picture © Stefano Grasso/GCL