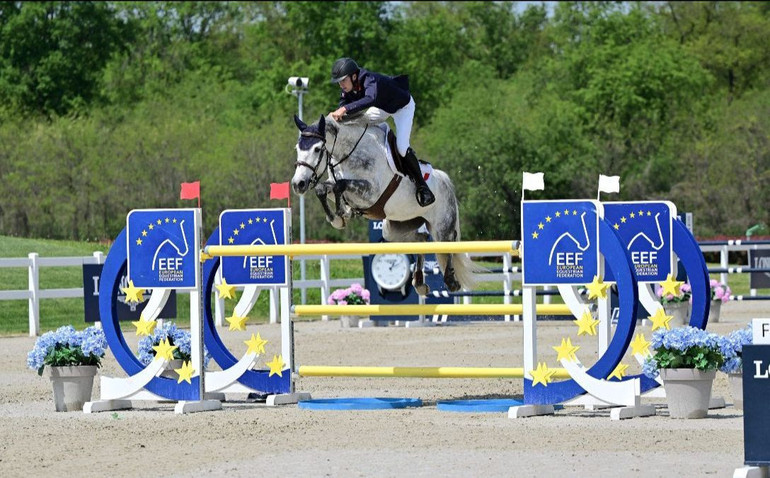 Team France's William Ligier De La Prade and Galilee. Photo © Sassofotografie / Equieffe Equestrian Centre.
Edited press release from EEF
---
After a nail-biting finish in Gorla Minore, a young French team won the Longines EEF Nations Cup under the Italian sun for the first leg of the 2023 Longines EEF Series – as the only team to finish on a score of zero.
Although this leg was not a Longines EEF Series qualifier for France, the French arrived in Italy with the sole intention of utilising the venue to give the team vital experience ahead of competing here later in the year at the FEI Jumping European Championships for Young Riders. "We're using this brilliant series to improve our young riders ahead of the championships in July," Chef d'Equipe Edouard Couperie said ahead of the competition. "We are lucky to have Olivier Robert riding Iglesias D.V (Quasimodo van de Molendreef x Indorado) here with us who is very experienced and is jumping first so that he can feedback to the rest of the team, as well as help them in the warm-up ring", he detailed about team tactics, which obviously paid off.
The remaining team of Dylan Levallois and Artiste de l'Abbaye (Quaprice Bois Margot x Jus de Pomme) and William Ligier De La Prade aboard Galilee (Clintissimo x Fidji du Flery) who made their CSIO3* debuts, and Jules Orsolini aboard Charlotte (Casall x Carry) – "who has slightly more experience and is therefore going in last," said Edouard – are just 20, 18 and 19 years old respectively and have gained a massive amount of confidence from this experience.
"We are really happy with the horse's performance," said Jules. "At the beginning, we were not expecting to be in this position, although we obviously had the mindset of winning, but we had not anticipated such a strong first round. This has really helped us to build for the Europeans."
"It was a fantastic course and the team designing it did a great job today" Olivier said. "It was really good for the young riders and those with less experienced horses, so this was a super day all round."
Matching France fence for fence in the first round with both teams closing on a clean sheet, Portugal looked like strong contenders for the top spot heading into the second round, but an unfortunate fence down each for the team's two final riders, Adir Dias De Abreu and Dartanion (Dibadu L x Champion du Lys) and António Matos Almeida aboard Chippo Z (Chippendale Z x Faust Z) saw Portugal having to settle for a total score of four, which was good enough for second.
The fight for third place between Germany and Belgium was an equally hot contest, with Germany bringing five penalties forward from the first round and Belgium carrying four. Both teams posted two early clears – respective team stalwarts Michael Jung on Fischerchelsea (Check In x Argent) looked like they were never going to touch a pole for Germany completing one of six double clears of the day, and Belgium's Thibault Philippaerts and Obama de la Liniere (Marius Claudius x Golden Hawk) making up for four faults in the first round with a classy clear to finish – it was down to the final two riders of each team to hold their nerve and apply the pressure. Ultimately, both teams had to carry through four faults a-piece into their round two total, meaning Belgium's final score of eight just pipped the Germans to the post by a single fault.
The Longines EEF Series now moves to Mannheim, Germany, next weekend which will see its teams battle it out for the first Central Region qualifier, to earn those crucial points to start their bid for the Ebreichsdorf (Austria) Semi-Final which will see the top five teams from Central and South go head-to-head for a place in the Longines EEF Series Final in Warsaw this September.
---
Region South points after qualifier 1 of 2:

Bulgaria 100 points
Italy 90 points
Turkey 80 points
Ukraine 70 points
Greece 60 points
Romania 55 points
The second qualifier will take place in Athens on June 4th, and the top five nations will progress to the semi-finals.
---