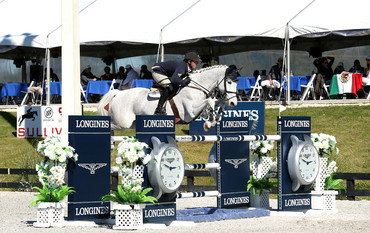 Alex Granato and Gansta on their way to a $5,000 FEI Welcome Stake win at HITS Ocala CSIO4*. Photo (c) ESI Photography.
A week of international competition at HITS Post Time Farm in Ocala, Florida kicked off Wednesday at the Ocala Winter Festival with Alex Granato, of Wellington, Florida, taking home first place honors in the $5,000 FEI Welcome Stake with his own Gangsta. Seven nations were represented in the class including, Canada, Colombia, Germany, Ireland, Mexico, the United States and Venezuela.

A field of 59 took their turn at the Welcome Stake course designed by Martin Otto, of Muenster, Germany. Boasting 12 efforts set at 1.45m, the course proved to be preparation for many Furusiyya FEI Nations Cup™ riders introducing their mounts to the Ocala Horse Properties Stadium. An impressive 32 entries went clear including 2014 Great American $1 Million Grand Prix winner Andre Theime, of Plau Am See, Germany, on Conthendrix, Kevin Babington, of Gwynedd Valley, Pennsylvania, with Shorapur, and Beezie Madden, of Cazenovia, New York riding Simon.

Early on, Mexico native Nicolas Pizzaro and Armando Torrado's Temascaltepec went clear setting 57.02 as the time to beat. Starting 22nd in the order, Aaron Vale, of Williston, Florida, and Troy Glaus' Quidams Good Luck chased Pizzaro's time and with a clean go in 55.32, Vale rose to the top of the leaderboard. Michael Hughes, of Allendale, New Jersey, aboard Luxina owned by Christina Fried was next to challenge Vale and the clock, entering the ring 30th and leaving clear with a time of 55.30 to move into the lead.

Thirty fifth in the order and having won the $1,000 Level 6 Jumper earlier in the day, Granato saw the speed class as an opportunity for him and his 15-year-old grey to shine. The pair secured their place at the top in a swift, clean 54.63.

"I did get a chance to watch a lot of people – maybe some had trouble or some were using it as a school for the Nations Cup," said Granato. "I focused on the horse that I knew and used that to my advantage."

Olympian Ian Millar, of Perth, Ontario, riding Baranus Group's Baranus gave Granato a run for his money when he took the ring near the end of the order. The pair breezed through the course in 54.79 for a second place finish, bumping Hughes to third, Vale to fourth and Pizzaro to round out the top five.

"Everyone I've talked to, including myself and my team, give great compliments to Tom and the HITS team. This is a first rate job from beginning to end," raved Millar.

"The course was just right for the first time the group was in the ring this week. It was a nice preview of the competition we can expect for Friday's FEI Nations Cup class," added HITS President and CEO Tom Struzzieri.

FEI competition at HITS Ocala continues throughout the week with the $34,000 FEI Jumper Prix Thursday, the $200,000 Furusiyya FEI Nations Cup™ Friday, the $34,000 FEI Jumper Classic Saturday, and the $150,000 FEI Grand Prix Sunday. A complete schedule is available at HitsShows.com.
Source: Press release from HITS Media Team