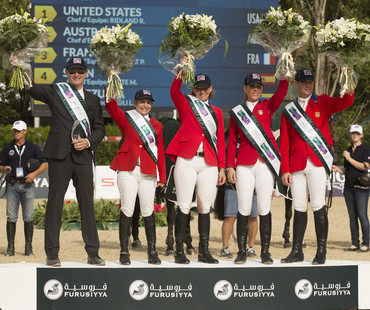 Team USA won the Challenge Cup in Barcelona. Photo (c) FEI/Dirk Caremans.
The American team won the Challenge Cup at the Furusiyya FEI Nations Cup Final in Barcelona on Friday afternoon. It took a jump-off to decide which country would win though, and the US riders met the Australians against the clock after both teams were left on a one penalty score after the first round. The competition was open to the six nations that failed to qualify for tomorrow night's Furusiyya Final. The French slotted into third this afternoon ahead of Spain in fourth, Venezuela in fifth and the three-man team from Qatar in sixth and last place.
For the jump-off each team sent back three riders, and their scores and times were added together to decide the winners. Jamie Kermond was first to go with Quite Cassini (Cassini x Quidam de Revel) and posted a clear round in 44.03. But three of the fastest riders in the world were flying the US flag, and when McLain Ward cruised home with Rothchild (Artos x Elegeant de I'lle) in 40.18 the Americans quickly took control.
James Patterson-Robinson's Boris (Burggraaf) had two fences down, while Lauren Hough and Ohlala (Orlando x Cardento) took full advantage when they went clear in 44.76 seconds. Amy Graham was last to go for Australia and produced another foot-perfect round with Bella Baloubet (Baloubet du Rouet x Landadel), but Beezie Madden had two fences in hand as she went out to seal it for the USA. And Cortes C (Randel Z x Darco) jumped effortlessly around to go clear and secure the win with a third American clear.
This is the second successive year for the USA to win the second competition at the Furusiyya FEI Nations Cup Final. It was a good result, but it wasn't what they came to Barcelona for - they clearly had their sights on tomorrow night's final competition and while they were pleased with today's success they had every reason to reflect on why things have not quite gone their way this week.
Lauren Hough admitted that yesterday's ninth-place finish was more than a bit of a surprise. "We are happy to win today but sorry not to be in tomorrow...I think we were all a little bit shocked to be where we were yesterday, but that's showjumping!" she said.
McLain Ward wasn't in any mood to beat about the bush concerning his side's performance. "Honestly, those aren't scores that we should deliver. Maybe without a warm-up the first day, maybe he (Rothchild) was just a little relaxed and I'm not paying attention myself and taking my horse for granted. To be honest it's a pretty unacceptable result, we were professional and pulled it together today, but I think on our part it has been a very disappointing result," he said bluntly.
Madden said "my horse might have done with a class before (yesterday's competition). I thought he jumped very well but he was a bit tense which is the way he is when he's on form - that said I think it was a light four faults I had".
Source: fei.org