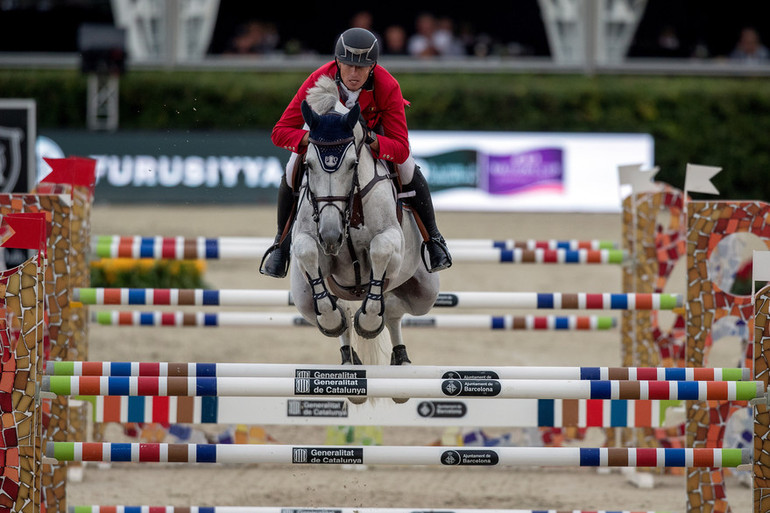 Gregory Wathelet and Coree helped Belgium qualify for Saturday's final in Barcelona with a clear round. Photo (c) Hippo Foto / Dirk Caremans.
The 2016 Furusiyya FEI Nations Cup Final kicked off in Barcelona on Thursday afternoon, with eighteen teams battling it out for the eight available spots for Saturday's conclusion that will crown this year's champions. Belgium, Germany and USA were the strongest teams, all finishing on a zero penalty score after some fabulous performances from their team members. Surprisingly, Olympic team gold medallists France – that fielded their same team as in Rio – did miss out on qualification and will have to settle for jumping in Friday's consolation competition Longines Challenge Trophy instead.
Apart from a disappointing French day, there were few surprises in Thursday's qualifier. The strong teams were as expected the strongest, and pulled through for Saturday's final. There were a lot of mistakes made around Santiago Varela's testing thirteen fence track with faults spreading out, although the majority was caught on the line leading up to the water or on the vertical following it as well as on the wide oxer at eleven that was followed by the triple combination as the penultimate challenge – an element that also caused trouble for many of the riders today.
Germany impressed with three out of four riders going clear; Christian Ahlmann on Taloubet Z (Galoubet A x Polydor) – although quite lucky to have a few of the rails left in the cups, Marcus Ehning who did a master class on Pret A Tout (Hiram Chambertin x Stew Boy) and Daniel Deusser on the giant First Class van Eeckelghem (Balou du Rouet x Feinschnitt I van de Richter) all left the ring on a zero score and made sure that Ludger Beerbaum's last plank down could be discharged.
Afterwards, Beerbaum commented on the competition: "It was a tough class, the course was big enough and we had a good result. The course builder has reason to be pleased but thats it, the best eight go on to a new competition on Saturday and I think we have no guarantee we will be sitting here (at the press conference) on Saturday as well!"
The same went for the all female team from the States; Lauren Hough really fought for her clear aboard the tiny Ohlala (Orlando x Cardento), Lucy Davis did another picture perfect round on Barron (For Pleasure x Nabab de Reve) and when last-to-go Laura Kraut also brought home a clean sheet on Zeremonie (Cero x Quick Star) then Audrey Coulters eight faults could be taken off the final account.
"Usually we are preparing for the Friday night class! (not having qualified for Saturday night's competition). When we walked the course this morning I thought it was fantastic, it's going to be legitimate, the eight teams that make it will deserve to be there on Saturday and it proved to be the case," said US Chef d'Equipe Robert Ridland.
Defending champions Belgium also impressed with clears from Niels Bruynseels on Cas de Liberte (Cracky Z x Chellano Z), Jerome Guery on a very well jumping Grand Cru van de Rozenberg (Malito de Reve x Heartbreaker) and last-to-go Gregory Wathelet on Coree (Cornet Obolensky x Liberty Life) – making it possible to discharge pathfinder Nicola Philippaerts's one rail down.
"I'm very happy with the way the horses jumped and the riders rode, but maybe the result today was a bit unexpected," said Belgian Chef d'Equipe Dirk Demeersman. "Last year we came with a team with a lot of experience, but this year we came with a team with not so much. However we have been showing good results in the last few weeks."
The final five spots in the final went to Switzerland, Great Britain and Italy on a score of four faults while Netherlands and Ireland squeezed in on the cost of Brazil – all on eight penalties with the time being the final factor as to who had to settle for the Challenge Trophy.
---
Source quotes: Press release FEI // Text © World of Showjumping // Picture © Dirk Caremans/Hippo Foto