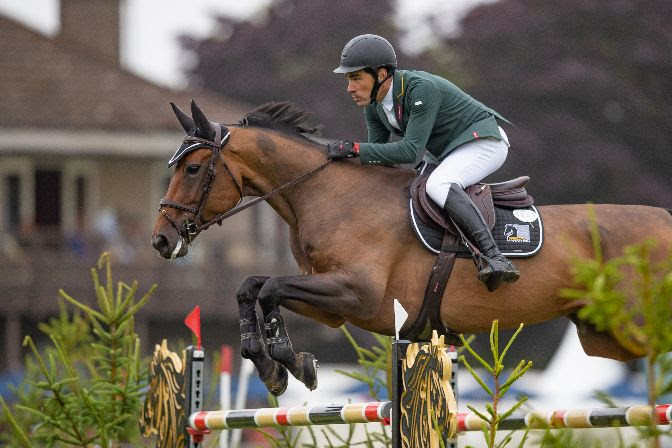 The CSI5* 1.50m Royal International Trophy at Hickstead went to Brazil's Francisco Jose Mesquita Musa and his longtime partner Catch Me Marathon. Photo © Hickstead/Longines Royal International Horse Show.
Edited press release from Hickstead
---
The international showjumping action got underway at the CSIO5* Longines Royal International Horse Show on Thursday with the first of the week's Longines Ranking classes.
Italy's Francesco Turturiello made it a successful first visit to Hickstead when winning the CSIO5* 1.45m Royal International Vase speed class, having put in his homework beforehand. "I've been watching many YouTube videos of Hickstead before I came here!" said Francesco, who produced the fastest round of the 82 starters. Riding the 11-year-old Phin-Phin son Happiness (Phin Phin x For Germany RD), who he rides for Ashford Farm, Francesco delivered a decisive clear in just 65.25 seconds, spoiling Britain's chances of a home win by pushing Joe Whitaker (GBR) and Icaterina (Durango VDL x Otangelo) into second place.
"It's my first time jumping in England and jumping at Hickstead, and actually, I had some feelings about it ­– but then I thought my horse is very comfortable on this amazing grass arena so let's go and try," Francesco added. The ground, Francesco says, has been something of a revelation as he tackles his first competition in this unseasonably wet English summer. "It's amazing; it was raining all night, but even after more than sixty riders, the ground is perfect. I've been travelling and jumping all over, but this is something you don't ever find. It's unbelievable, and I'm very happy to be here."
Milan-based Francesco returns as part of the Italian team for tomorrow's Longines FEI Nations Cup™ leg, riding Quite Balou. "For me, this show is very important. I'm on the long list for the Europeans, and my coach wants to see how things go for me this week so that maybe I can have a chance," he says. "It would be amazing to be there in front of a home crowd – but it's also so important for Italy, because it's more than 20 years since we've had a team at the Olympics. We have some very important months ahead for our team and our federation."
The second five-star class of the day, the CSIO5* €26,200 1.50m Royal International Trophy, went the way of Brazil's Francisco Jose Mesquita Musa and his longtime partner Catch Me Marathon (Contagio x Werther) – a combination who also made a winning debut at Hickstead last year. Today they took the win in a 50-strong line-up after delivering a time of 32.16sec, despite having "a little touch" at a couple of fences.
The wide-open spaces of the Longines International Arena suit his Hanoverian mare: "She's a good horse, and always fast," Francisco says. "I've known her for a long time – six years now, with some very good shows. She jumped unbelievably today. Normally, she jumps very well in big arenas, she really likes them." Francisco will also take part in tomorrow's Nations Cup, riding in the anchorman slot with Carte de Blue PS Marathon.
Will Edwards (GBR) and SHW Candies B (Chacco-Blue x Heartbreaker) placed second in 32.64, while Joseph Stockdale (GBR) and Ebanking (Etoulon x VDL Sheraton) took the third place in 35.05. Olivier Robert (FRA) and Careca LS Elite (Carusso LS La Silla x Rebozo La Silla) finished fourth in 35.97 and Fredrik Spetz (SWE) fifth in 36.11 aboard Libido van'T Hofken (Nabab de Reve x Heartbreaker).