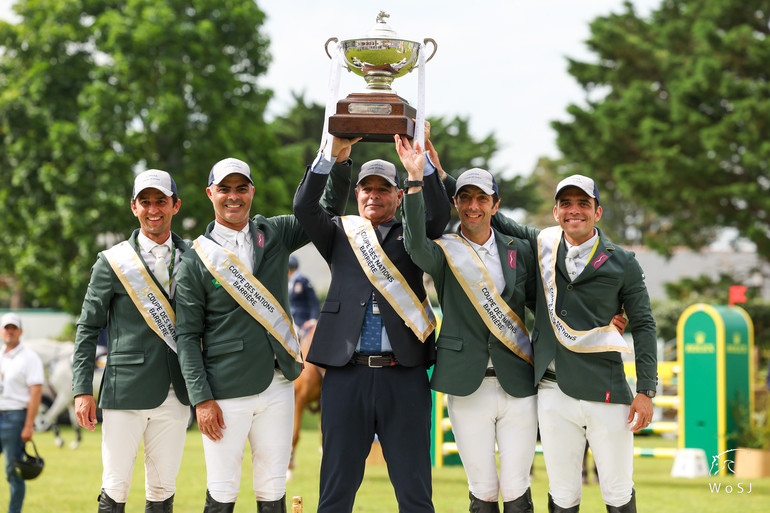 Marlon Modolo Zanotelli, Rodrigo Pessoa, Yuri Mansur and Stephan de Freitas Barcha celebrating their win in La Baule together with Chef d'Equipe Pedro Paulo Lacerda. Photo © Jenny Abrahamsson for World of Showjumping.
Text © World of Showjumping
---
Friday's highlight at the 2023-edition of Jumping International de La Baule was the CSIO5* 1.60m Barrière Nations Cup, which saw Brazil best a field of ten world-class teams. "Winning a Nations Cup like this, means more than winning any Grand Prix," Brazil's Marlon Modolo Zanotelli said after he had secured the victory in a thrilling jump-off against Belgium and Sweden.
Beating the best of the best, in a jump-off against world no. one Henrik von Eckermann as well as Wilm Vermeir, Modolo Zanotelli reflected on the Brazilian team – that after finishing second in St. Gallen last week, went on to win in La Baule today. "Brazil has always been a fantastic producer of good riders, but it has been difficult to have good horse-and-rider combinations," he said. "Now, we see that we are more able to have these combinations – we are getting more depth on the team, we are growing and getting stronger, and we have good supporters keeping horses for us. We have a great momentum now, and we really have to benefit from it towards our last chances for Olympic qualification at the Pan-Am Games and the Nations Cup Final later this year."
Brilliant Bodo
After the first round in La Baule, it was Sweden – reigning team world champions – that was in the lead on a score of four penalties after clear rounds from Petronella Andersson and Castres van de Begijnakker Z (Coriano x Palestro vd Begijnakker) as well as world no. one Henrik von Eckermann and Iliana (Cardento x Gentleman), counting only Wilma Hellström's four faults on the penultimate plank and discharging Jens Fredricson's eight faults.
The red plank on the upright at fence no. 11 was influential in the first round and fell again and again. Several riders were also caught out by the combination at 7ab that followed the open water next to the lake, while the Barrière vertical-vertical-oxer triple combination played its part too – those who made six strides coming in often arrived too direct, while those who opted for seven got too close.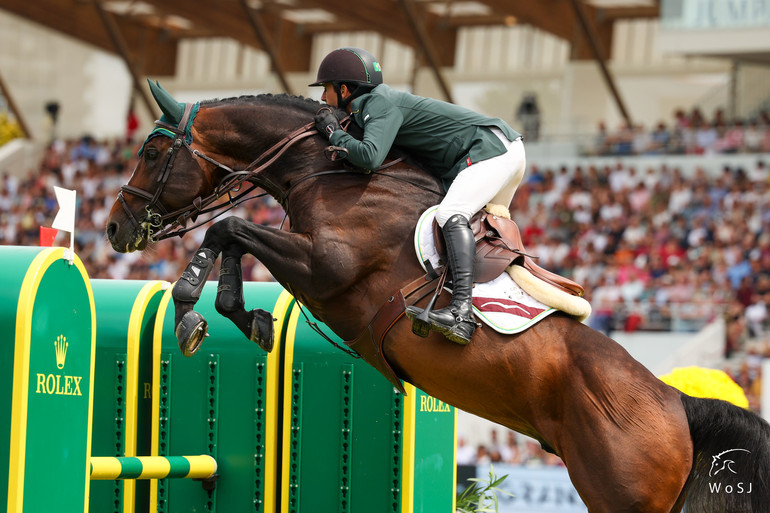 Marlon Modolo Zanotelli and Grand Slam VDL helped Brazil to the win in La Baule. Photo © Jenny Abrahamsson for World of Showjumping.
Subtly designed by Gregory Bodo, it took no less than 12 horse-and-rider combinations until the first clear was delivered – and it came from reigning Olympic champion Ben Maher on Faltic HB (Baltic VDL x Concorde). Six more managed to leave all the fences up; Andersson and von Eckermann for Sweden, Rodrigo Pessoa and Major Tom (Vagabond de La Pomme x Heartbreaker) for Brazil, Wilm Vermeir and IQ van het Steentje (Toulon x Kannan) for Belgium, Martin Fuchs and Conner Jei (Connor 48 x Cosimo) for Switzerland as well as Julien Epaillard and Dubai du Cedre (Baloubet du Rouet x Diamant de Semilly) for France.
"I think Bodo did a fantastic job," Modolo Zanotelli said about the twelve-fence track. "He invited us to get going a bit at the beginning of the course, everything was getting a bit up an going until you suddenly had the triple bar and a really tall triple combination with two verticals going in that caused quite a bit of trouble. The horses made a bit of an effort there going out of the triple, and he put you in an angle to the oxer at no. 10 which was eight-nine strides, some riders even did ten, but in the end, what he wanted there was just more to force you to breath and take your time to jump the oxer. The ones who rushed, ended up having it down. Then, in my opinion, when you roll back to a last line like that, most of the horses go a bit behind you, they think it's finished and then you have a delicate plank when you lose the engine – then you want to push and it gets flat, so he really played with this line to make you have the plank down and not the last oxer so much. I think he did a fantastic job, because it did not take too much out of the horses, the faults spread out everywhere and you really needed to know your horse to answer the questions. It's always a pleasure to ride Bodo's courses!"
Eight of the ten best teams proceeded to the second round, where Sweden was followed by Belgium and Brazil on eight faults, then host nation France, Great Britain and Switzerland on 12 penalties, Germany on 13 and Japan on 24.
Down the wire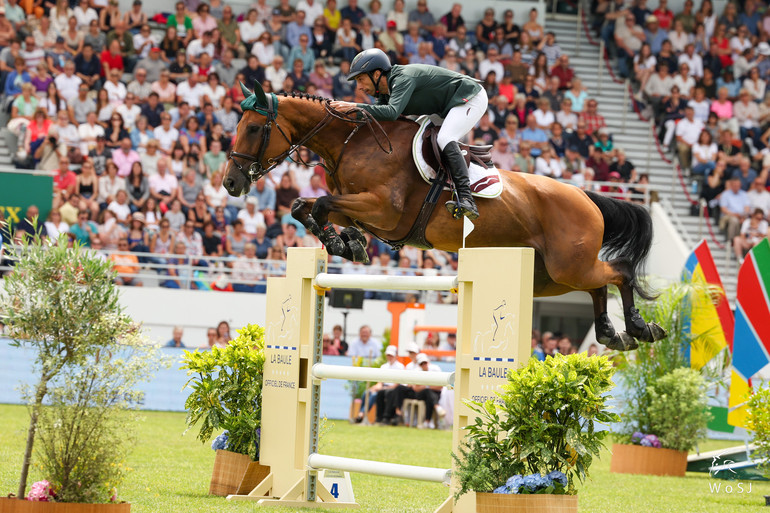 Yuri Mansur and Miss Blue-Saint Blue Farm; clear in round two for Brazil. Photo © Jenny Abrahamsson for World of Showjumping.
The second round got off to an exciting start when Simon Delestre on Cayman Jolly Jumper (Hickstead x Quaprice Bois Margot), Nicola Philippaerts on Katanga vh Dingeshof (Cardento x Tornedo FCS), Marlon Modolo Zanotelli on Grand Slam VDL (Cardento x Heartbreaker) and Jens Fredricson on Markan Cosmopolit (Cohiba 1198 x Calido I) – pathfinders for France, Belgium, Brazil and Sweden – all improved from their first time out and delivered clear rounds, making sure to keep the pressure on each other.
Ben Maher kept the Brits in the game when jumping a double clear for his team as second man out, while France's Gregory Cottard improved massively from round one when his wonderful Bibici (Norman Pre Noir x Nelfo du Mesnil) only made a tiny mistake on the open water – putting a hoof on the landing tape, levelling the French with the British. And when Belgium's Olivier Philippaerts added four faults to his score aboard H&M Miro (Diamant de Semilly x Kannan), and Brazil's Yuri Mansur jumped clear with Miss Blue-Saint Blue Farm (Chacco-Blue x VDL Zirocco Blue) – the Brazilians were advancing and breathing the Swedes in the neck as a pole fell on the upright at 9b for Andersson on her second time out.
While Steve Guerdat and Dynamix de Belheme's (Snaike de Blondel x Cornet Obolensky) fantastic clear could not save Switzerland, Jodie Hall McAteer and Salt n'Peppa's (Stolzenberg x Escudo 19) flawless performance made a big impact for the Brits when Kevin Staut as third man out for the hosts had to see three poles fall to the floor – leaving France on 16 penalties ahead of the last rotation of riders, passed by the Brits on a best possible score of 12.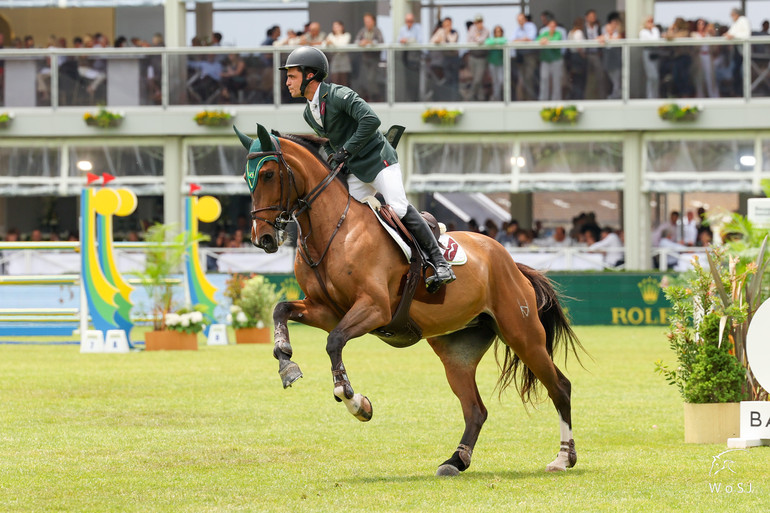 Stephan de Freitas Barcha and Chevaux Primavera Montana Imperio Egipcio. Photo © Jenny Abrahamsson for World of Showjumping.
The heat turned up another notch when Belgium's Vermeir delivered a double clear for his team and Brazil's Stephan de Freitas Barcha had one down on 9b aboard Chevaux Primavera Montana Imperio Egipcio (Calvaro F.C. x Paroli) – keeping both teams on a best possible score of eight penalties ahead of their anchor rider, leaving no room for errors. Wilma Hellström did not let the pressure get to her as third out for Sweden, and delivered a calm clear with Cicci BJN (Ci Ci Senjor Ask x Tornesch) – leaving her team with the possibility to finish on a score of four, if Henrik von Eckermann would deliver as required.
When British anchors Harry Charles and Romeo 88 (Contact vd Heffinck x Orlando) clipped the back rail of 9c, the team was left at 16 faults and a clear was needed from Julien Epaillard if the hosts wanted to keep the podium within slight sight – so when the world no. two delivered again with Dubai du Cedre, it exploded at the Francois André Stadium.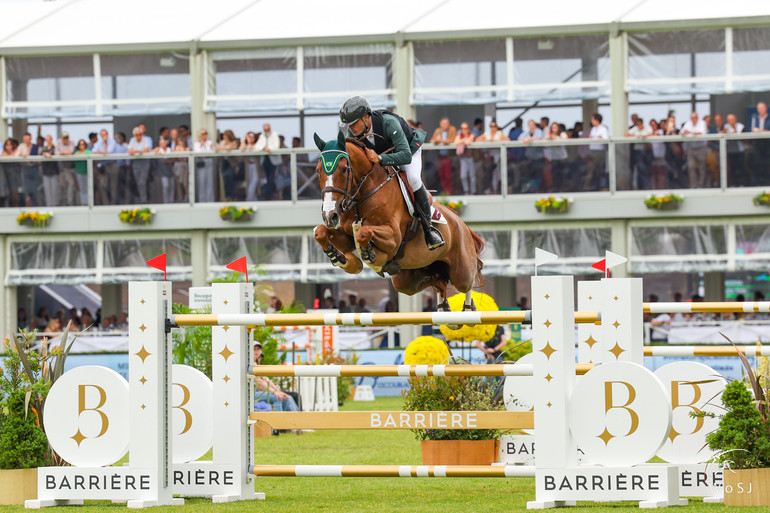 Rodrigo Pessoa and Major Tom: Double clear for Team Brazil. Photo © Jenny Abrahamsson for World of Showjumping.
However, Belgium did not give anything away, as their anchor rider Gregory Wathelet and his experienced partner Nevados S (Calvados Z x Romualdo) showed what they are made of – jumping a clear round when their team needed it the most, leaving Belgium on eight penalties. As last to go for Brazil, Rodrigo Pessoa and the powerful Major Tom answered the Belgians back with a double clear round – one of only four of the competition – and the two teams were tied on a total score of eight. As the final anchor rider in the ring, Henrik von Eckermann had to deliver a clear round for the Swedes to secure the win, but as it had done for so many others, the plank on no. 11 hit the ground and suddenly a jump-off was required to decide the La Baule-title.
Belgium's Vermeir was first to return for the jump-off, putting the pressure on Brazil and Sweden with a clear round in 31.88 seconds. As next in the ring, Brazil's Modolo Zanotelli did a smooth and fast round shaving the time down to 31.19 seconds – taking over the lead. With his performance, Modolo Zanotelli had put enough pressure on von Eckermann who was forced to take risks – and while the world no. one was faster, a rail hit the ground in the former triple combination, dropping the Swedes to the third place.
All the emotions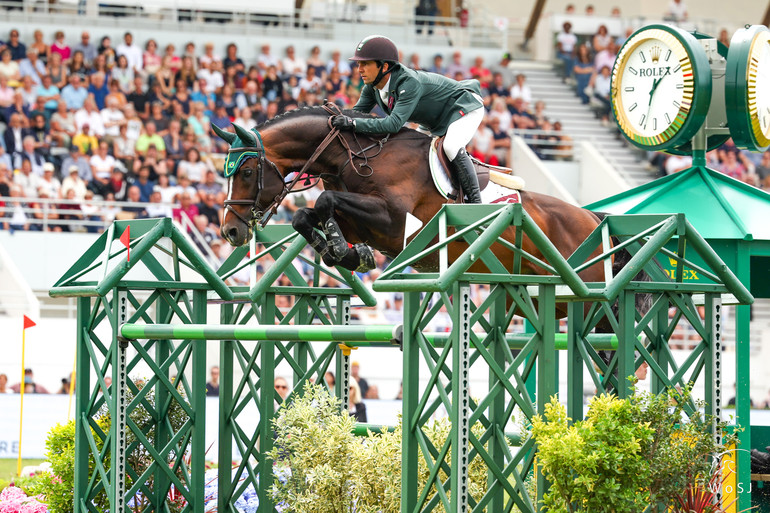 "I tried to put a little pressure on Henrik – which is not easy, he's no. one in the world and used to that – but this time it worked!" Modolo Zanotelli said after his jump-off. Photo © Jenny Abrahamsson for World of Showjumping.
"Grand Slam has been jumping very good since Rome, and has given me a fantastic feeling," Modolo Zanotelli said after securing the victory for Brazil. "Here again, he really fought for me in the two first rounds – then Philippe [Guerdat] decided I would do the jump-off. I was second to go, I knew Henrik was coming behind me – and I know that with Iliana he is faster than me with Grand Slam. The jump-off suited us, because it was more turns and not so many long gallops – so I tried to use that in my favour. I know Grand Slam is really careful, so I can turn really short. I watched Wilm's round and tried to do something similar to him – I know my stride is smaller so I can be quicker on the lines, and I think that's where I caught up with him. I tried to put a little pressure on Henrik – which is not easy, he's no. one in the world and used to that – but this time it worked!"
"What the VDL Stud has done for me is amazing," Modolo Zanotelli said about Grand Slam's owners – who are massive supporters of the Brazilian rider. "Harwich VDL was sold this spring, which was the plan all along, and Grand Slam was supposed to go breeding but they knew I was short on horses, so they decided to let him focus on the sport instead. Only people who really understand the sport would do that, and I really feel they are behind me to support me no matter what."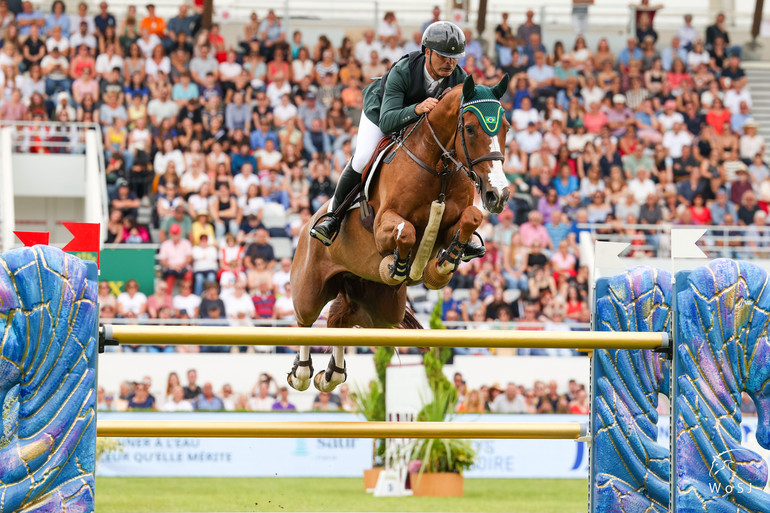 "I am so, so, happy with the way it's going – he is just so special," Pessoa said of Major Tom. Photo © Jenny Abrahamsson for World of Showjumping.
Double clear for Brazil both in La Baule and St. Gallen, Rodrigo Pessoa was full of praise for his new super-star Major Tom. "Obviously, I'm really pleased with his performance. He does not have all the experience at this level, he is still learning but between last week and this week he shows great maturity, so I am super pleased with how he is developing. Our big goal this year is to qualify for the Olympics, either at the Nations Cup Final in Barcelona or at the Pan-Am Games in Chile, but in between he is planned to jump the Grand Prix here on Sunday, then if everything is good in Aachen and in Dinard – to continue his development. I am so, so, happy with the way it's going – he is just so special, and we want to make sure we do what is right for him!" Pessoa said.
"The way the Nations Cups of Rome, St. Gallen and La Baule have been, show how amazing this concept is," Modolo Zanotelli said about how he feels about these traditional competitions jumped by four horse-and-rider combinations over two rounds and with a drop-score. "You see how the second round and the drop-score really keep the suspense; today Rodrigo had to jump clear as our last man, Greg had to jump clear, Henrik had to have one down for it to turn around and be a jump-off – and then you have all these emotions of Brazil and Belgium bouncing back against the Swedes when they had one down, it's just such an amazing part of our sport! I think it really showed on the crowd here today as well; how exciting this whole class was!"
9.6.2023 No reproduction of any of the content in this article will be accepted without a written permission, all rights reserved © World of Showjumping.com. If copyright violations occur, a penalty fee will apply.