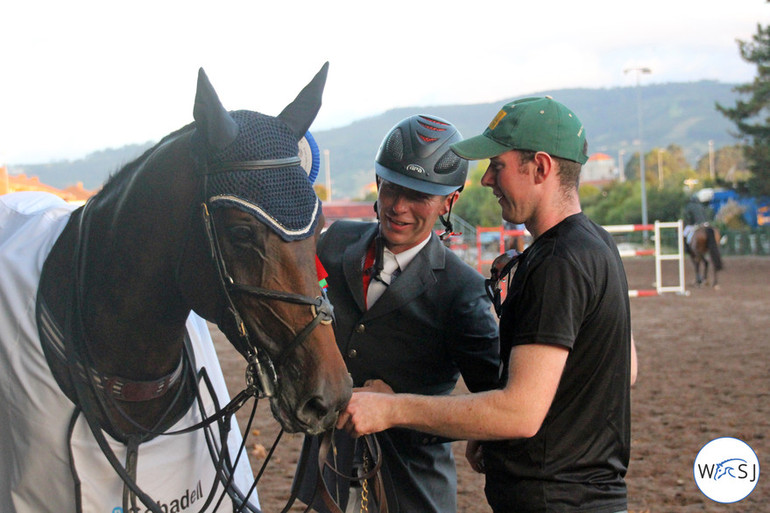 Dermott Lennon and his groom give Loughview Lou-Lou an admiring look after winning the CSIO5* Grand Prix in Gijon. Photo (c) World of Showjumping.
Ireland's Dermott Lennon saved the best for last at CSIO5* Gijon, and went off with the win in the 1.60m Grand Prix presented by Sabadell. Riding the 14-year-old mare Loughview Lou-Lou (Limmerick x Jack of Diamonds), the Irish rider went into the second round as last to go and wiped all competition out.
Only nine riders out of the 45 in the class went clear over the first round track, where faults spread out between the open water, the triple combination and the final line with a plank to a wide oxer. These nine were joined by five more, one rider on one time penalty and the fastest four faulters from round one although Nadja Peter-Steiner (SUI) opted not to ride in round two.
Those on four faults from round one naturally had to get the maximum of speed to achieve a good result, so poles fell in the attempt for Gregory Wathelet (BEL) and Julien Epaillard (ESP) who carried a fence down with them from earlier. Also Alberto Marquez Galobardes (ESP) had to see a pole fall, and another time fault. Speed machines Cian O'Connor (IRL) and Eric Lamaze (CAN) both went all in aboard Good Luck (Canturo x Furioso II) and Check Picobello Z (Cardento x Orlando) respectively, and while Cian had to see the pole on the final upright fall to the ground after putting in a good race on the final stretch, Eric had the front pole of the Longines oxer.
Claudia Gisler (SUI) went for a safe double clear on Cordell (Catoki x Coriano) to eventually finish fifth, as did Antonio Chedraui Eguia (MEX) who slotted in behind her. Netherland's young super talent Sanne Thijssen gave a bit more gas on the final stretch to take over the lead with a time of 66.25 seconds aboard Con Quidam Rb (Quinar x Cardino).
That was not to last though. Abdel Said (EGY), winner of Thursday's 1.60 in Gijon, gave full gas from the outset and left no doubt that he was in it to win on California (L'Esprit x Llibero H). The last stretch from the penultimate oxer to the final vertical was from one end of the huge grass arena to the other, and Said let go and went flat out to cross the finish line in 55.94 seconds to standing ovations from a fully packed stadium.
As next to go, Bernard Briand Chevalier (FRA) made a good attempt on Qadillac du Heup (Helios de la Cour II x Thurin) but had to settle in between Said and Thijssen in a time of 56.94 seconds.
Although it looked impossible to beat Said's time, Lennon was just about to show that it could be done as he came in next. Known as one of the fastest pairs in the world, Dermott and Loughview Lou-Lou gave everything they had to give a master class of speed bringing the time down to an incredible 55.04 seconds to take home the victory to Ireland.
---
Text © World of Showjumping // Picture © CSIO Gijon