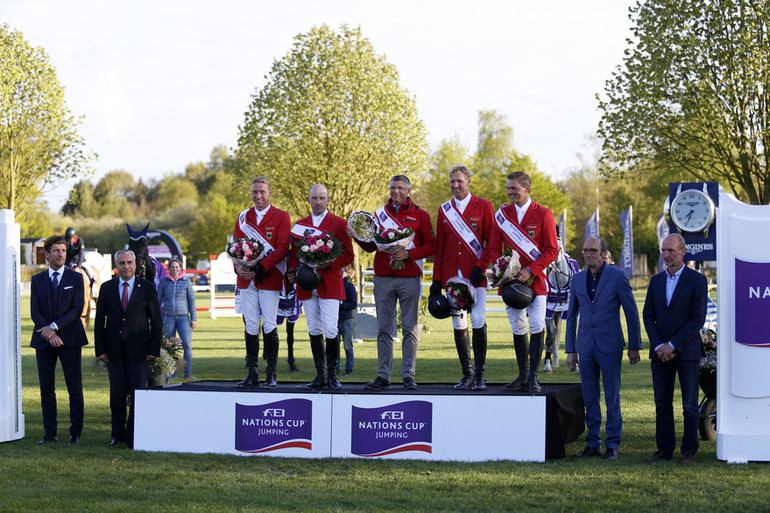 The winning German team in Lummen as the 2017 season of the FEI Nations Cup Europe Division 1 kicked off today. Photo (c) Tiffany Van Halle for World of Showjumping.
It was the German team that went to the top in Friday's CSIO5* FEI Nations Cup in Lummen, the 2017 opening of the series in Europe Division 1. It was a close call for the win though, with three of the eight teams going into a jump-off to battle it out for the victory.
After the first round, France was in the lead on a zero penalty score after clears from Cedric Angot on Saxo de la Cour (Tlaloc M x Jalisco B), Maelle Martin on Giovani de la Pomme (Shindler de Muze x Darco ) and Penelope Leprevost on Ratina d'La Rousserie ( Quaprice Boimargot Quincy x Apache d'Adriers) making it possible to discharge Bernard Briand Chevalier's four penalties.
Close behind trailed the home team Belgium as well as Germany on four faults, then followed Italy on five, Ireland and Switzerland on eight, Spain on sixteen and Sweden on eighteen.
The twelve fence track in the huge grass ring in Lummen got long for many. The water jump at fence seven followed by a line to an oxer proved a big test, and several riders picked up faults on one of these two jumps. Also the tall and airy FEI upright at fence nine proved tough, build open with only two poles and a plank in the middle. Plenty struggled in the triple combination at 11abc as well, with two huge oxers jumping in and a vertical out. It was the middle element – a white airy oxer – that fell again and again in both rounds.
"The course was full of decisions you had to make," said Germany's Andre Thieme afterwards about the many choices of strides on all the lines. "Then it is a bit up and down in that spooky grass ring, so it was long enough. The triple combination was placed away from the in-gate, it was technical, long and hard enough," concluded the German rider about the track set by Eugene Mathy.
Out of the top four teams, only Germany delivered a clear in round two as their pathfinders got underway. It was Andre Thieme on the lovely 13-year-old gelding Conthendrix (Contendro I x Cor de la Bryere) that gave his team mates an advantage as part two of the competition got kicked off. Italy, Belgium and France all had too see their riders pick up four faults each – tightening things up on the top of the score board.
When Italy's second rider Paolo Paini followed up his clear from the first round with four faults the second time around, it looked like his team would struggle to make it to the podium – and eventually they had to settle for fourth place with the highlight of their day being Bruno Chimirri on the 10-year-old Tower Mouche (Diamant de Semilly x Bleu Blanc Rouge II) jumping with only one time fault in each round as the best combination on the team helping the Italians to pick up points in Europe Division 1.
Belgium is not in Europe Division 1 this year, but got to compete as host nation – proving that they most likely will be back in this top league in 2018. As their second rider, Olivier Philippaerts produced one of four double clears of the competition aboard the wonderful 15-year-old stallion H&M Cabrio van de Heffinck (Cassini I x Calato). When Germany's Maurice Tebbel had the oxer after the water down on Chacco's Son (Chacco-Blue x Lancer III), the scores evened out – even more so when France's Maelle Martin picked up twelve faults after jumping into the water, then having the following oxer down and the middle element of the triple combination. Suddenly, Belgium, Germany and France were all on four faults.
When Karel Cox and Cor van de Wateringhoeve (Thunder van de Zuuthoeve x Lys de Darmen) delivered another clear for Belgium, the home crowds went wild – a win was within reach. Home hopes became even higher when Holger Wulschner had the dreaded 11b down for Germany on BSC Skipper (Stolzenberg x Lord Liberty), and France's Bernard Briand Chevalier had to see a foot on the tape at the water jump for Qadillac du Heup (Helios de la Cour II x Thurin) leaving each of the latter teams on eight faults ahead of the anchor riders.
Now, it was all down to Belgium's Jerome Guery on Garfield de Tiji des Templiers (Quasimodo Z x Goldspring de Lauzelle). A clear round would make it possible to discharge Pieter Devos's four faults in round two, and leave Belgium on a four penalty score and with the win. However, as for many others the front pole on the oxer following the water jump went to the ground and all doors were left open as Belgium found themselves on a score of eight faults.
Germany took advantage of this situation, with Mario Stevens keeping his cool on Baloubet (Balou du Rouet x Grandeur) – delivering a clear round heading into a jump-off against Belgium. Penelope Leprevost again proved what a key player she is on the French team, when producing a double clear on the tiny mare Ratina d'La Rousserie to also secure a place in the jump-off for France – that just like Germany were in Lummen to pick up points in Europe Division 1.
Belgium send in the experienced combination of Pieter Devos and Dream of India Greenfield (Gem of India x Night and Day) into the jump-off, but the pair had an unexpected refusal into the combination and were left on four faults and a slow time.
Germany opted for Andre Thieme and Conthendrix, a good choice it would turn out as the grey gelding's huge canter ate up the ground in the massive grass ring in Lummen with his rider urging him on every stride of the way to cross the finish line in 39.75 seconds after a beautiful jump-off.
Although one of the fastest in the world. Penelope Leprevost's Ratina d'La Rousserie has a small stride compared to Conthendrix and had a disadvantage with the long stretches around the jump-off track. Although they gave it a good go, the pair had to settle in for the runner-up position for France with a time of 40.47 seconds.
"My team here was from the names maybe not the most well-know – but except from Maurice they are all experienced riders and I know when they are together they are a good team and they work together. I knew they would try to do a good job. I am really pleased with them, they were fighting until the end," said German Chef d'Equipe Otto Becker after the victory. "We lost a few riders and horses from our Championship squad last year, Ludger Beerbaum is not competing in Nations Cups anymore, neither is Christian Ahlmann's Codex One and Taloubet Z and Meredith Michaels-Beerbaum's Fibonacci was sold. Anyway it is a good opportunity for younger riders and new riders to take the chance to bring good results. I try to get everybody a chance – and in La Baule we will have a totally different team," said Becker who now heads to the next stage of the series with the leading nation in Europe Division 1.
---
Text © World of Showjumping // Picture © Tiffany Van Halle for World of Showjumping