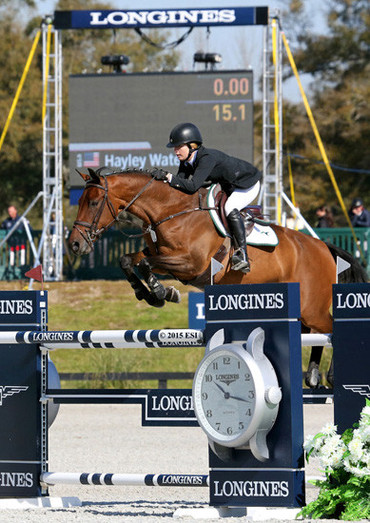 Haley Waters and Qurint speed to a $34,000 FEI HITS Jumper Classic win at HITS Ocala CSIO4*. Photo (c) ESI Photography.
FEI jumper classes continued at HITS Ocala CSIO4* as Marion County's Haley Waters aboard Qurint, owned by Chuck and Dana Waters, took the $34,000 FEI HITS Jumper Classic on Saturday, February 14. The pair captured first place after Waters strategically left out a stride to the combination allowing her to fly through the course one full second faster than the runner up.
Attracting thirty-four competitors, the Jumper Classic course designed by Martin Otto of Muenster, Germany hosted 16 efforts set at 1.45m. Third in the order, champions of the $34,000 FEI Thursday Prix on February 12, Alex Granato and his own Gangsta chased the clock with hopes of taking home yet another FEI win from HITS Ocala CSIO4*. Free of faults in a time of 65.71, the pair was well on their way.
"Our win earlier in the week was a nice build up for today and this will finish his week," said Granato. "Today there were a lot more options on the strides down the lines. If you wanted to leave out or if you knew your horse better and needed to add in, you could. For him, I had to stay slow down the line."
Devin Ryan on Cooper, owned by Mevr. W.G.M. Veldman, and Molly Ashe riding Louisburg Farm's Balous Day Date both had clean rounds, although their times were not enough to top Granato. Having watched the eight previous riders closely, Waters zipped through the obstacles leaving out a stride to the combination giving her a fast finish of 64.01 and setting the Great American Time to Beat.
"I think today she [Qurint] was just really ready to go and excited to take me to the jumps so the leave outs were easy," said Waters. "I did five to the wall and five to the Purina and six to the Edge Brewing and I just went as fast as I could to the last jump and I got lucky."
"I went fast but there were so many other good riders going after me. I thought it would just be lucky if I stayed up there," continued Waters.
Entering the ring 23rd, Andre Rodriguez of Wellington, Florida, aboard Arao Enterprises LLC's Cabalito was next to give the leaders a run for their money. Ending just shy of the top two, Rodriguez went clean in a time of 65.95 to secure third place.
"I was going after Alex. I'm riding the same horse in the Grand Prix so I tried to be as quick as possible and go after Alex's time," said Rodriguez.
"The effort put into this show is really amazing. It's pleasant to come to a show like this where the organization is trying to please horses and riders," added Rodriguez. "They are really thinking about the footing, starting at the right times and the warmup is nice. Everyone that has come here really appreciates it."
Fresh off his teams win in the FEI Nations Cup™, Ireland's Kevin Babington riding Mark Q, co-owned with Deirdre Bourns, was next in the lineup. Clear in a time of 66.08, Babington added a fourth place finish to his already impressive list of accomplishments this week. Fifth went to Ashe and Balous Day Date who finished clear in a time of 67.76.
Source: Press release from HITS Media Team