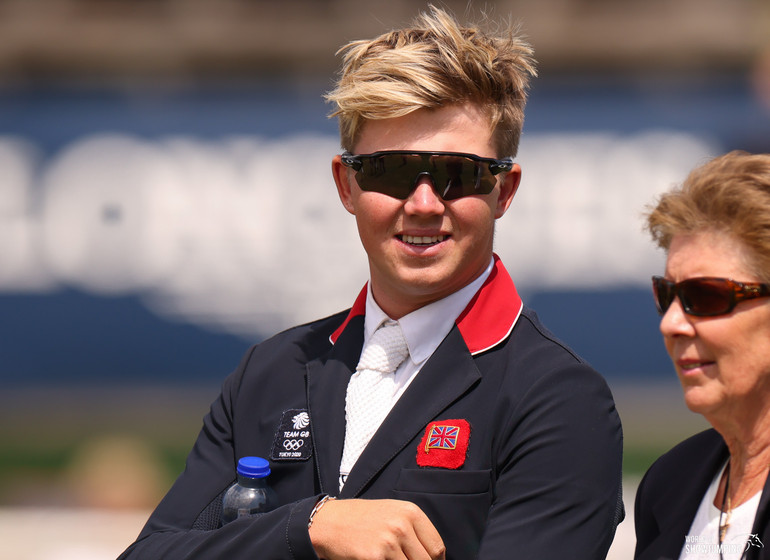 Harry Charles looks back at his weekend at Falsterbo Horse Show in Sweden, where he competed alongside his sisters Sienna and Scarlett who made their five-star debuts. Photos © Jenny Abrahamsson for World of Showjumping.
As told to WoSJ by Harry Charles – © World of Showjumping.com
---
"It is actually a struggle to put the weekend at Falsterbo Horse Show into words. No matter what would happen, it was always going to be a pretty special weekend as it was the first time my sisters Sienna and Scarlett were competing at a five-star show, and the first time I would have Sienna join me on the British team for the Nations Cup. My initial plan for the year did actually not include Falsterbo, but when Sienna and Scarlett got the opportunity to ride there, dad did not even have to ask me – I wanted to go with them. If they were on the team, I for sure wanted to be there as well.
Having a passionate, knowledgeable, crowd that really connects with the horses and the riders, is what we as riders do it for
I remember hearing stories about Falsterbo for years, how it is one of the best shows there is, and now, looking back, I can say it was everything everyone said it would be. Falsterbo is a special venue: It is a traditional show, it is truly about showjumping – as this sport should be. In times when we see so many pop-up shows, going back to grass with a passionate crowd that is interested and watches everyone was everything. The horses can go in this arena and grow, which is something unique. In Falsterbo, the audience is not looking at the food on their plate and asking who won when the prize giving starts – which unfortunately you do see nowadays. Having a passionate, knowledgeable, crowd that really connects with the horses and the riders, is what we as riders do it for.
For our family, it was a unique weekend at a unique venue. I think you are not going to see this so often; three siblings at a five-star show, let alone on the same Nations Cup team. For my dad, I think this must be one of the biggest achievements in his role as a trainer and a parent. He could have easily gone on with his own showjumping career for another five, ten, years, maybe even longer. There are guys older than him still going strong on the top and it was very selfless what he did when he decided to step down and focus on helping us instead.
For our family, it was a unique weekend at a unique venue
Since day one, he has tried giving us the best ponies and horses, even when maybe we weren't good enough to ride them. As we were growing up, he would never be at a show himself when we had a big show – if we were at a championship, he would want to be with us and would not even think about showing himself at the same time. This is something we are so thankful for, and the older I get, the more I appreciate what he has done and see what a sacrifice it was from him. With all this, as I said, no matter what would happen last weekend, simply getting to Falsterbo was a great achievement. I hope that the results we got made our parents proud and that we have managed to give something back to them.
What made it special as well, was the fact that Sienna was riding Stardust, the horse that gave me the biggest win of my career – my first five-star Grand Prix in London. Stardust has got a place in our family's hearts forever. When she came to us, she did not come as a standout, she was jumping 1.40m classes and was not in the best shape. However, she always showed a lot of heart and we grew together as a partnership the whole way until that afternoon in London – which to this day, is still the best day of my career. When Sienna took her over, it was not an easy decision; at the time, I was so close to making it to the top ten in the world and she was my leading points winner. Sienna's good horse Ornellaia had just retired, and it was just the right decision to make at the time. They quickly adapted to each other and for them to go into their first five-star Nations Cup and do what they did – four and clear – and then jump clear in their first five-star Grand Prix… It was amazing to see and I felt so proud of them. It was a big Grand Prix, and Stardust typically would be better suited for sand arenas. I am so proud of them and the partnership they have created; Sienna loves her just as much as I do.
In Falsterbo, we had a developing team, which I think shows that we are going in the right direction and adding in strength
In the beginning of the weekend, I think Scarlett and Sienna were a little bit nervous, and of course you would be at your first five-star show. I knew I was having to take on the more experienced role, even if I am young myself. Luckily, we had two great teammates in Sam and Robert, who are top professionals; they were brilliant with my sisters the whole week and gave them a lot of confidence. Both Sam and Robert rode incredible rounds for the team, especially Robert whose horse has never really jumped anything like that before. I think the whole team's effort in the Nations Cup was amazing, seeing that all four of us jumped clear in the second round. At one point, I got off my horse and thought that I would not even need to jump! It was only when we saw that there would be a couple of teams on eight faults that Di told me that I maybe needed to go back in. We needed a fast clear to make sure we didn't end up down the leader board. So, I had to go and do a fast round, to try and keep us above the other eight-faulters. I have been on a few Nations Cup teams lately and I don't remember seeing a team with four clear rounds – I think it was a great achievement for us. It was a similar story to Aachen, and when we spoke with the team afterwards, we could see great improvement: When we look back only a few years, we used to be celebrating not ending last, and now – in the last two Nations Cups – we have been second, only one fault from going for the win. In Falsterbo, we had a developing team, which I think shows that we are going in the right direction and adding in strength. We knew we had amazing riders in the country, but we have been a bit short on partnerships. Especially with the Europeans and the Olympics coming up, the current situation looks exciting for Team GBR.
While I am really proud of the whole Team GBR, I could not be more proud of my sisters and how they managed their five-star debut. I really enjoyed competing alongside them and Scarlett especially has come such a long way. She has done a brilliant job with her horse Chicago's Boy, which both me and Sienna rode previously and never really connected that well with. Scarlett has grown with him and they are super consistent now.
My dad always says that your family is your biggest strength and that is what we have in the five of us. This attitude will never be lost, it has been ingrained in us. However, it is not easy to watch your family members from the side-lines! To be honest, when Sienna was riding the Nations Cup, I could not really watch and I kept forgetting I had to ride myself as well. I did not like standing in the kiss and cry, I was not watching too much – it is a lot less nerve-wracking to be riding myself! My mum does not come to many shows, and she was crying as Sienna came out of the arena – it meant a lot for her to be there.
My dad always says that your family is your biggest strength
Sienna had a great show, but Scarlett did not knock a jump down during the whole weekend. That is a pretty good achievement at her first five-star show; no rails down is a pretty good strike record. Hopefully, we now have earned ourselves some more opportunities. However, in a sense this is only the beginning for us and going forward, it is like everyone knows, about finding the right horses and keeping them sound and happy. With three kids, that is not simple and what my dad has done already is amazing – I don't think anyone in the world could have done a better job. We are so lucky to have amazing support as well, myself in Ann Thompson and Stall Zet and my sisters in their various owners. Without them, we would not have been able to do what we did last weekend, and continue doing what we do.
Next week we are off to Hickstead, one of the biggest goals of the season for Team GBR – wish us luck!"