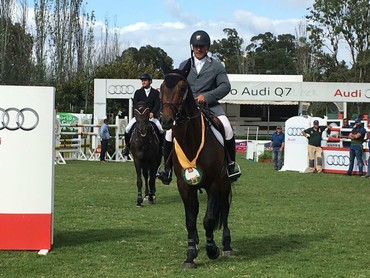 Joao Chuva won the CSIO3* Grand Prix of Lisbon. Photo (c) CSIO Lisbon.
Joao Chuva took a popular home win in the CSIO3* Grand Prix of Lisbon on Sunday afternoon. Riding the 11-year-old stallion Antonio (Vancouver x Iroko), Chuva produced one of the only two double clear rounds in this 1.60 Grand Prix presented by Audi. And with a time of 47.71 seconds in round two, Chuva's performance was good enough for the win.
Runner-up was Belgium's Dominique Joassin on Best Of Opus Dei Z (Balou Du Rouet x Jus De Pomme); also double clear with a time of 50.33 seconds in round two. The fastest time came from Spain's Eduardo Alvarez Aznar and his double clear Nations Cup ride Fidux (Malito de Reves x Voltaire) in 44.33 seconds, but it came on the expense on four faults and the pair had to settle for third place this time around.
---
Text © World of Showjumping // Picture © CSIO Lisbon