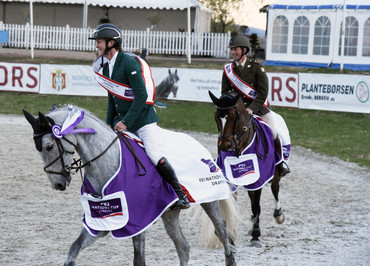 Ireland won after a cliff-hanging second round at Friday's FEI Nations Cup Europe Division 2 leg in Drammen, Norway. Photo (c) FEI/Hannah Stærkebye.
On another day of drama and intrigue, Ireland pipped Belgium by a slim one-fault margin to win the second leg of the FEI Nations Cup Europe Division 2 series in Drammen, Norway yesterday. When the best eight of the 13 competing nations returned for the second round it all came down to the last man into the ring, Irish army captain Geoff Curran, to decide the result – and it was like walking a tight-rope.
He could afford a single mistake, but an additional time fault would draw his team level with the crack Belgian side, and any more than that would see victory slip from Ireland's grasp. So when his 13-year-old gelding, Ringwood Glen (Arkansas x Kilglass Pennistone), put a toe in the water a tense silence descended on the arena.
Crossing the line with just 0.21 seconds to spare he clinched it however. And it was a gutsy result for the side that was already in the lead at the halfway stage despite a shaky start when Alexander Butler on Hallowberry Cruz (Cruising x Clover Hill) retired at the triple combination, but bolstered by solid performances from Cameron Hanley on Quirex (Quirado x Concept) and Mark McAuley on Utchan de Belheme (Calvaro x Mr Blue).
"I had a feeling that I might have been in the water and I knew I was tight enough on time, but I kept the same plan of doing eight strides down to the last fence. It worked in the first round and thankfully again in the second, but I didn't plan on being quite that tight to the time allowed!" said Captain Geoff Curran afterwards.
The experienced Belgian foursome of Olivier Philippaerts on H&M Legend of Love (Landzauber x Corgraf), Niels Bruynseels on Gancia de Muze (Malito de Reve x Nimmerdor), Pieter Devos on Dream of India Greenfield (Gem of India x Night And Day) and Gregory Wathelet on Coree (Cornet Obolensky x Liberty Life) were firm favourites to win this leg of the seven-round series, but 17 faults left them lying in a surprising sixth place after the first round. They re-grouped with only four to add second time out, but couldn't overtake the fighting Irish when finishing with 21 faults.
Team France lined up third with 24 faults, bolstered by the only double-clear of the entire competition from anchor partnership Alexis Deroubaix and Timon d'Aure (Mylord Carthago x Drakar des Hutins).
"I knew coming here to Drammen that this was going to be tough but I also knew we had a good team. I said to Geoff going in, you can have a time fault or a fence but you can't have both. He was under a lot of pressure going in last. I don't think he knew for sure he was in the water and he got home just inside the time allowed – he did a brilliant job," said Ireland's Chef d'Equipe Michael Blake.
Neither Ireland nor France were competing for points yesterday however as they both belong in the Europe Division 1 series, so Belgium maintains the lead in Division 2.
---
Source: Press release from FEI // Picture © FEI/Hannah Stærkebye