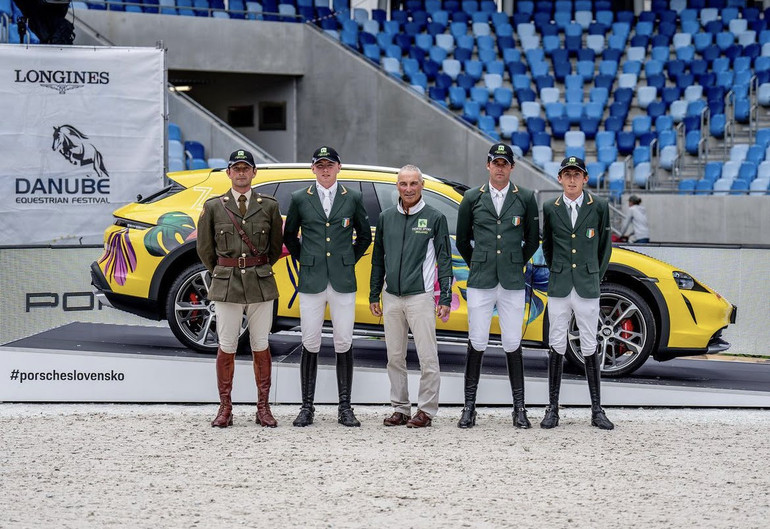 The Irish team of Harry Allen, Commandant Goeff Curran, Jason Foley and Thomas Ryan won the 7th leg of the Longines EEF Series. Photo © Equifo.cz.
Edited press release from the EEF
---
Under the bright lights of the national football stadium of Slovakia, Team Ireland clinched the win in the 7th leg of the Longines EEF Series, whilst Central Region teams battled it out for the final chance to score qualifying points and secure a spot at the semi-finals.
Round one saw it tight on top of the leader board; Switzerland finished on a clean sheet, whilst Austria sat just one time penalty point behind, followed by Ireland and Germany carrying four faults each. Host nation Slovakia sat fifth with five penalties, which meant it was all to play for heading into the second round of the competition.
However, Switzerland dropped out of contention of a podium finish to eventually end fourth but had nevertheless done enough to book their ticket to Ebreichsdorf, Austria for the Central and Southern Region semi-finals of the Longines EEF Series later this month.
The Austrian team of Alessandra Reich and Anyway van het Kervijnhof Z (Alvaro du Talus x Klairon Dancer), Marianne Schindele on Acoustik Solo du Baloubet (Baloubet du Rouet x Ksar Sitte), Katharina Rhomberg with Colestus Cambridge (Colestus x Cambridge) and Stefan Eder on Condaro (Contendro I x Lifestyl) continued to perform strong in round two, with clear rounds from Reich and Eder – meaning they could drop Schindele's eight-fault round and carry forward just the four penalties from Rhomberg, which was enough to secure the second place and their spot at the semi-finals.
It was a class affair from the Irish team of Harry Allen and Calculatus (Cachassini x Contello), Commandant Goeff Curran on Tempo Manor (Sligo Candy Boy x Lux Z), Jason Foley with Oscar v/h Hulstenhof (Zirocco Blue VDL x Irco Mena) and Thomas Ryan onboard Di Cantero van ter Hulst Z (Diamant de Semilly x Corrado I). Combining a mixture of experienced and young talent, the team kept their cool to climb on the result list and step up to the top spot on the podium. With double clears from Allen and Foley plus a second round clear from Ryan, the team completed the second round on a perfect score of zero, ensuring a total of just four penalties and the Nations Cup win.
"We're obviously delighted with the win," said Commandant Curran. "We're very happy to be here, but to win is the icing on the cake."
"The arena is absolutely amazing, the horses come to life but there's a lot to look at, but it suited my horse perfectly," Allen said of his double clear and his first visit to the venue in Bratislava. "The course builder did a very good job, it was very fair and I'm very happy with my horse – he's quite green at this level so I'm very impressed with him also."
The story of the night, however, belonged to host nation Slovakia. In front of an enthusiastic home crowd cheering them on, the team of Dominika Gaalova and Senjor Catello (Ci Ci Senjor Ask x Kanudos XX), David Hovarth riding U2 Westleven Z (Uto Kervec x Calypso III), Bronislav Chudyba on Chloe (C-Ingmar x Chacco-Blue) and Radovan Sillo with Quadrosson Ask (Quadros x Caretan) pulled off three incredible clears in round two. Having to drop just the two time penalties picked up by Horvath on what was an otherwise steady clear, not only did the team add nothing to their first-round score of five to finish in third place, but they also earned the final spot at the semi-finals.
After two qualifiers, the Central Region Semi-final places have been decided: Netherlands (finishing fifth in Slovakia) and Austria finish on top with 170 points, followed by Switzerland on 160 points with Germany behind on 150, and Slovakia grasping the final place with their fantastic performance last night.