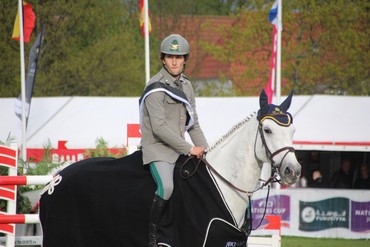 The Italian riders took the biggest wins in Odense on Saturday; here Emanuele Massimiliano Bianchi who won the 1.50 class on Zycalin W. Photo (c) World of Showjumping
The Italian riders must have gained confidence from their third place in the Nations Cup on Friday, because on Saturday they were not to be stopped in Odense. First Giampiero Garofalo won the 1.45 speed class on Stolberg Della Verdina (Stolzenberg x Singular Joter) by an unbelievable five seconds and then Emanuele Massimiliano Biancho stole the win as last to go in the 1.50 two-phase class that also served as a qualifier for the Grand Prix.
Riding Zycalin W (Berlin x Carthago), Bianchi raced around the track as last to go in the ring - snatching the win from Sweden's Petronella Andersson on Quenndal de Lojou HDC (Le Tot de Semilly) who had been in the lead for most of the class that counted a little over fiffty riders. Third place went to Germany's Jörg Naeve on Contana (Contact Me x Lavallo).