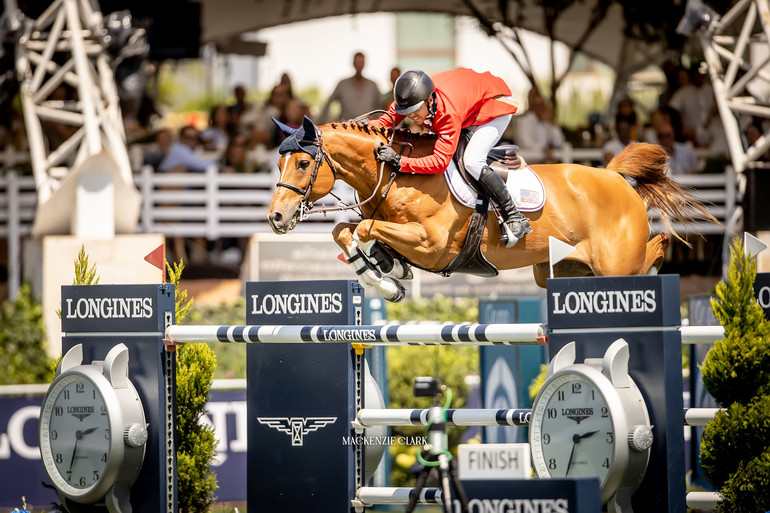 Kent Farrington and Landon won the CSIO5* Longines Grand Prix in San Miguel de Allende, Mexico. Photo © Mackenzie Clark.
After taking the top honours in Friday's Nations Cup with the American team, Kent Farrington (USA) and the 10-year-old gelding Landon (Comilfo Plus Z x Quadrillo) won Sunday's CSIO5* Longines 1.60m Grand Prix in San Miguel de Allende, Mexico.
Six of the 30 horse-and-rider combinations in the Grand Prix made it to the jump-off, where Farrington was the fastest against the clock with a time of 38.32 seconds. Eugenio Garza Perez (MEX) and Contago (Cornet Obolensky x Cassini II), a part of Mexico's second-placed team in Friday's Nations Cup, delivered yet again to finish as runners-up after stopping the clock at 38.87 seconds. Samuel Parot (CHI) and Chrystal Blue (Chacco-Blue x Calvaro F.C.) took the third place, after crossing the finish line in 41.09 seconds, followed by Tiffany Foster (CAN) and Hamilton (Quadros x Acolord) in fourth with a time of 41.82 seconds. With the last double clear of the class, Ignacio Maurin (ARG) and Chaquitos PS (Chacco-Blue x Conthargos) took the fifth place after clocking a time of 42.38 in the jump-off.