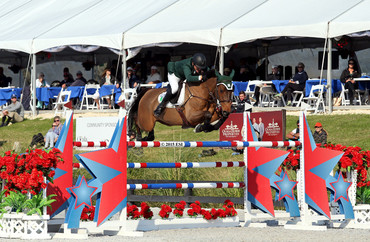 Kevin Babington and Mark Q take the $34,000 FEI Thursday Prix at HITS Ocala CSIO4*. Photo (c) ESI Photography.
Day two of international competition in the Ocala Horse Properties Stadium at HITS Ocala CSIO4* continued with the $34,000 FEI Thursday Prix, a qualifying opportunity for the $150,000 Ocala Grand Prix on Sunday, February 15. Excitement for the Friday's Furusiyya FEI Nations Cup™ was in the air as Kevin Babington of the Irish Show Jumping Team, and Mark Q, co-owned with Deirdre Bourns, trumped the impressive list of entries, many of which will return as contenders in Friday's main event.
Fifty-nine competitors jumped the Thursday Prix course of 15 efforts set at 1.50m, designed by Martin Otto of Muenster, Germany. Known speedster Pablo Barrios, of Wellington, Florida, aboard ZI Group Inc.'s Zara Leandra entered the ring 11th in the order blazing through clear with a time of 70.42 to move into first place. Barrios tipped his hat to the facility's extraordinary footing for his quick round.
"I'm very pleased with the mare. I think it's the best I've felt with her this year. She feels very comfortable on this footing," said Barrios.
On top throughout the next 15 entries, Barrios was secure in first until 2014 Zoetis $1 Million Grand Prix winning duo Todd Minikus of Loxahatchee, Florida and Quality Group's, Quality Girl took their chance at the win. Although clean, a slight hesitation at the last obstacle put Minikus just shy of Barrios with a time of 70.86.
Babington and his bay mount followed the top two and with the advantage of studying the thirty-four prior competitors, he knew his horse's passion for galloping would play a starring role in the round.
"I looked at a lot of the fast riders at the beginning and thought 'everybody is getting the same numbers in the regular lines'," said Babington. "The only place you could really make it up was to take a shot on the long gallop on both ends of the rings."
True to form, the pair sailed to a clean finish in a time of 69.44, one full second ahead of Barrios to steal the lead.
"I chickened out at the last jump and added a stride there. Pablo and Kevin were right on the pace so that was enough to put me in third," said Minikus.
"The combination took a little bit of jumping and there were a good few places where you could gallop across the ring, which suited my horse. He's an Irish Sport Horse, out of a Thoroughbred mare, so he likes those long gallops," added Babington. "The footing felt super today and when I trotted in the ring, I felt like I was on springs. My horse absolutely loved it and jumped well off it."
Babington will be one of four athletes representing Ireland as international competition continues at HITS Ocala CSIO4* for the Furusiyya FEI Nations Cup, presented by Edge Brewing Barcelona on Friday. Six nations will compete for $200,000 in prize money and a chance to qualify for the FEI Nations Cup Final in Barcelona later this year.
The starting order of teams for the Nations Cup, which was determined by a draw held in Ocala on February 10, will be as follows: Ireland, Mexico, USA, Venezuela, Colombia and Canada.
HITS will offer a live webcast of the FEI Nations Cup domestically through USEF Network and internationally by FEI TV.
For a complete schedule of CSIO4* events at HITS Ocala, as well as FEI Nations Cup™ spectator information, visit www.HitsShows.com.
Source: Press release from the HITS Media Team