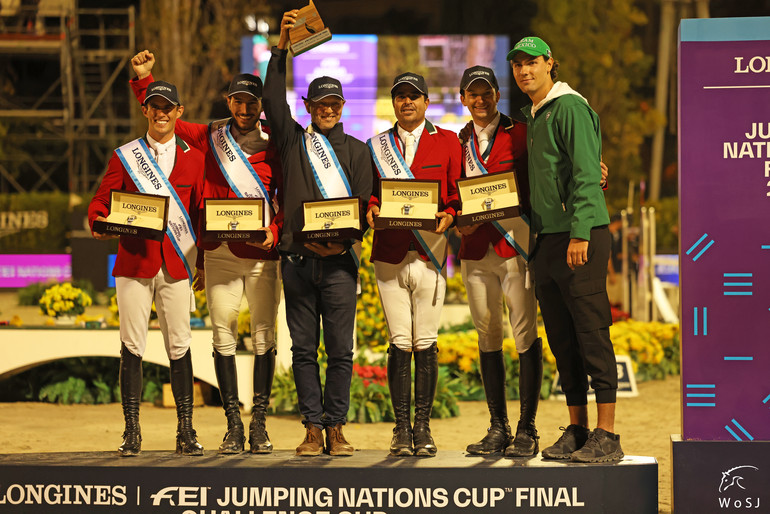 Mexico won the Challenge Cup at the Longines FEI Jumping Nations Cup™ Final 2022 at the Real Club de Polo in Barcelona, Spain. Photo © Jenny Abrahamsson for World of Showjumping.
Edited press release from FEI written by Louise Parkes
---
Team Mexico stormed to victory in the Challenge Cup at the Longines FEI Jumping Nations Cup™ Final 2022 at the Real Club de Polo in Barcelona, Spain on Saturday night where Sweden finished second ahead of Brazil in third place. There were five nations in contention when Canada opted not to line out, and Argentina slotted into fourth ahead of Norway in fifth.
The thrilling Mexican performance began with a just a single time fault for pathfinder Nicolas Pizarro and Oak Grove's Enkidu (Ensor vdh Pleville x Quidam de Revel), and when Fernando Martinez Sommer and High Five (Glasgow vh Merelsnest x Corland) went clear and then the rock-solid anchor partnership of Manuel Gonzalez Dufrane and Hortensia van de Leeuwerk (Corland x Argentinus) followed suit they had it in the bag.
However nothing was decided until the closing stages after second-line rider Andres Azcarraga and the 15-year-old stallion Contendros 2 (Contendro I x Drosselklang 2) collected six faults.
Clever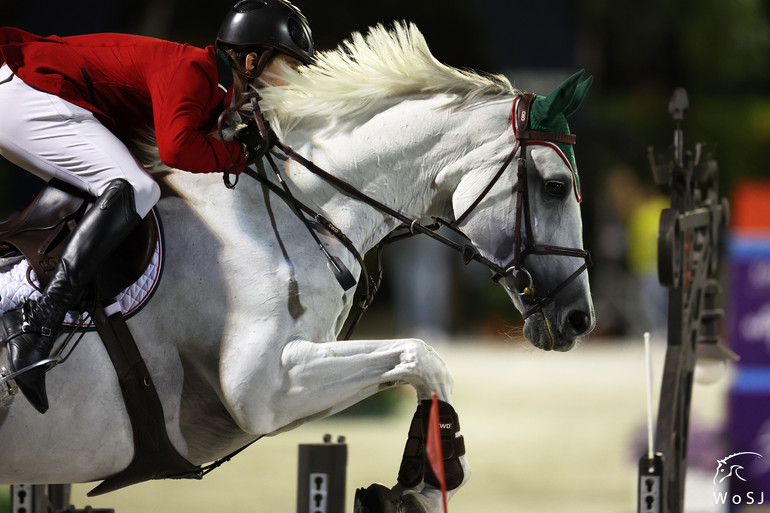 Manuel Gonzalez Dufrane and Hortensia van de Leeuwerk jumped one of two clears for Mexico. Photo © Jenny Abrahamsson for World of Showjumping.
Spanish course designer Santiago Varela had set them a clever 13-fence track that drew to a close with a tough line of fences that consisted of a triple bar followed by a double of verticals and finally a water-tray oxer. And it was that triple bar that fell for Azcarraga at the halfway stage of the competition before he broke the beam with an additional two seconds to add for exceeding the time-allowed of 85 seconds.
Clear rounds proved hard to get, so when Sweden's Stephanie Holmen and Flip's Little Sparrow (Cardento x Robin Z) left all the poles in place her side was carrying just the four faults, again at that triple bar, from pathfinder Wilma Hellstrom and Cicci BJN (CiCi Senjor Ask x Tornesch) with two more riders to go for each side.
But when third-line Swede, Evelina Tovek collected 20 faults with Winnetou de la Hamente Z (Winningmood x Socrate de Chivre) they looked very vulnerable until anchor partnership Linda Heed and Laurien van Orshof (Cabrio vd Heffinck x Winningmood) reeled it back with a perfect tour of the track to leave them on a final tally of just four faults for that second place finish.
Revenge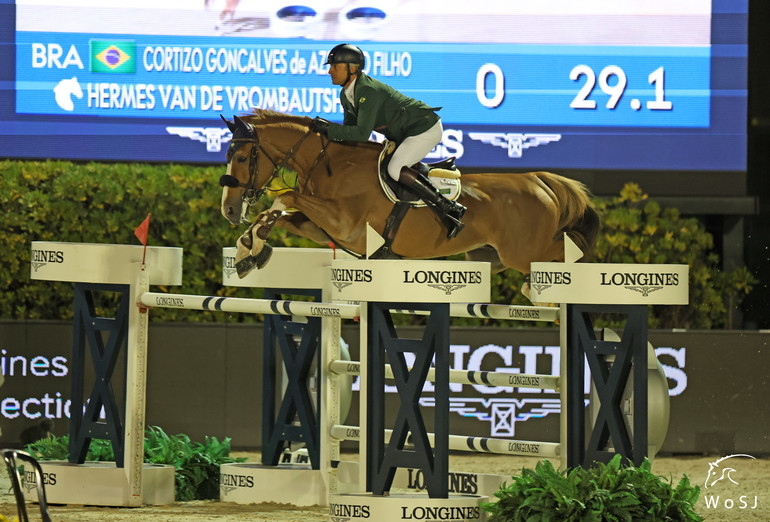 Cortizo Goncalves de Azevedo and Hermes van de Vrombautshoeve for Brazil. Photo © Jenny Abrahamsson for World of Showjumping.
Meanwhile Team Brazil, who were only squeezed out of Sunday's title-decider by the narrowest of margins in Thursday's qualifying round, looked set to take their revenge when Marlon Zanotelli kicked off with a foot-perfect run from the feisty 11-year-old mare Like a Diamond van het Schaeck (Diamant de Semilly x Bamako de Muze).
But when Francisco Mesquita Muse's Carte de Blue PS Marathon (Cartoon 21 x Chacco-Blue) knocked the white plank on top of the vertical at fence eight and added time faults, Cortizo Goncalves de Azevedo Filho was three seconds over the time with Hermes van de Vrombautshoeve (Vigo d'Arsouilles x Equitop du Moyon) and Eduardo Pereira de Menezes also fell victim to the plank at fence eight with H5 Chaganus (Chacco-Blue x Carthago) then their finishing total of seven faults would see them slot in behind the Swedes.
Argentina's anchorman Jose Larocca produced the last of the six clear rounds in Saturday's competition with Finn Lente (Gaillard de La Pomme x Colandro), but with a final tally of eight faults his team had to settle for fourth place ahead of Norway in fifth on a total of 10.
Positive energy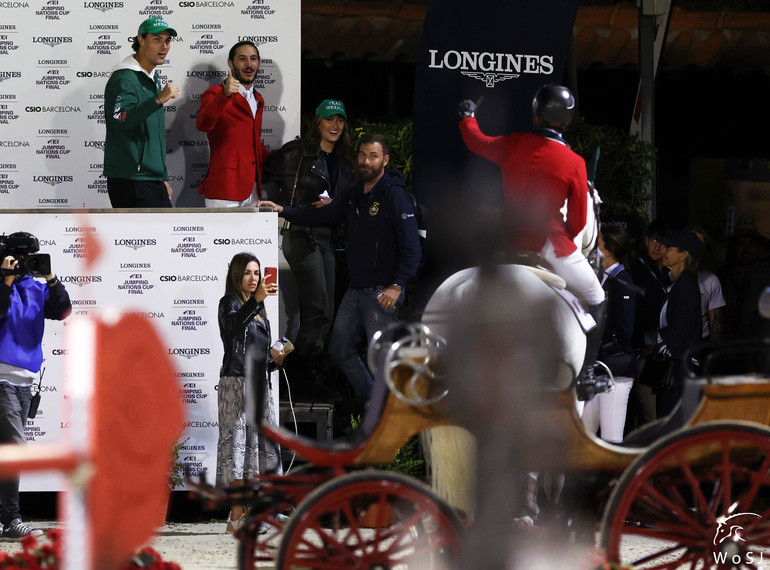 Mexican celebrations in Barcelona on Saturday night. Photo © Jenny Abrahamsson for World of Showjumping.
At Wednesday's draw for the order-of-go, Mexican Chef d'Equipe Mark Laskin said that "win lose or draw I promise that Mexico will bring positive energy and competitive spirit to the event!", and he was right about that.
They may not have qualified for the final showdown but his young team is bursting with promise and he knows it.
"We hoped to jump tomorrow, but this is the heck of a consolation prize!", he said after the win. "Riding in Nations Cups it's always important that whatever your score was in the first round that you improve in the second round and every single one of them did that and contributed, it was a real team effort.
The only one who didn't improve was Fish - that's what we call Manuel - but then it's kinda hard to improve on perfection!
Double-clear, (on Thursday and then again today) it doesn't get much better than that, and we're all thrilled for him and thrilled for our team!", Laskin said.
Number one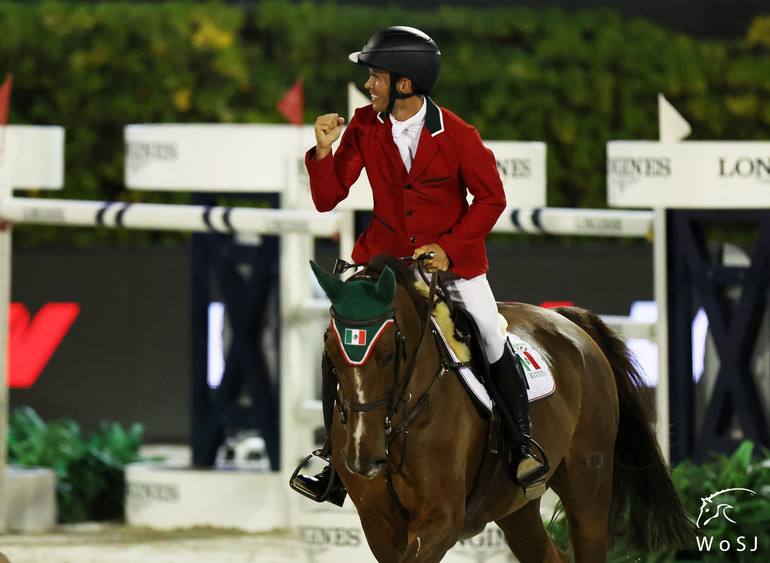 Fernando Martinez Sommer celebrates his clear round with High Five. Photo © Jenny Abrahamsson for World of Showjumping.
Pathfinder Pizarro talked about his single time fault. "I think coming out number one is always tough but I made my plan. I probably was a bit slow from fence one to two and I never made up that time", he explained. "For sure the team was more confident today than when we spoke on Thursday and I'm really happy for them, and having an anchor rider like Manuel "Fish" today was amazing! And it's a completely different team spirit when the alternate rider supports us so much and is so close to the team", he pointed out, referring to fifth man, 22-year-old Carlos Hank Guerreiro who didn't get to jump on the team but who has been offering his help every step of the way all week.
At the age of 44 Pizarro is the veteran of this Mexican side and he is delighted to see the young team developing around him, and to be back competing in Barcelona which holds great memories for him.
"There is so much history here, the Olympic Games happened here and it wasn't that long ago, and also my first big Nations Cup was here and I can see riders who were children back then and who are now part of the team. Mark has taken over this year and I think the future will be very good for us", he pointed out.
Martinez Sommer rode a beautifully sympathetic round, his 10-year-old gelding High Five showing spectacular scope over the open water at fence nine. "At the moment I'm very lucky because I have a really good string of horses", the 32-year-old athlete said. "The horse I rode today doesn't have all the experience so I'm thrilled with him, even in the first round I screwed up in the last line and he jumped really well so I'm proud of him and really happy!"
Azcarraga said this is his first time to jump in Barcelona. "It is very exciting and a special one for me because I got to jump with my friends and we had great team spirit. It was a great experience, one of the first 1.60m Nations Cups for me and I guess it will be good experience for Nations Cups in the coming years".
Bonus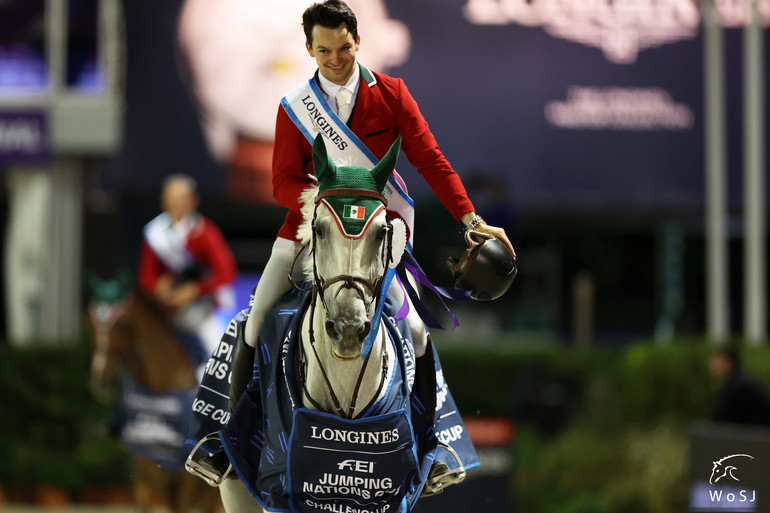 Manuel Gonzalez Dufrane and Hortensia van de Leeuwerk for the winning team. Photo © Jenny Abrahamsson for World of Showjumping.
Meanwhile Gonzalez Dufrane had extra reason to be pleased because not only is he going home with an elegant Longines watch and his share of Saturday night's prize money but he has earned an extra €50,000 bonus for jumping clear both on Thursday and again on Saturday. "I'm really happy, especially for the team, riding with friends is the most amazing thing", the talented 28-year-old said.
Asked how it felt going last for his side with so much hanging in the balance, he replied, "I ride that spot in many Nations Cups and I feel good with that kind of pressure". But then he also has the added advantage of sitting on the wonderfully consistent grey mare Hortensia who has been his rock throughout his career so far and who carried him to individual gold and team silver at the Central American Games in Guatemala in 2017. "She's 15 years old now and she's been jumping a lot these past years and I feel very lucky riding her", he said.
Nicolas Pizarro said that, "Barcelona Polo Club makes magic out of this week!", but Team Mexico made some magic of their own last night.
On Sunday the focus will turn to the eight qualified nations - France, Ireland, Spain, Belgium, Switzerland, Germany, The Netherlands and Great Britain - as they battle it out for the Longines FEI Jumping Nations Cup™ 2022 title. And for the Belgians and Swiss there will be an extra edge as they will also be chasing the single qualifying spot on offer for the Paris 2024 Olympic Games.